Dorothea Smith Appointed as CSM Trustee Vice Chair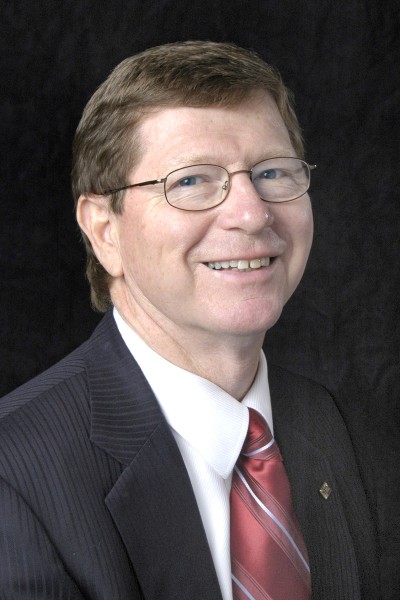 Michael L. Middleton has been selected to serve as chair for the College of Southern Maryland Board of Trustees.
LA PLATA, Md.—The College of Southern Maryland Board of Trustees selected Michael L. Middleton of Charles County as chair of the board and Dorothea Holt Smith of Charles County as the board's vice chair at its June 20 meeting.
"I am honored to be appointed as chair of the board of trustees for the college," said Middleton. "Every day, I witness the contributions that CSM makes to Southern Maryland through its commitment to high-quality education, workforce development, cultural enrichment and economic stimulus. It is a pleasure to serve as leader for this distinguished group of trustees."
Middleton, who was appointed to the board of trustees in 2007, is the chairman and CEO of Tri-County Financial Corporation and its banking subsidiary, Community Bank of Tri-County, Waldorf. Middleton recently finished his term as chair of the board for the Maryland Bankers Association and he is former chair of the board of the Federal Home Loan Bank of Atlanta. Middleton graduated from Bellarmine University, Louisville, Ky., with a Bachelor of Arts degree in accounting and was awarded a Master of Business Administration degree with a concentration in finance from the Robert H. Smith School of Business at the University of Maryland. His professional accreditation includes a Certificate of Public Accounting and the Program for Negotiation for Senior Executives at Harvard University. He is a member of the National Association of Corporate Directors.
Appointed in 2007, Smith is a retired educator, beginning her 30-year teaching career in 1965 in the Charles County Public Schools. She is a past recipient of the Agnes Meyer Outstanding Teacher Award presented by "The Washington Post," and of the Charles County Teacher of the Year Award. A language arts-reading instructor of middle school students, she also held various positions on the executive board of the Educational Association of Charles County and was the faculty representative to the teacher's association for John Hanson Middle School. Since her retirement she has been active in numerous civic and community organizations, including serving as a county appointee on the Zoning Board of Appeals and the Citizens Advisory Committee on the Waldorf Upgrade/Bypass Study. Presently she serves on the Charles County Retired School Personnel Association Executive Board, the Charles County Sheriff's Citizens Advisory Committee, the Hospice of Charles County Ethics Board, the African American Heritage Society of Charles County and the Substance Abuse Advisory Coalition.
CSM's Board of Trustees is the governing body providing leadership and oversight of the college's mission and policies. Members are appointed by the governor for five-year terms. The board consists of nine members, with Calvert, Charles and St. Mary's counties equally represented. The chair and vice-chair are selected by the trustees among themselves annually.
In addition to Middleton and Smith, CSM's trustees are MacArthur Jones, Mary Krug and Julie Sickle of Calvert County; Lois DiNatale of Charles County; and Theodore Harwood, Dr. John W. Roache and Dr. Janice T. Walthour of St. Mary's County. Serving as secretary/treasurer to the board is CSM President Dr. Brad Gottfried.
Appointed in 2003, Jones retired from the position of vice president and chief operating officer of the National Institute of Security Education Corporation. Prior to this, he had a 31-year career as an educator in the Calvert County Public Schools where he served as a teacher for eight years, an elementary level vice principal for 11 years, a middle school level vice principal for two years and an elementary level principal for eight years.
Krug, who has been on CSM's board since 2007, previously served two terms as a Calvert County Commissioner, from 1990-1998, and has worked as chief of the news bureau for the Smithsonian Institution, press spokesperson for the National Park Service's National Capital Region, and a local government affairs representative for Constellation Energy. She received her bachelor's degree in journalism and a juris doctorate (with honors) from George Washington University.
Appointed in 2010, Sickle is the fleet training manager for Constellation Energy Nuclear Group (CENG), one of the largest electricity suppliers in Maryland. She has worked with CENG for 25 years including roles in engineering, maintenance, work management and training. She has extensive leadership experience in the electric industry with many years leading adult education programs for workers at CENG's Nuclear Power Plant facilities. Sickle holds a Bachelor of Science in Nuclear Engineering from the University of Maryland and a Master of Arts in Education and Administration from the College of Notre Dame.
Appointed in 2009, DiNatale is employed by the Naval Ordnance Safety and Security Activity as a senior Navy ordnance environmental expert. A life-long resident of Charles County, she holds a Master of Science in Environmental Management from the University of Maryland and is currently pursuing a doctorate in human and organizational learning at George Washington University. She has extensive leadership experience in the Department of Defense's environmental and testing and training communities.
Appointed in 2010, Harwood received his Bachelor of Science degree in Naval Science from the United States Naval Academy in 1974 and continued his career for 28 years as a member of the active duty and reserve contingents of the Naval Aviation community, beginning as an F-14 Radar Intercept Officer and culminating at the Pentagon in OPNAV as Head of Budgets for Naval Platforms. Harwood is a lead engineer with Wyle. He has more than 36 years of engineering experience, and is nationally and internationally recognized for his technical expertise in electromagnetic environmental effects, lightning and aviation matters. Harwood co-owns two patents and is an assignee of two others. He is a retired captain in the Navy Reserves.
Roache is newly appointed to the CSM Board of Trustees, with his appointment beginning July 1, 2013. Serving on the Emeritus Medical Staff since 2003 for St. Mary's Hospital in Leonardtown (now MedStar St. Mary's Hospital), Roache has been on staff at the hospital for 40 years, having served as chief of staff and chief of surgery. He has served as chair of its Hospital Committee on Cancer since 1974, and previously served as the Emergency Services Representative, and on the Emergency Room Committee, Advisory Committee to Chief of Staff, Infection Control Committee, Hospital Building Committee and Hospital Disaster Committee. He is currently director of the new Wound Care Center. Inducted into the Hall of Fame of the Southern Maryland Volunteer Firemen's Association in 2003, Roache is the recipient of the Maryland Institute for Emergency Medical Services System's Southern Maryland Star of Life Award as well as its Leon W. Hayes Award for Excellence. Life member of the Mechanicsville Volunteer Rescue Squad, Roache helped to organize the squad in 1959. He has served the organization as its president for 34 years.
Appointed in 2007, Walthour is a life-long resident of St. Mary's County, and graduated from George Washington High School in 1968 when it was one of two public high schools for black students in the county. She received a bachelor's degree in elementary education from Morgan State University, a master's degree from George Washington University, and a doctorate in administration and supervision from Nova Southeastern University, Fort Lauderdale, Fla.
A regionally accredited community college that provides programs and services with a special focus on local workforce development to maintain and grow a healthy economy and community, CSM is a two-time silver level recipient of the Maryland Performance Excellence Award and is consistently recognized by the Alliance of Workplace Excellence for its commitment to its employees and the community. CSM has campuses in Calvert, Charles and St. Mary's counties. For information about CSM, call 301-934-7765 or 301-870-2309, 240-725-5499 or 443-550-6199, Ext. 7765 or visit www.csmd.edu.
Source: CSM