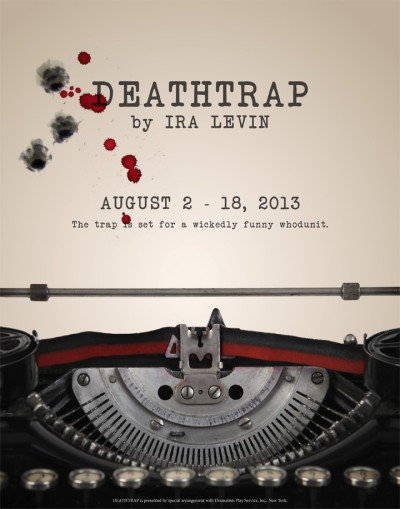 LEXINGTON PARK, Md.—The Newtowne Players will perform
Deathtrap
by Ira Levin Thursdays through Sundays, Aug. 2-18.
One of the great popular successes of recent Broadway history, Deathtrap offers a rare and skillful blending of two priceless theatrical ingredients: gasp-inducing thrills and spontaneous laughter. Sidney Bruhl, writer of Broadway thrillers, is struggling to overcome a dry spell that has resulted in a string of failures and a shortage of funds. He is prepared to go to any lengths to improve his fortunes.
A possible break in Bruhl's fortune occurs when he receives a script from a student in the seminar he has been conducting at a nearby college - a thriller he recognizes immediately as a potential Broadway hit.
Deathtrap provides twists and turns and sudden shocks in such abundance that audiences will be held spellbound until the very last moment.
Thursday, Friday and Saturday performances start at 8 p.m.; Sunday shows begin at 3:30 p.m. Performances are held at Three Notch Theatre on 21744 South Coral Drive in Lexington Park.
Tickets are $15 for adults and $12 for students, senior citizens (age 65+) and the military. Thursday shows are $10 general admission. Group rates are available for groups of 10 or more. Light refreshments and beverages are available for purchase at the theatre.
Reservations are recommended. Please make reservations for the show by calling 301-737-5447 or visiting
http://www.newtowneplayers.org.