By Christopher Goins, Chris@marylandreporter.com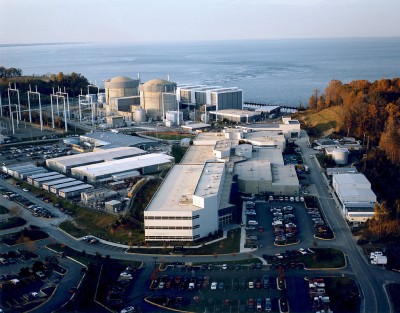 Calvert Cliffs nuclear power plant on the Chesapeake Bay in Lusby (photo by NRCGov on Flickr)
Calvert Cliffs Nuclear Power Plant was listed as one of almost 40 nuclear reactors across the U.S. that is at risk of closing early, according to a new report from the Institute for Energy and the Environment at Vermont Law School.
The lone commercial nuclear power plant in Maryland might be on its way to early retirement for primarily economic reasons, the report's author said. No dates were given for any reactors on the list and the author insists he's not making predictions.
A spokeswoman for Constellation Energy Nuclear Group, the owner of Calvert Cliffs, said in response to the report that there are no plans to retire the plant early. The company brags on its website that the plant got a 20-year extension of its license in 2000 after replacing the steam generators.
"It usually takes a precipitator to create the crisis," said Mark Cooper, a senior fellow for economic analysis at the Vermont school's energy institute. "Calvert Cliffs (reactors) have had some history of liability issues or safety issues and outages issues. It's one of these reactors where the economic context is not very bright," said Cooper. "And then the question is does something come along to put it off the edge?"
Report says economics, costly repairs drive early closings
Cooper explained that when it comes to ownership fights to keep nuclear facilities open, if the "economics are heavy enough"–that is, financially difficult–then stakeholders in the company will walk away from the plant. He noted that this May, Dominion Power walked away from one of its earliest nuclear acquisitions, Kewaunee nuclear plant in Wisconsin.
"The [cash] margins at Calvert Cliffs according to Credit Suisse is substantially lower than the margin was at Kewaunee," Cooper told Maryland Reporter.
"So that means they are not generating a lot of cash to cover their other expenses," Cooper said. "And that's what puts them on what I call the economic razor's edge."
Plant owners proud of clean energy, economic boost to area
Constellation Nuclear Energy Group, which joint owns the plant with Electricite de France, responded to the report, saying that it has "no information" to suggest its "facilities would retire before their licensed operating lives are up."
"Due to the nature of our company's structure, any decision to retire a plant early would have to be made by the board and our parent companies, EDF and EXELON," wrote Cynthia Angus, Constellation Director of Communications, in an email. The license renewals for Calvert 1 and Calvert 2, the nuclear reactors in Lusby, Md., about 40 miles southeast of Waldorf, will be effective in 2015 and 2016 respectively. They power over 1 million homes, according to the company.
"We are proud of the operating histories of our facilities as well as the clean energy and economic boost they provide to the communities we serve," she stated.
Report calls nuclear energy 'expensive, uneconomical'
The report comes at a time when four U.S. plants have already announced their retirement and just a two months after the Lusby, Md. power plant experienced one of its reactors failing temporarily, which Constellation said did have a financial impact.
Constellation did not disclose the financial impact due to competitive reasons.
What makes the announced retirements of the plants so significant is that virtually none of them were predicted in the U.S. Energy Information Administration's (EIA) 2013 Annual Energy Outlook — released in April — even when one of the announcements came in the fall of 2012.
"Apparently DOE can not even forecast events adverse to its nuclear imperatives when those events have already occurred," said Peter Bradford, a Vermont Law professor and former member of the U.S. Nuclear Regulatory Commission, during a conference call with Cooper last Wednesday.
Bradford added that the 2012 EIA Annual Energy Outlook was "even less reality-based," noting that the EIA predicted in its low estimate that no reactor other than Oyster Creek were forecasted to close until 2029.
The report concludes that nuclear reactors "have never been competitive" at any stage of their existence.
"They are not competitive because the U.S. has the technical ability and a rich, diverse resource base to meet the need for electricity with lower cost, less risky alternatives," Cooper concluded in his report.
Shale competing with nuclear for energy production
Heartland Institute's Science Director Jay Lehr said that because of the "shale gas revolution" – a 2012 study estimated shale gas to represent over half of all U.S. natural gas production by 2035 — nuclear energy really has to compete on the open market for with other inexpensive sources.
"Whether the U.S. builds another plant is questionable because of the shale gas," Lehr said. He added that "certainly not all of" the 38 plants in the study will fight off closings. They would then apply for license recertification.
He says he "totally" agrees with Cooper's conclusion that policy attempts to stave off the "economic reality of nuclear power will be costly, ineffective and counterproductive."
As for the possibility of fixing reactors to avert early shut downd, Cooper pointed out that the now-retired Crystal River and San Onofre reactors in Florida and California were fixes that broke and a second round of repairs would be extremely expensive.
Nuclear energy safety debated
"Nuclear power is a dangerous and an expensive way to get our energy," wrote Emily Scarr, state advocate for consumer group MarylandPIRG, in an e-mail.
"The decision to close other aging reactors such as San Onofre is a sign that the industry is starting to wise-up to the fact that the public supports more cost-effective ways to get our energy," she continued.
Lehr believes nuclear energy is the "safest form of energy." He said there is hope for nuclear if the U.S. follows in Russia's steps and begins to produce much smaller 200 megawatt modules rather than the 1000 megawatt or larger reactors that are currently spread across the country.
"I honestly believe you could build a very good power plant for half the price," Lehr said.
Calvert Cliffs may be on the "Most at Risk" list, but it still isn't one of the top nine which are at the greatest risk of shutting down early.