Scrap Tire Drop-Off Day
Farmers and residents can unload tires free of charge
The St. Mary's Board of County Commissioners and Department of Public Works and Transportation, in cooperation with the Maryland Department of the Environment and Maryland Environmental Service, announced a Citizen and Agricultural Scrap Tire Drop-off Day will be held on September 14, 2013. Anyone dropping off scrap tires will be able to do so free of charge.
The event will take place at the St. Andrews Landfill on St. Andrews Church Road in California, MD between 8 a.m. and 4:30 p.m. Ten (10) tires per vehicle will be accepted with a limit of one trip per vehicle. Tires which will be accepted include passenger, light truck, heavy truck and agricultural. In addition, both on-rim and off-rim tires will be accepted. Commercial vehicles and businesses will be prohibited from taking part in the event.
The scrap tire drop-off day makes use of the State Used Tire Clean-up and Recycling Fund, which is funded by the collection of a $0.80 per tire surcharge/fee on the sale of each new tire in the State. The purpose of the program is to provide an environmentally responsible way of reducing, recovering and recycling stockpiled scrap tires in Maryland.
George Erichsen, P.E., Director of the Department of Public Works and Transportation, is issuing a challenge to all residents and farmers to make this ninth event a record breaking event. "The most tires ever collected during the one-day event was 3.677 in April, 2008, weighing over 80 tons," said George Erichsen, P.E. "We want to see even more collected this time around."
Citizens are reminded that they may continue to bring up to five (5) old scrap tires per visit, free of charge, to the St. Andrews Landfill year round. Loads in excess of this quantity will be assessed a fee of $158.00 per ton.
For more information about the September 14 Scrap Tire Drop-off event, please contact Nicholas Zurkan, St. Mary's County Solid Waste Manager, at 301-863-8400 ext. 3550. You may also visit the department's website at
http://www.stmarysmd.com
.
Pirate Day Program Coming to Piney Point Lighthouse Museum
The Piney Point Lighthouse Museum is looking for a few scurvy pirates and scalawags to participate in the annual Pirate Day, Saturday, July 27. Pre-registration is required and begins July 1.
The event is geared for little children ages 4 to 9 years old. The festivities begin with a morning session, from 9:00 a.m. to 12:00 noon, followed by an afternoon session from 1:00 p.m. to 4:00 p.m. 12 slots will be available session, for ages 4 - 6 and 12 slots for ages 7 - 9. The cost to pre-register is $10 per child. Personal checks and credit cards (MC or Visa) are accepted. Registration is on a first come, first served basis.
The Pirate Day program will include a host of pirate activities! Each child will receive a pirate name, walk the plank, make and take activities, pirate tattoos and flags and more! Kids are encouraged to dress as pirates for the costume contest!
For more information, or to register your child, call the Piney Point Lighthouse Museum at 301-994-1471. The museum is located at 44720 Lighthouse Road, Piney Point, MD.
Pirate Day is presented by the Museum Division of St. Mary's County Department of Recreation and Parks and the Board of County Commissioners for St. Mary's County.
Thomas Road Shoreline Revetment Project Completed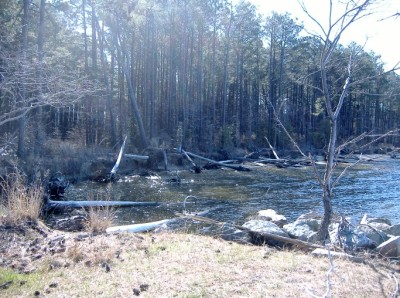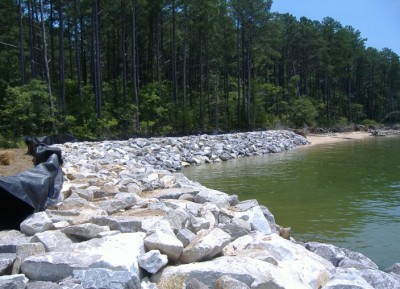 Before and after photographs of the project. (Photos: St. Mary's Co. Gov.)
The Department of Public Works and Transportation announces the completion of the Thomas Road shoreline revetment project. The area is located adjacent to Thomas Road along the Potomac River shoreline on St. George Island.
This shoreline revetment project is comprised of a 215 linear foot stone revetment connected to an existing revetment along Thomas Road. The new stone revetment consists of stone varying in size from 600 pounds to 1,600 pounds each. It was designed and constructed to be placed from 25-40 feet channel ward, allowing for the placement of backfill behind the revetment, thus replacing some of the area lost to erosion to be reclaimed. The larger stones are effective in withstanding the waves from the Potomac River during heavy storms. The project will protect a segment of Thomas Road from further shore erosion and preserve the access for several dozen properties that would otherwise be stranded with no road access. The project was completed under budget and on schedule.
Designed By: Andrews, Miller and Associates
Constructed By: Colliflower and Peterson
Project Cost: $128,050
Funding: 25 year, 0% interest loan through the Maryland Department of Natural Resources, Shoreline Conservation and Management Service.
The Department of Aging and Human Services Unveils New Logo and Slogan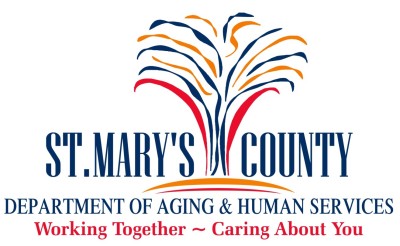 The latest sign that things are moving forward at the Department of Aging & Human Services is the unveiling of a new logo! The department wanted a look that is "fresh and clean," while prominently reflecting its goals. The vibrant colors shown in the logo represent the energy channeled by dedicated staff to ensure the vitality of the community we serve-the varied population of St. Mary's County.
The logo symbolizes the diversity of the recently expanded Department. Human Services now joins the Department of Aging as the seventh division, bringing programs and services not just to older adults, but to families and children. The merging of the Departments enables everyone to work together to ensure continued support of our community through all stages of life as stated in our logo-"Working Together ~ Caring About You." The Human Services Division is responsible for the coordination of supportive services to people with mental illness, substance abuse treatment and prevention coordination, supportive services to children and families, and the Teen Court program, to name a few. The Department of Aging & Human Services offers programs and services which helps many different populations-a great benefit to the community.
The Department of Aging & Human Services selected a tree to visually convey its mission-to provide a wide variety of programs and services to the county's senior residents, as well as other segments of the population. The Department serves as the "roots" supporting the divisions. The "branches" represent each division extending far into the community with programs and services that are wide and varied. Our seven divisions are Community Programs & Outreach, Home and Community-Based Services, Human Services, Senior Center Operations, Senior Information & Assistance, Finance and the Retired and Senior Volunteer Program. The Department's Divisions are "Working Together ~ Caring About You."