Soybean Growers Warned to Monitor for New Pest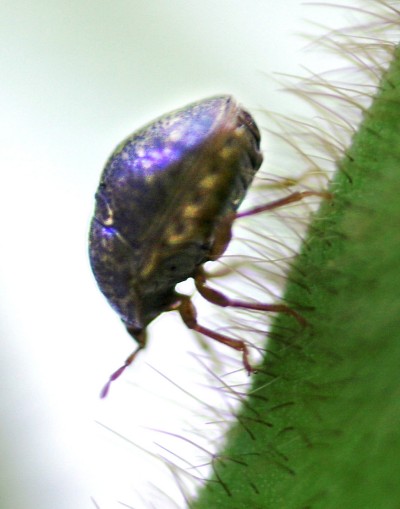 The kudzu bug, another invasive species from Asia, has been found in Calvert, Charles and St. Mary's counties, as well as Anne Arundel and Prince George's. (Photo courtesy of USDA)
ANNAPOLIS (July 10, 2013)—The kudzu bug, another invasive species from Asia, has been found in five Maryland counties, and the Maryland Department of Agriculture (MDA) is alerting soybean growers – especially organic soybean growers – to watch for this pest that can reduce yields but can also be controlled with appropriate pesticides. Researchers at the University of Maryland discovered the bug and confirmed its presence in Anne Arundel, Calvert, Charles, Prince George's and St. Mary's counties.
"We want farmers to be aware that the kudzu bug is here and that it is another insect they may have to manage as the season progresses and in the years ahead," said Deputy Agriculture Secretary Mary Ellen Setting. "There are ways to control the insect, but farmers need to prepare now for its arrival."
The kudzu bug typically feeds on kudzu vines and then may migrate to soybeans and other types of available beans. Excessive kudzu bug feeding can reduce soybean yields by reducing pods per plant, reducing beans per pod, and/or reducing seed size. In Georgia, where it was originally discovered, yield losses of up to 47 percent were recorded on untreated beans at a research station in 2011. The pests in Maryland have all been collected on kudzu, not on soybeans, but they may be heading that way. Growers who want more information about how to control this pest, can visit:
kudzubug.org/grower.html
.
The bug can also be a nuisance for homeowners, similar to the brown marmorated stinkbug. When crushed, the kudzu bug can stain surfaces in the home, cause skin irritation and smell bad. The worst time for kudzu bugs and homeowners are early spring and fall. Tips for homeowners on how to keep the bug out can be found at:
kudzubug.org/homeowner.html
. Homeowners who think they have an infestation should contact a licensed pest control company. (Make sure you are dealing with a licensed professional by checking the MDA database at:
mda.maryland.gov/plants-pests/Pages/pesticide_db.aspx
)
The olive brown bug – less than 1/4 inch at full size – was originally found in Georgia in 2009 and has been working its way north. It was identified in Delaware earlier this month. For more information, see
mdkudzubug.org.
Source: Maryland Department of Agriculture