By KARL B. HILLE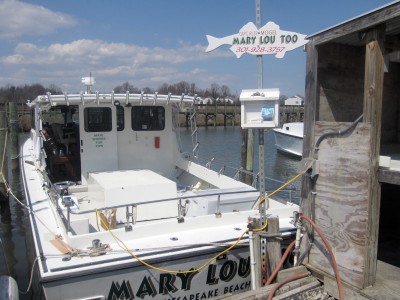 The Mary Lou Too charter fishing boat is docked in Fishing Creek. Captain Russ Mogel says he loses business when the tides are too high to slip under the Rte. 261 bridge. (Photo: Sydney Paul)
FISHING CREEK, Md.—Charter boat captains like Russ Mogel have always calculated the tides into their businesses, but these days high tides can mean entire days with no business.
The retired firefighter captains the Mary Lou Too out of Fishing Creek in Calvert County on the western shore of the Chesapeake Bay. He needs 7 to 8 feet of clearance to get under the bridge on Maryland Route 261—Bayside Road—before it empties into the Chesapeake.
"There are some times the tides are rather high, I can't get under with my parties," Mogel said. "We've had more high tides when water is up in the parking lot. When it's up there, I know I can't get anywhere. Back in the '70s it was no great problem unless we had a hurricane."
The bridge has a white board under it, marked with lines showing 10 feet from the average waterline to the underside of the bridge. While commercial crab and fishing boats that share the Fishing Creek marinas are low-slung to fit through, charter boats like Mogel's—equipped with radar and antenna masts—need much more clearance.
For Mogel and his two sons, who handle most of the outings, a missed eight-hour day of fishing with six passengers means a loss of at least $690 in income. If he can't reschedule with his clients, he has to refund their $200 deposit.
Mogel has about $200,000 tied up in his boat, not counting fishing gear, and estimates the value of his slips at $100,000.
"It will affect me probably more times in a year as things go on," Mogel said of the tides. "I really wonder what my kids are going to be able to do out on the water in future years."
The level of the Chesapeake Bay is expected to rise 2 to 5 feet by 2100 or sooner, studies show. Towns and businesses operating on the waterfront will have to adapt to the rising tides or retreat to drier ground.
The Maryland Department of Transportation has already begun raising portions of Route 261—a vital roadway linking North Beach and Chesapeake Beach to the rest of Calvert County, as well as north to Friendship and Annapolis. Plans are underway to replace the bridge over Fishing Creek.
Design work for the Route 261 bridge cost the state about $1 million, and construction—bids will be taken this fall—is estimated to cost $6 million to $7 million, said Kellie Boulware, a State Highway Administration spokeswoman. The new bridge will be 4 feet higher and will include an extra center turn lane and 4-foot shoulders.
Although the bridge itself never floods, Boulware said replacing it is important because of its age and condition. But the town pushed for the raising of the bridge, in part to accommodate boaters who work out of Fishing Creek.
The bridge is 73 years old. By the time the new bridge is that age, the Chesapeake Bay is expected to be 2 to 5 feet higher—leaving Mogel's successors in the same boat as he finds himself today.