By KARL B. HILLE and SYDNEY PAUL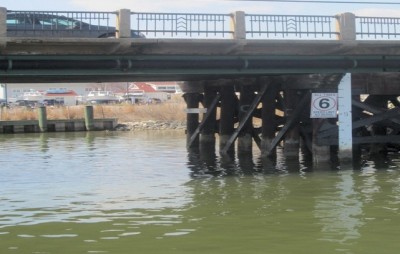 Measuring rods mark water levels under a bridge in Chesapeake Beach. In low-lying coastal areas, high tides sometimes prevent charter boats from clearing bridges and flood roadside ditches. (Photo: Sydney Paul)
COLLEGE PARK, Md.—Gov. Martin O'Malley warned in December that rising sea levels over the next century would threaten "400 miles of roadways," when he signed an executive order making protection of billions of dollars in state infrastructure a top priority.
However, a Capital News Service (CNS) analysis shows the total impact, factoring in county-maintained roads, could be much worse.
Maryland is home to more than 5,200 miles of state roads and about 21,000 miles of county roads, according to Maryland State Highway Administration documents. A CNS analysis found that roughly 800 miles of roads would be affected if sea levels rise another 2 feet. At 5 feet, an estimated 3,700 miles would be under water.
The bay already has risen more than a foot in the last century, and scientists predict it will rise 2 to 5 feet before the end of the next century.
The CNS analysis used land elevation data from U.S. Geological Survey and population survey data from the census. The effect of local man-made structures such as seawalls is difficult to determine and not included in the calculations.
The rising waters are expected to flood roads and weaken the foundations of bridges, causing some bridge decks to fail, according to state reports. A 2-foot rise in water levels would have an impact on 93 bridges, culverts and other highway structures.
Elizabeth Habic, manager of the climate change program at the State Highway Administration, said the agency has embarked on an ambitious mapping effort to identify which state roads are vulnerable to rising sea levels, so they can decide how to tackle the problem.
"We don't know how to fix it yet," she said. "We're evaluating solutions."
Already, high tides alone have been enough to routinely swamp some important state highways, such as Route 261, Bay Avenue, connecting nearly 7,000 people living in Chesapeake Beach and North Beach with Annapolis and points north. That road was raised more than a foot after Hurricane Isabel made it impassable in 2003.
Other roads critical to smaller communities remain in jeopardy, such as the 10.5-mile-long Route 362 to Mount Vernon in Somerset County. The route connects many isolated neighborhoods near the end of Mount Vernon's peninsula and includes a volunteer firehouse and a major bridge nearby.
Options for sea-level rise adaptation can range from abandoning roads and relocating entire communities to elevating roads, building walls or levees to protect them, and improving drainage, according to engineers and planners. But those measures can be costly.
In a state that just raised gas taxes to replenish its depleted Transportation Trust Fund, finding an affordable way to address the looming threat will be a challenge.
Where funding is in shorter supply, county road systems may be in deeper water. A recent study found some counties less prepared than the state to address the threat.
Somerset County is one of the few coastal jurisdictions that took advantage of federal funding administered by the state Department of Natural Resources to develop a strategy for dealing with rising sea levels. Among other things, the guidance document said that Somerset either needs to reinforce roadbeds in low-lying areas or raise them higher.
So far, the county has done "absolutely nothing" to prepare county roads for sea level rise, said George W. Barnes III, director of the county's roads department: no strategic planning for severe weather, storm surges, long-term sea-level rise, or even routine high-tide flooding. "It's not on the radar."
Other than incorporate some adaptation measures into road repairs after Hurricane Sandy, "we haven't done anything in preparation, just because of funding," Barnes said. "Funding is our biggest limitation."
"As far as even 2 feet of additional water elevation, some of these areas won't need road repair, because there won't be anything there," he said.
***
The state has completed an interactive map of state roadways that would be affected, said Gregory Slater, the State Highway Administration's director of planning and preliminary engineering.
Last year, the agency completed a statewide overview of roads, bridges and other assets that might be threatened. The next step is a more thorough analysis of each road's function, such as whether it serves as an evacuation route or major interstate. The agency received a federal grant of $115,000 from the Federal Highway Administration to conduct a more detailed analysis of areas in Maryland threatened by sea-level rise, climate change and storm surges. The majority of these are on the Eastern Shore, officials said, but the entire state will be studied.
"That's allowing us over the next year and a half to really, really dig in to where the vulnerabilities are in our transportation system," Slater said.
Once the project is completed, state highway officials said they will have the strategic plan they need to be able to make policy decisions on how to address the risk, he said.
Until then, highway administration officials have no estimate of the costs.
For now, sea-level rise adaptations are incorporated into routine road repair and replacement in consultation with the state Department of Natural Resources, Slater said.
"If we go out there to resurface a roadway, maybe we add a little more pavement to elevate it," he said.
There are hundreds of projects under construction or in design that incorporate adjustments for climate change, such as adding an extra inch or so of asphalt to keep up with rising sea levels, he said. However, he said he doesn't keep a tally and did not know how many miles of state road have actually received such fixes. He also did not know how much money the effort is costing.
"When (climate change preparation) becomes a part of your business plan, it's tough to say that you need X amount of dollars to make it happen," he said. "It's just integrated in every project."
***
Court Stevenson, an environmental scientist at the University of Maryland, said the state needs do a better job of encouraging the counties to prepare their roads.
Stevenson served on the Adaptation and Response Working Group of the Governor's Climate Change Commission, which produced the state's climate action plan in 2008. The plan set goals and deadlines for reducing carbon emissions and preparing for the effects of climate change, such as weather extremes and rising sea levels.
"The county roads are vulnerable," Stevenson said, and local officials in some of the most vulnerable areas of the state are "very resistant" to taking steps to protect their roads against rising sea levels.
It's a hard sell in places like Dorchester County, said State Sen. Richard Colburn, a Republican who represents four counties on the Eastern Shore.
"There is not a tremendous amount of worry about sea level changes because there isn't anyone in Dorchester County that believes there is anything they can do about it," he said.
In a later email, he added that residents' "overall concern is that they are a poor county, without the financial means to address sea levels rising and climate change."
The Hooper Island chain in Dorchester County would suffer up to $4.3 million in infrastructure damage if sea levels rose 2 feet, according to a report published by the Maryland Department of Transportation. Roads would be swamped and many of the islands' 389 residents would be stranded.
But upgrading a 10-mile stretch of roadway there could cost nearly $31 million—almost equaling the total assessed value of all the islands' land and structures, according to the report.
Like Somerset County, Dorchester sought guidance on sea-level rise through a federal program administered through the Department of Natural Resources, but the recommendations for roads haven't been put into action. Also, like Somerset, money is a major hurdle.
Drivers can see the difference between better funded and maintained state highways and county roads in some areas, said Dorchester roads director Tom Moore.
"The county funds all we can fund," he said. "We still continue with our road surveys, like we always did, and make decisions about which roads need attention."
Recently, the county raised the road surface on portions of Elliot Island, Moore said. Dorchester also has to contend with roads that are sinking faster than the surrounding land. Roads through marshy areas, like Bestpitch Ferry Road, have new asphalt added on top without grinding down the old surface first.
"We know that there's certain places where an extra one and a half inches of asphalt overlay will make some difference," Moore said, but sometimes the road is still underwater in a high tide or severe storm.