By REBECCA LURYE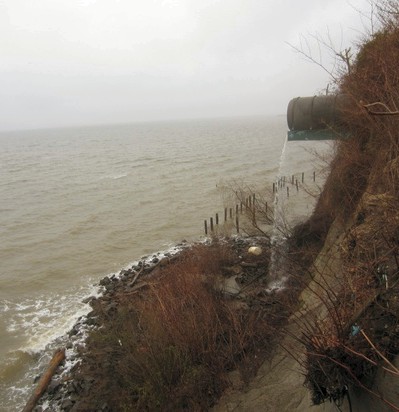 Erosion has exposed a drainage pipe in a cliff in Calvert County, and the houses above it are at risk. (Photo: Sydney Paul)
LUSBY, Md.—When Brian and Susan Davis purchased their Calvert County cliffside home 20 years ago, they planned to live out their retirement there.
The county told them erosion would take about 2 feet of the property a year, and the home sat about 60 feet from the cliff. The couple figured they had time and could afford to slow erosion, said Brian Davis, 75.
"It was just a 180-degree, panoramic view of the bay," he said. "No place you're ever going to find could compare. We walked up the stairs and looked out the window and that was it. We bought it right then."
But they couldn't secure permits to place rocks at the foot of the cliff, which would reduce erosion, and a $25,000 breakwater only helped so much. With the land sliding away year by year, they now are selling to the county government before it's too late.
Theirs is one of 10 homes near the cliff's edge that Calvert County is acquiring with $5.15 million in federal disaster funds.
The money comes from a 25-year-old "hazard mitigation" grant program, run by the Federal Emergency Management Agency that covers 75 percent of the purchase price for high-risk properties in vulnerable areas, such as coastal flood zones.
The same program is now being used to buy up more than 1,100 homes in New York damaged by Hurricane Irene and Tropical Storm Lee, a project costing about $194 million.
Nationally, FEMA distributed at least $13.9 billion of grants between 1989 and 2010, according to agency records. Maryland has received at least $23.3 million through this grant program since 1995, including $8.4 million in 2012 and $152,320 to date in 2013, according to FEMA spokesman Daniel Stoneking.
Counties here have used the money for fairly modest acquisition projects. The Calvert County project, approved in 2012, represents the state's largest buyout of coastal land through the federal program.
Past projects in flood zones include the purchases of several houses and mobile homes in Cecil County, a creek-side Cape Cod in Harford County and a bayfront cottage in Anne Arundel County.
Grants may address a range of hazards, from sinkholes to tornadoes. However, 85 percent of total funds nationwide has gone to coastal storm or hurricane projects. The money has underwritten the cost of protecting homes—by elevating or moving them, for example—as well as the outright purchase of houses.
For every dollar spent on a FEMA flood hazard mitigation grant, the government can expect to see an average of $5 in benefits, such as reductions in property damage, interruptions to business, injuries and death, according to a study FEMA funded in 2007.
But the process of acquiring houses can be long and complicated. Residents interviewed by CNS reported frequent delays and miscommunication, and local officials said their small staffs have been overwhelmed by the requirements of the program.
"This has been one of the biggest frustrations I've encountered in my 19 years in office," said state Delegate Tony O'Donnell, R-Calvert. "On the one hand, it's the only hope they have to get some help, so they're thankful and grateful. But on the other hand, it's been extremely frustrating and slow in coming."
***
The Calvert County project came out of a town hall meeting that O'Donnell convened in St. Leonard in February 2010. He wanted state officials to take action to protect cliff-side homeowners.
Some 200 bayfront homes cling to unstable cliffs that have eroded at increasingly faster rates over the past few decades. Residents have been unable to obtain permits to shore up the cliffs with rock walls or other man-made structures since the 1980s. Such work would endanger the Puritan Tiger Beetle, a threatened insect species that nests on the cliffs in greater numbers than anywhere else in the world.
After some harsh winters and rainstorms, the earth has fallen into the water in such large chunks that one resident had to demolish a section of his home left hanging over the edge. As of 2011, 18 houses rested within 20 feet of the cliff.
"If we were lucky enough to avoid any loss of life, we'd have one heck of an environmental mess to clean up, and assuming the homeowners were about to lose their life savings, they wouldn't be in any position to pay for it," O'Donnell said in an interview.
Under the FEMA program, local governments may apply for buyout funds through their state emergency management agencies after a natural disaster. FEMA reviews the proposals to determine if they are cost effective and awards the grants to the state—which passes the money on to local governments.
After a local government or agency makes a purchase, the buildings are razed and the land is restored to natural habitat. There's one less family that may need emergency assistance when the next big storm hits, and the foliage that replaces the structure helps buffer remaining properties against flooding.
But the decision to abandon a home can be a difficult one.
Stephen Cranston, 67, grew up on the cliffs, fishing off piers and selling sharks' teeth for a nickel to vacationers.
"You wake up every morning and look out—there's a different part of scenery up in the bay," Cranston said. "It's where I grew up."
His Randle Avenue home in Chesapeake Beach, about 30 miles from Lusby, has gotten about 4 inches closer to the cliff's edge each year, eventually hanging over the edge, Cranston said. In 1995, he demolished the front part of his house, which he'd dubbed the "Florida room" for its bay view and the display of his father's prize catches.
Cranston said he hopes to die before he has to leave his home.
Ultimately the owners of just 10 houses of the 200 in jeopardy submitted applications to sell their properties to the county. Since then, the process of leaving has been extremely slow, O'Donnell said.
Advisory committee meeting minutes complain of a lack of guidance from the Maryland Emergency Management Agency. It took nearly a year for the county to submit its proposals to the state for FEMA review and approval. Now another year has passed, and the county has made offers on nine of 10 homes. Only two properties have been demolished, including Davis' home.
"It was a very long, drawn-out procedure with tons of government red tape," Brian Davis said. "We've purchased houses before and they were nowhere close to these procedures—all the hoops everybody had to go through to qualify."
MEMA's hazard mitigation officer, Mark James, did not respond to multiple calls and emails.
Bobby Fenwick, Calvert County's emergency management director, said the learning curve is steep for local officials such as himself. No directions could ever provide a "cookbook version, a recipe of how to do this," he said, because each project is so different. Instead, emergency management directors need to go through the process once, learning and asking questions of state and federal officials along the way.
"I don't think they (state officials) were as knowledgeable about the process as would have been beneficial, but in the end we all got where needed to be."