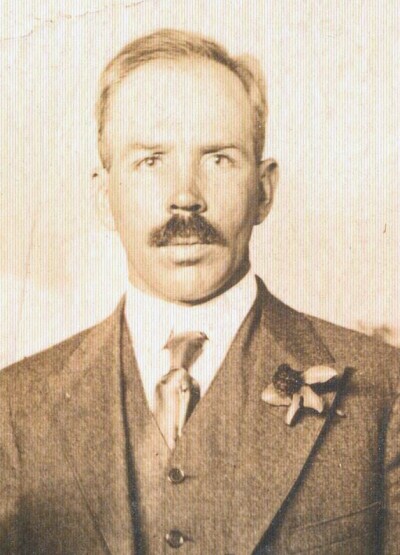 Patrolman Lawrence McParlin in an undated photograph.
LA PLATA, Md.—Life was different back in 1918. There were no smart phones, no V6 engines, no television – and when Patrolman Lawrence McParlin attempted to serve a witness summons on a Washington, D.C., man on May 21 that year, there were no police radios or computer databases to warn him the man was wanted for murder in South Carolina. The man shot and killed Patrolman McParlin and a D.C. Metropolitan Police Department (MPD) Officer assisting him in the summons service. It is the first recorded death of a Charles County Sheriff's officer.
For 95 years, the Charles County Sheriff's Office (CCSO) has recounted the story of Patrolman McParlin's sacrifice but until recently, the Agency knew little else about his life or the circumstances surrounding his death. His face, too, was a mystery, with no known photographs available to properly memorialize him in a fallen officers display at the Sheriff's Headquarters or on the CCSO, National Law Enforcement Memorial and "Officer Down Memorial" websites. A series of events transpired late last year, however, that not only brought to light previously unknown details about patrolman and his tragic murder but also enabled the CCSO to finally put a face to the name.
It began in December 2012 when Ms. Kathryn Lynn, an Arizona resident and a cousin of Patrolman McParlin's wife, Ms. S. Ethel Bradley, contacted the CCSO to provide the Agency with information about Patrolman McParlin's burial site. As a historian for one of Ms. Bradley's ancestral families, Ms. Lynn had been researching the location where her late cousin's husband had been laid to rest. After learning Patrolman McParlin had been buried at the Hartland Central Cemetery in Hartland, N.Y., she remembered a post on an Internet message board she had read several months earlier from a member of the CCSO who was also searching for Patrolman McParlin's final resting place. Unable to recall specifically who wrote the post, she contacted the CCSO by e-mail to offer the information. Lt. Edward Godwin, who is assigned as to the Executive Services Division and serves unofficially as one the CCSO's resident historians, received her e-mail and was instantly intrigued.
"It immediately sparked my personal interest and I became consumed to learn more about this man and his service to this fine organization," Lt. Godwin said.
Over the next few months, Lt. Godwin uncovered previously unknown details about Patrolman McParlin's death. Patrolman McParlin had only been a CCSO officer for a few months when he and a representative of the Austin Construction Company traveled to Washington, D.C., to serve a witness summons on Herbert Copeland. The summons was related to the investigation of another man accused of embezzlement at the Naval Powder Factory in Indian Head, Md. Prior to the summons service, Patrolman McParlin found Officer John Conrad, a 13-year-veteran of the MPD assigned to the Fourth Precinct, walking his beat and asked for assistance. Together they confronted Copeland who, without warning, shot and killed both officers.
During the subsequent search for Copeland, MDP Lt. David Dunigan tracked him to address on Carrollsburg Place in Southwest D.C. and found him hiding under a bed in a rear room. Lt. Dunigan ­¾ a 43-year veteran of the MPD and a widower with five adult children ­¾ was shot during an exchange of gunfire and succumbed to his injuries at the scene. Copeland sustained multiple gunshot wounds during the encounter but survived. Other officers at the scene took him into custody. He was admitted to Casualty Hospital and ultimately transferred to the D.C. jail but he escaped while awaiting trial.
Copeland was recaptured several years later at a tire-manufacturing factory in Akron, Ohio, and eventually tried for the murder of the officers and found guilty. On Jan. 22, 1925 he was hanged. He was the last person in the District to be executed by hanging. Before his execution, he confessed to 12 murders including the murder in South Carolina, one in Galveston, Texas, and one on Dec. 24, 1924, in which he shot and killed Officer William Holmes of the Chicago Police Department during a citizen robbery investigation.
In addition to uncovering the timeline and circumstances surrounding Patrolman McParlin's death Lt. Godwin had also learned through his contact with Ms. Lynn that Patrolman McParlin was 35 at the time of his death, had been married for 10 years to Ms. Bradley, and the couple had a daughter, Marjory. Lt. Godwin remained committed to finding a photograph of Patrolman McParlin and, fortunately, Ms. Lynn had also provided him with a lead: a list of Ms. Bradley's possible descendants.
"I went to online Internet resources I was familiar with to obtain addresses to go along with the names," Lt. Godwin said. "From that point, I sent out approximately one dozen letters to the possible descendants. Through our combined efforts I was able to make contact with descendent Maryalice Gillette from Rochester, New York. Ms. Gillette was able to e-mail me photographs."
Lt. Godwin obtained the photographs by e-mail in March, shared them with his fellow CCSO members and arranged to have one printed, framed and hung in the fallen officers display in the Headquarters atrium. He also arranged to have it posted on the appropriate websites.
Inspired by the closure the photograph had brought to the CCSO and aware that National Police Week was only a few months away, Lt. Godwin proposed an idea, which Sheriff Coffey quickly approved: The CCSO would host a memorial ceremony in May in observance of Police Week, to honor the Agency's fallen officers and to formally recognize the 95th anniversary of Patrolman McParlin's death.
CCSO personnel, family members of fallen CCSO officers and other special guests gathered for the ceremony in front of the memorial statue outside the Sheriff's Headquarters in La Plata on May 12 at 7 p.m. Ms. Gillette and her family traveled from Rochester to attend. While delivering prepared remarks, Lt. Godwin thanked the Gillette family for attending and for "helping my department with closure after 95 long years."
The ceremony honored not only Patrolman McParlin but also the four other CCSO officers who have since died in the line of duty:
-- Pfc. Dennis L. Riley, who died on Jan. 11, 1977 when a fuel tanker overturned on his cruiser at the intersection of U.S. Route 301 and Route 228 in Waldorf
-- Sgt. Francis "Leo" Yates, who died on June 8, 1988 after suffering a heart attack while leaving the Charles County Courthouse
-- Sgt. Joseph E. Stine, Jr., who died on May 12, 1990 after arresting a disorderly subject, transporting the resisting prisoner to the Charles County Detention Center and then suffering a heart attack.
-- Sgt. Timothy C. Minor, who died on Feb. 12, 1996 when a vehicle pulled in front of his police motorcycle on Route 257 in Newburg while he was responding to a call near Cobb Island.
During the ceremony, Lt. Stephen Salvas, commander of the Community Services Section, read each fallen officer's name as members of the Honor Guard laid wreaths in their honor at the memorial statue. Sheriff Coffey escorted members of the officers' families to the memorial to witness the dedication.
"I am proud of Lt. Godwin for taking the initiative to learn more about Patrolman McParlin," said Sheriff Coffey. "I was privileged to take part in this ceremony and to have the chance to share in the remembrance of all five officers who sacrificed their lives in the service of our community. I cannot think of a more dignified way to honor them."
The ceremony began with the presentation of colors by the CCSO Honor Guard and included a performance of the National Anthem and "Amazing Grace" by Ms. Courtney Bailey; a proclamation of Police Week in Charles County presented by Commissioner President Candice Quinn Kelly; a bagpipe performance of "Going Home" by Cpl. Steve Bachert of the Prince George's County Police Pipe Band; and a trumpet performance of "Taps" by Volunteer Firefighter Jesse Downey and Mr. Dakota Sparks. Sheriff Coffey and Lt. Godwin delivered remarks and CCSO chaplains Dr. Steve Davis and Dr. Aaron Jones delivered the invocation and benediction, respectively.
It marked a fitting and uplifting end to the story of Patrolman McParlin, one of the most tragic chapters in the CCSO's 355-year history.