Faculty Excellence Award Recipient Also Among Top 18 Professors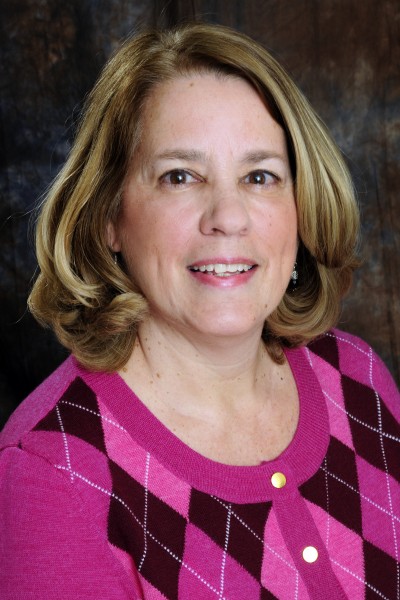 The latest recipient of the College of Southern Maryland's Faculty Excellence Award for Adjunct Faculty, Linda Fitzgerald has also been selected among the Top 18 Medical & Nursing Professors in Maryland by Online Schools Maryland.
LA PLATA, Md.—If you're a student in Linda Fitzgerald's nursing class at the College of Southern Maryland, you'd better learn to think like a nurse. That means knowing more than just how to take a blood pressure or administer medications.
Fitzgerald expects her clinical students, who are in their third semester of the nursing program, to know their patients and plan for their treatment at Civista Medical Center (soon to be University of Maryland Charles Regional Medical Center), where Fitzgerald spent nine years as program coordinator of cardiopulmonary rehabilitation.
Each student is required to prepare a report about their patients, and if something isn't spelled out or is incomplete, Fitzgerald knows. That's because Fitzgerald, an adjunct instructor at CSM since 2006, also takes the time to learn about those patients while she supervises an eight-hour shift twice a week at the medical center and when she talks with the full-time nurses who work with CSM students on each shift. She knows many of those nurses, since several are graduates of the CSM program.
"Frequently I'm pairing up a student with somebody I actually taught in clinical, which is wonderful," said Fitzgerald. With help from the former students' help, Fitzgerald said she can "feel a little more comfortable" with how the current students are progressing.
The latest recipient of CSM's Faculty Excellence Award for Adjunct Faculty, Fitzgerald has also been selected among the Top 18 Medical & Nursing Professors in Maryland by Online Schools Maryland, for "outstanding contributions to teaching, professional development, the CSM mission and the Community at-Large."
As an instructor, Fitzgerald says that it's important to make expectations clear. "I usually do that to the point of nagging," she said with a laugh. She begins each semester with written guidelines, and "then [I] go over them again the first day of clinical, and again on the second day of clinical."
"She's got high standards, and she's not going to lower them if [students] aren't measuring up," said CSM Professor Kathleen Parsons, who worked with Fitzgerald during their nursing careers at Civista. "She won't pass them, and [students] know that. "
Elizabeth Short, a January 2013 nursing graduate who called Fitzgerald "an amazing teacher and leader," said that Fitzgerald lives up to her strict reputation. "She was very critical of our work, very demanding, with high expectations of her students. But that goes along with how passionate she is about the profession … she's not the instructor who will allow a mediocre student to move on and risk someone's life."
Caitlyn Kogel, a January 2013 graduate who is now working as a nurse at MedStar St. Mary's Hospital in Leonardtown, called Fitzgerald a "tough" instructor who left no room for error. "I had to really work to impress her," said Kogel, 23, of Hollywood. "You had to be on top of your game every time you went to clinical." During their shifts, the students make rounds with the RNs. They start with an assessment of each patient, which includes a physical exam from head to toe, Fitzgerald said. Then, students are expected to record their findings, study lab reports and X-rays, look up medications and put their assessment in writing. "You look at lists and you make lists," she said. Students also keep journals in which they evaluate their own progress and get feedback from Fitzgerald on whether they are moving in the right direction.
Fitzgerald stays at the hospital throughout the shift, keeping a constant presence with the seven to eight students. At the end of the shift, the students provide Fitzgerald with a "care plan" that focuses on a problem and a nursing diagnosis. "It gives [students] a direction to go in," Fitzgerald said. "Otherwise, they are not really sure what to focus on." Students tend to concentrate their reports around tasks, Fitzgerald said, but she and other instructors at CSM want their students to be critical thinkers.
For instance, if a student is giving a patient blood pressure medicine, Fitzgerald said the student needs to know when to re-check the pressure. "They have to do a lot of critical thinking before they even give the medication so they know they can give medication safely. You need to know everything about those medications and what side effects they might have— including educating the patient about what they are taking."
Part of generating that critical thinking component means allowing students room to make choices. "She would give you the opportunity to make decisions," Kogel said. "And if you were making the wrong decisions, she would explain how to do it a better way."
Parsons said Fitzgerald is constantly questioning students to make them think, asking them, "'What do you think you should do?' Constantly saying to them, 'Why, why, why?' Putting them on the spot. She challenges them to be their best." "We would have case studies to work up," recalled Short. "If we left out details—any details —she immediately knew."
After students complete their shift, Fitzgerald talks to the supervising nurses to gain their perspective. That occasionally prompts follow-up conversations where the students are asked to discuss how they did. "I have to tell myself, 'Let me give them a chance to say what they should have done differently.' That's going to provide a better learning experience for them," Fitzgerald said.
Fitzgerald, a graduate of La Reine High School in Prince George's County, earned her bachelor of science degree in 1976 from the University of Maryland. The fourth of nine children and one of seven girls, Fitzgerald remembers her mother telling her that for a career, she could either be a teacher or a nurse. "I guess she's happy because I'm both," Fitzgerald said.
She began her nursing career at Baltimore's Sinai Hospital, working in coronary care, and moved to Southern Maryland Hospital Center in Clinton for another six years of coronary care experience. Fitzgerald took a 12-year break from nursing to raise her family before taking a job at Civista, where she served on various critical care committees and taught the telemetry class, in addition to coordinating the Cardiopulmonary Rehab program. "I did a lot of teaching in that role," Fitzgerald said.
When Fitzgerald left Civista, she became an adjunct faculty member at the urging of Parsons. "I think I was probably looking to do something a little bit different, something that would challenge me in different ways," Fitzgerald said. Fitzgerald provides advice and communication guidelines for her students. Some students can be overly shy, and others can be the opposite, coming on too strongly. "Sometimes students take care of patients that don't openly welcome having a nursing student. So they need to learn interpersonal relationship skills so they can overcome that."
Fitzgerald goes out of her way to expose her students to a variety of patients, some who had complicated surgeries, diseases or acute illnesses, Short said. "She made sure we really understood the relationships between nurses and doctors," added Short, 39, an Owings resident who went back to school to seek a nursing degree for a new career, and recently accepted a position on a med-surg floor at Civista.
Parsons noted that Fitzgerald's students can be wide-ranging in age, from 18 to 60. "You really have to be flexible, multifaceted to do that … she just identifies well with whomever's she's teaching. She gets high marks for delivering content."
At CSM, she fills in for other instructors as needed, takes on extra projects, and provides recommendation letters for students seeking their first jobs. Fitzgerald says that no matter what part of the industry students wish to work—nursing homes, hospice, health centers, doctors' offices—hospital experience is valuable.
Fitzgerald, a Swan Point resident, has been active in the community since she and her family moved to Charles County in 1984. While she worked at Civista, she was active with foundation fundraisers, including being "crowned" Queen Mystique in 1999 and awarded the Civista Health Employee Volunteer of the Year in 2002. She also spent 10 years on the foundation board of the Friends of Hospice, raising money to build a hospice house. The $5 million project culminated with the opening of the Charles County Hospice House last November. Her husband, Steve, a La Plata attorney, currently serves on the hospice's governing board.
Fitzgerald relishes the challenge of trying to help shape the lives of future nurses. "We're very proud of our program," she said, adding, "CSM is fortunate to have some amazing Instructors, and I am proud to be a small part of the team."
CSM's Faculty Excellence Award is presented at the winter and spring graduations, and recognizes outstanding contributions to teaching, curriculum and professional development, the college community, and the community at-large. For information on the annual award and previous recipients, visit
http://www.csmd.edu/Faculty/
.
Source: CSM