Compression-Only Resuscitation Technique Demonstrated to 116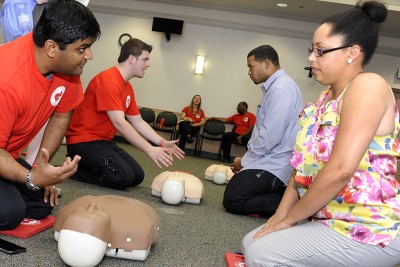 The College of Southern Maryland's American Heart Association Training Center partnered with American Medical Response (AMR) for the World CPR Challenge May 22 at CSM's La Plata Campus. CSM Continuing Education and Workforce Development Healthcare Director Kelly Winters, training center staff Linda Goodman, William Rush, Darlene Rush and John Gosford along with 16 CPR (cardiopulmonary resuscitation) coaches manned a dozen manikin stations during the eight-hour World CPR Challenge event.
Statistics show that survival rate increases by 48 percent when compressions are started immediately after a sudden cardiac arrest. "Thus, by training the lay public to perform compressions we can theoretically increase the overall survival rate of our community," said Winters.
During the event, CPR Coaches Tai Khandaker, left, and Jordan Fridenmaker, second from left, demonstrated compression-only or bystander CPR, telling participants, Shytise Hancock, right, and Gregory Stamp, second from right, that in a lifesaving emergency bystanders should remember the phrase "Call 9-1-1; push hard and fast."
More than 100 people participated in hands-on training on CPR manikins as well as on the use of AEDs (automated external defibrillators).
Sponsors for the event included Southern Maryland Blue Crabs and Chick-fil-A, Giant, Safeway and Target of La Plata.
CSM's Barbershop Chorus 'Shines on' in Competition
Group Earns Award from Barbershop Harmony Society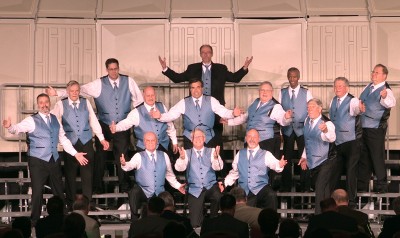 The College of Southern Maryland's Barbershop Chorus, "Southern Mix," directed by Paul W. Douglass II, earned the first place award for Southern Division Plateau AA and was placed 12th overall in competitions of the Mid-Atlantic District Barbershop Harmony Society April 27.
Southern Mix performers attending the competition included, front row from left, Don Ellis, Jim McCue and Perry Ellis; middle row from left, John Nale, Rob Barnes, Robert Trible and Ernie Doyle; back row from left, Stu Baldwin, Roland Elliott, Joe Moschler, John Buchanan, Robert Best and Fred Morton; and at top, Douglass.
Southern Mix is open to CSM students and community member barbershoppers with rehearsals Mondays at 7 p.m. at the Fine Arts Building on the La Plata Campus.
For information on Southern Mix, CSM's barbershop chorus, visit
www.csmd.edu/Arts/somix/
.
SBTDC Southern Region Awarded 'Region of the Year'
Business Counselor Named to 'Million Dollar Club'
The Maryland Small Business & Technology Development Center (SBTDC), Southern Region, at the College of Southern Maryland was awarded the "Region of the Year" award for outstanding regional performance by the Maryland SBTDC at its annual retreat. The Southern Region met their economic impact goals in supporting small businesses in their area by providing assistance in starting, growing, and/or expanding their clients' businesses. This is the first time the Southern Region has received this award.
"The Southern Region's recognition for 'Outstanding Regional Performance' in fiscal year 2012 is a testament to the hard work and dedication exemplified by each of their employees, and the leadership of their regional director, Kelly Robertson-Slagle," said SBTDC State Director Renee Sprow during the awards presentation. "The Maryland SBTDC prides itself in being a tremendous support service for small businesses, and we would like to acknowledge the significant role the Southern Region has played in meeting and in many cases surpassing their performance goals last year."
In addition, two SBTDC Southern Region counselors were honored for their positive contribution to the state's economic impact for fiscal year 2012. Counselor Linda Craven was recognized as a member of the Maryland SBTDC Million Dollar Club. The recognition is designated for SBTDC counselors who have assisted a client with a single transaction which results in obtaining financing of $1 million or more. Craven was recognized for facilitating $1,545,374 in small business loan assistance for 14 individual Southern Maryland firms in 2012 and for her overall dedication in serving small businesses.
Counselor Bill Hitte was recognized for providing assistance which resulted in 21 new business starts in Southern Maryland during fiscal year beginning Oct. 1, 2012.
"Mrs. Craven and Mr. Hitte are both excellent professional business counselors with expertise in start-up assistance and business finance," said Robertson-Slagle. "This expertise clearly has helped many small business clients and has bolstered Southern Maryland's small business development efforts."
The SBTDC, Southern Region is hosted by the College of Southern Maryland and is staffed with professional business counselors who collaborate closely with local businesses leaders within Southern Maryland to determine the types of assistance small business owners would value most. They provide confidential one-on-one counseling services at no charge, and serve businesses at satellite locations in La Plata, Prince Frederick and Leonardtown.
For information, visit
www.sbdchelp.com
.
VA Benefits for Trades, Transportation Training at CSM
The U.S. Department of Veterans Affairs and the Maryland Division of Planning and Academic Affairs have approved the use of veterans benefits for selected non-credit trades and transportation training certificate programs at the College of Southern Maryland. Veterans are approved to use their GI Bill educational benefits for electrical helper, entry-level plumber, certified structural welder and heating, ventilation and air conditioning (HVAC) helper programs through the Center for Trades and Energy Training (CTET) in Waldorf or for commercial truck driver class A training through the Center for Transportation Training in La Plata effective immediately.
One out of every 19 CSM students is a student using veterans' educational benefits with nearly 900 such students during the 2011-12 academic year. CSM has the third largest enrollment of veteran students in four-year and two-year colleges in Maryland.
"The HVAC program at the College of Southern Maryland is an excellent opportunity for veterans to receive training in a career that will never disappear," said CTET Director Dr. Ricky C. Godbolt, a retired U.S. Army Warrant Officer who has a Universal Refrigerant License. "Indoor air quality is important within our homes, schools and work environments. Our HVAC students receive high-quality training in a state-of-the-art facility."
CTET has been approved as an HVAC/R training organization and as a testing site for the North American Technician Excellence (NATE) program.
"Credentials and certifications are invaluable in today's highly competitive job market. Combining military leadership, discipline and ethics with our high quality training and commitment to excellence will prepare our veterans for a new journey on the road to success," said CSM Vice President of Continuing Education and Workforce Development Dr. Daniel Mosser.
For information on trades programs and schedule of classes, visit
www.csmd.edu/WorkforceDevelopment/Construction.html
.
For information on veterans educational benefits available at CSM, visit
www.csmd.edu/current/veterans
.
Southern Maryland Businesses on the Leading Edge
13th Leading Edge Awards to be Honored, June 12
Southern Maryland's leading businesses and executives will be honored at the 13th annual Leading Edge Awards ceremony, beginning at 6 p.m., June 12 at the Greater Waldorf Jaycees Community Center.
The annual event celebrates forward-thinking individuals and businesses that spur economic growth with efforts and decisions that make real impacts. This year's honorees exemplify the qualities synonymous with business success: a competitive edge, constant innovation and an unwavering dedication to community, customers and staff, according to Dr. Daniel Mosser, vice president of the College of Southern Maryland's Continuing Education and Workforce Development.
Recognized this year will be Calvert Memorial Hospital as Calvert County Business of the Year; Advanced Vision Systems, Inc. as Charles County Technology Company of the Year; The Greater Waldorf Jaycees as CSM Partnership in Education; A M Pierce & Associates as The Patuxent Partnership Member Firm of the Year; and T. N. Bowes Heating & Air Conditioning, Inc. as Small Business of the Year. Kevin Poole, CEO, Triton Metals has been named the CEO of the Year for Southern Maryland.
The Leading Edge Awards are presented annually in partnership with the Patuxent Partnership, the Charles County Technology Council, the Southern Maryland Economic Development Association, the Calvert County Department of Economic Development, the Corporate Center at CSM, the Small Business Development Center and the CSM Foundation.
The Leading Edge Awards program will include a reception and banquet, 6 to 9:30 p.m., June 12 at the Jaycees Hall in Waldorf. Platinum sponsors for this year's LEA include CSM, Greater Waldorf Jaycees, Maryland Department of Business and Economic Development and Southern Maryland Newspapers.
For information about sponsorship opportunities or to attend, call 301-934-7550 or visit
www.csmd.edu/LEA
.