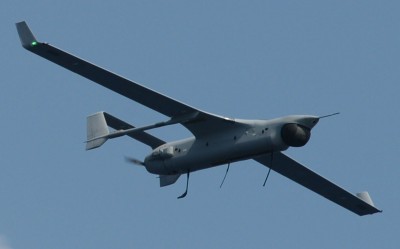 RQ-21A Small Tactical Unmanned Aircraft System (STUAS) in Flight. (Photo courtesy of Insitu, Inc.)
BINGEN, Wash.—Insitu announced on May 23 that RQ-21A reached Milestone C under the Small Tactical Unmanned Aircraft System (STUAS) contract with Naval Air Systems Command (NAVAIR). The achievement will enable the program to transition from the Engineering, Manufacturing and Development (EMD) phase to a Low Rate Initial Production (LRIP) phase and enter initial operational test and evaluation (IOT&E).
"This milestone represents the dedication and commitment of the entire government and industry team to executing a challenging and fast-paced EMD program," said Ryan Hartman, Insitu's senior vice president of Integrator Programs. "I couldn't be more proud of the Insitu team. Our greatest asset is our engineering talent and this event represents yet another significant engineering achievement for them."
"This milestone and the LRIP decision is a great accomplishment for our NAVAIR and Insitu team. The rapid development, systems engineering and testing has been superb. The sense of urgency and driving force behind our NAVAIR and Insitu team has been, and continues to be, the simple fact that the RQ-21A UAS will be the first organic & dedicated multi-intelligence UAS for U.S. Marine Corps and Navy tactical commanders. The real-time, actionable intelligence and maritime domain awareness coming from multiple sensors off an expeditionary and ship-capable Group 3 sized UAS accelerates the 'when & how' our commanders will receive, process, disseminate and act on intelligence. They will no longer be waiting for this level of intelligence from joint or higher headquarters, but these tactical commanders will have it organically at their level...land or sea. The ability to 'find, fix and then finish' adversaries and threats has been greatly accelerated with the RQ-21A multi-INT UAS," said Col. Jim Rector, PMA-263 Program Manager.
NAVAIR awarded the STUAS contract to Insitu in 2010 to begin development of RQ-21A, a variant of the company's Integrator unmanned system. Insitu delivered an early operational capability to the U.S. Marine Corps Air Ground Combat Center at Twentynine Palms in 2011, less than a year and a half after the contract was awarded, to provide land-based intelligence, surveillance and reconnaissance data collection for pre-deployment exercises. In 2012, the program successfully completed land-based developmental testing and operational assessment. And in early 2013, the program conducted its first maritime flight.
Insitu Inc., located in Bingen, Wash., is a wholly owned subsidiary of The Boeing Company. Insitu designs, develops and manufactures UAS and provides associated services for commercial, civil and defense applications. With a small footprint and expeditionary focus for both land and sea operations, the company's family of UAS solutions and global mission support serves the needs of worldwide customers. To date, these systems have accumulated more than 712,000 operational hours and 77,000 sorties. For more information, visit www.insitu.com.
Source: Insitu Inc.