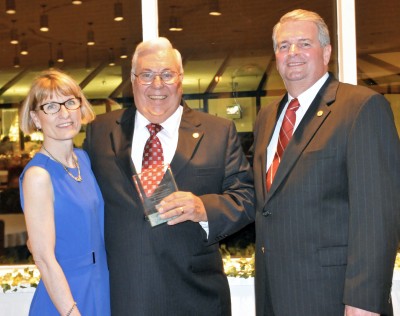 From L to R: Beverly Stickles – President, Cedar Lane Senior Living Community, Distinguished Service Award Honoree F. Elliott "Sonny" Burch, Jr. and John K. Parlett, Jr. – Chairman, Board of Directors, Cedar Lane Senior Living Community.
LEONARDTOWN, Md.—Surrounded by nearly 150 family members, friends, business associates, and supporters of Cedar Lane Senior Living Community, F. Elliott "Sonny" Burch, Jr., Chairman of Burch Oil, accepted the 2013 Cedar Lane Distinguished Service Award in recognition of his more than 23 years of service to the local non-profit organization that provides affordable housing and support services for the elderly. The event, which was held Friday, May 10, at The Harry Lundeberg School of Seamanship in Piney Point, marked the first time in its 36-year history that Cedar Lane hosted a large-scale benefit.
The event's notable guests included House Minority Whip Steny Hoyer; Maryland State Delegates John Wood, Jr. and John Bohanan, Jr.; and St. Mary's County Commissioner Cynthia Jones. Former St. Mary's County Commissioner Daniel H. Raley served as Master of Ceremonies.
Guests enjoyed live music, cocktails and a silent auction which featured 40 items donated by local artists and businesses. In addition to the award, Sonny was also presented with proclamations from the Maryland Senate in recognition of his service to the community and the organization his father helped establish in 1977.
The evening's program included a video tribute to Sonny, which highlighted the work of Cedar Lane. Sonny commented on his connection to Cedar Lane: "My involvement came about because of my dad…He saw to it that I had enough interest that I would want to be involved, which I have been for over 20 years now. I've always had a great love for Cedar Lane…We've made such advances-it's just amazing."
To date, the event has raised $59,311. Beverly Stickles, President and CEO of Cedar Lane credits the success of the inaugural event to this year's honoree. "We were just blown away by the outpouring of support from the community; and we know that Sonny played a big role in that," said Stickles. "He has done so much for the County and people wanted to show their appreciation."
In her address, Stickles called attention to the important role fundraising efforts like the benefit plays in Cedar Lane's programming. "Most people don't realize that the government funding we receive in rental assistance for residents covers the cost to operate and maintain our three buildings," she said. "For over 35 years, we have relied on donations to help fund those essential services and activities that help our more than 200 residents maintain a good quality of life. We certainly could not do all that we do without the generous support of the community."
Stickles also shared that Cedar Lane is hoping to expand its partnerships in the community through collaborative programs and volunteer opportunities.
Interested parties can get more information by visiting Cedar Lane's website at
www.cedarlaneapts.com
.
Founded in 1977, Cedar Lane Senior Living Community is a collective of 501(c)(3) non-profit organizations providing affordable housing and services to independent and assisted living residents. Situated in the heart of Leonardtown, Maryland, the 209-unit apartment complex offers a convenient location, a host of on-site amenities, and a wide range of free and fee-based services that help residents maintain their independence and avoid premature placement in nursing homes and long-term care facilities.