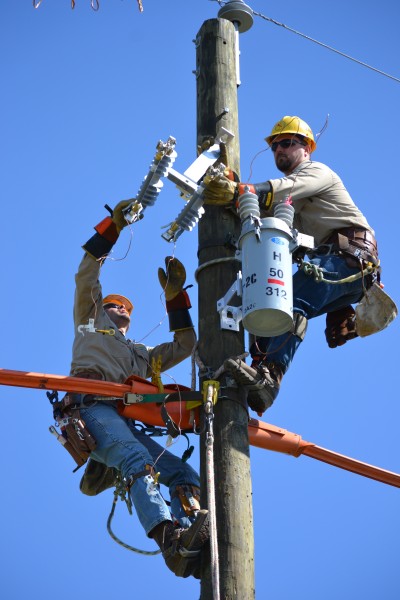 SMECO journeyman linemen Brent Hancock and Daniel Hutchins change a switch atop a utility pole during the Gaff 'n' Go Lineman's Rodeo.
HUGHESVILLE, Md.—Southern Maryland Electric Cooperative's (SMECO) linemen work long hours to keep the power flowing to more than 154,000 homes and businesses in the region. The job requires not just physical ability and technical knowledge but also attention to safety. Recently, several SMECO linemen tested their skills at the Gaff 'n' Go Lineman's Rodeo, held at the Caroline County Fairgrounds in Ruther Glen, Virginia.
Taking first place in the Equipment Operator's Rodeo, where events featured utility trucks, was the SMECO team of Will Robertson, Brian Rawlings, and Jeremy Green, past champions of the Lineman's Rodeo.
Twelve SMECO journeyman linemen competed in teams of three, along with five apprentice linemen who competed in individual events. The team of Daniel Hutchins, Brent Hancock, and Doug Hancock won third place overall. Competition was tight, with the SMECO team placing only two points behind the leaders.
The rodeo drew more than 110 linemen from 15 electric utilities and contractors in five states. They competed in events that tested their agility, skill, and safe work practices. Teams of linemen climbed poles to change transformers and insulators. Individual competitors navigated vertical obstacle courses and participated in mock rescues of injured workers. The winners were the ones who completed their tasks the fastest while making the fewest mistakes.
This year's Gaff 'n' Go competitors from SMECO included Scott Gagliardi, James Hewitt, Brian Thomas, Jeremy Green, Brian Rawlings, Will Robertson, Josh Reithmeyer, Robert Hamilton, Tyler Compton, Daniel Hutchins, Brent Hancock, Doug Hancock, Charles Franklin, Jacob Moore, Benjamin Tilley, Thomas Michael Swann, Cory Higgs Carter, and John King. SMECO thanks its employees who served as judges for the Rodeo and who helped set up utility poles and other equipment before the event: Joseph Day, David Lindsey, Robert Wood, Steve Maddox, Scott Horn, Chris Gallahan, Jay Herbert, Ray Gaskill, Hal Spence, Tony Suttle, Steve Gardiner, and Mike Nygaard. SMECO also thanks everyone from Southern Maryland who attended the event in Ruther Glen to root for the Co-op's linemen.
Source: SMECO