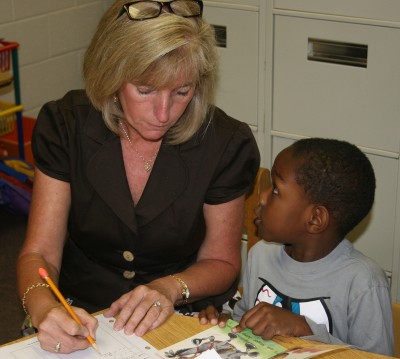 Mary Bailey, pictured left, a Reading Recovery teacher at Dr. Thomas L. Higdon Elementary School, works with kindergartner Omari Cole, pictured right, during a reading lesson. Bailey, who works with students in grades kindergarten through second, was named the 2013 Charles County Public Schools Teacher of the Year.
LA PLATA, Md.—At a young age, Mary Bailey learned through first-hand experiences that she wanted to be a teacher. She struggled as a student and had a supportive mother who not only advocated for her education, but pushed her to persevere and overcome her challenges. Bailey, who is a Reading Recovery teacher at Dr. Thomas L. Higdon Elementary School, said she became a teacher to help children overcome learning obstacles and to help advocate for their opportunity to equal education. "I struggled as a student and I wanted to make a difference for students who have special needs so that I could take away some of the obstacles in their ability to learn," she said.
One example of Bailey's commitment to helping children succeed involved her serving as a tutor for a student who was undergoing treatment for cancer and could not attend school full time. This child's mother asked if she could request the tutor because she "had the perfect teacher in mind, Mary Bailey." Bailey worked with this student, Brian Wathen, for more than two years and although he could not always come to school, she provided him with a strong learning foundation and important life skills that children learn in the school setting. At the recommendation of Brian's mother, Jill Wathen, Bailey was nominated for the Teacher of the Year award. For her outstanding commitment to children, Bailey was selected as the Charles County Public Schools 2013 Teacher of the Year.
Wathen said Bailey went above and beyond her duties as a teacher to ensure Brian received an education. "I knew of Mary Bailey from school but when Brian was diagnosed with a form of brain cancer, she became part of our family. Being the only bald child in school made it difficult for him to face going to school. Mrs. Bailey helped me with strategies to help him cope with his fears. She read books on these topics, reading on her own personal time to help a child in need, and that is what makes Mary Bailey the Teacher of the Year," Wathen wrote in a letter of recommendation.
Bailey said she is incredibly humbled by her nomination as Teacher of the Year. "I was so honored to have been nominated by a parent, and that my administration and staff supported the nomination. I don't do what I do for recognition, but I appreciate my work being recognized. I know that every child can learn and I enjoy the challenge of piecing together the 'puzzle' that yields success. I wanted to help students in small and big ways to believe in their own abilities in order to make a difference," Bailey said.
Bailey believes that all children should have access to success, and that it is important that teachers learn about their students' lives outside of school to better prepare them to come to school ready to learn. She adapts curriculum to meet individual student needs and finds out what it is that captures their attention, and then uses it to guide the learning process. Bailey has spent her 26-year teaching career working with students who need additional assistance and guidance, first as a special education teacher, and now as a Reading Recovery teacher. For her, being a teacher is rewarding because she feels she is giving children a gift.
"I can't imagine anything more rewarding than providing the gift of literacy for a student. I beam as they go back and read to their teachers, when parents give feedback that expresses their gratitude in my taking such a personal interest in their child's education, and them telling me that their child loves to work with me," Bailey said.
Bailey is in her ninth year as the Reading Recovery teacher at Higdon. She primarily works with students in grades kindergarten through second, and also works with students in literacy clubs. One of Bailey's priorities is to meet with these grade-level teachers before and after school to develop reading strategies that allow students to get the most from guided reading lessons and Reading Recovery services. In addition to working with students and teachers in the classroom, Bailey also coordinates parent and family workshops for the Higdon community in which she shares literacy strategies and techniques that can be used at home.
Higdon Principal Kathy Morgan has worked with Bailey for the past two school years and said her spirit of professionalism and genuine affection for children is evident in all that she does. "She works tirelessly to promote student learning through actively engaging lessons at school, and specific follow up that occurs at home through parental support. Mrs. Bailey is an asset to the Dr. Higdon teaching staff and she is truly an outstanding role model for young teachers to aspire to be like," Morgan wrote in a nomination letter.
Bailey measures her accomplishments through the successes of her students. In her professional biography, Bailey recalls a letter she received from a former student she worked with at the middle school level. The student reached out to Bailey to thank her for providing them with the tools and positive support needed to be successful in life. She said it is this type of feedback from parents and students that makes teaching worthwhile.
"These are the kinds of stories that I consider great accomplishments. I was the recipient of the local Wal-Mart Teacher of the Year [award], based on a nomination from a parent who stated that I had been instrumental in helping other teachers understand the complexities of dealing with Attention Deficit Hyperactivity Disorder (ADHD) in school. She said 'You make my son feel good about himself.' This is what I consider a major accomplishment," Bailey said.
Bailey is also active in the school community. From serving as captain of the Relay for Life team to organizing an annual book swap and ice cream social, Bailey commits her time to connecting families and the community with Higdon. Jill Jowdy, a physical education teacher at Higdon, said Bailey's actions impact the entire school community. "She goes into the community and quietly takes care of things that need to be done for our children and their families without being asked. She is a tireless volunteer. Can you imagine a single person that can pour their heart and soul into so many worthy causes? Mary Bailey is better and busier than any superhero I know," Jowdy said in a joint nomination letter among Higdon staff.
Bailey is also dedicated to serving her local community. She is an active member of The Boy Scouts of America and St. Mary's Newport Church, where she has taught CCD to the confirmation class for the past eight years. She also assists the Wayside Food Bank with collecting goods and volunteers at the Children's Aid Society. Additionally, Bailey has recently started to work with the Remote Area Medical Expedition organization in Appalachia, which supplies free medical care and school supplies to families in need.
Brian Wathen is now a fifth grader at Higdon and Bailey still keeps a close eye on him. From reminding him to keep his desk and homework organized, to supporting his Race for Hope - D.C. team, Bailey continues to maintain a positive relationship with him. When his mother asked him why Bailey should be the Teacher of the Year, he replied, "When I had cancer she helped me any way she could and that made me feel good." Jill Wathen said, "She makes a difference in children's lives."
Bailey has a Bachelor of Science degree in special education from Old Dominion University, and received her master's degree in special education from Bowie State University. She also completed a Reading Recovery certification program from McDaniel College and studied children's literature and cultural diversity at the University of Phoenix.
As Charles County's Teacher of the Year, Bailey is eligible for the Maryland Teacher of the Year award. The state winner is announced by the Maryland State Department of Education (MSDE) in the fall at a special ceremony held to honor all local recipients. The state winner is also considered for the National Teacher of the Year honor.
For more information on the awards program, visit the MSDE website at
http://www.msde.maryland.gov/MSDE/programs/recognition-partnerships/toy_1/
.
Source: Charles County Public School System