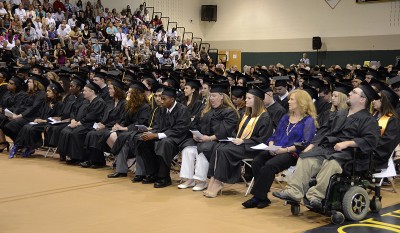 CSM awarded 584 associate degrees and 268 certificates: 40 percent of the students receiving awards were from Charles County, 34 percent from St. Mary's County and 21 percent from Calvert County with 5 percent from outside of the region.
LA PLATA, Md.—The College of Southern Maryland celebrated 571 candidates for 852 degrees and certificates during its 54th spring commencement ceremony held May 16 at the La Plata Campus.
"Every one [of our graduates] has a story that I can tell. Every one has their own dreams and aspirations; every one has had their trials and tribulations and I wish that I could mention every single one of them," said CSM President Dr. Brad Gottfried. The graduating class, CSM's largest ever, consisted of students who while working, raising families and supporting their communities through volunteer efforts earned academic honors, said Gottfried.
In addition to work and other responsibilities, students with disabilities face various challenges that may impact their ability to navigate the education arena, but are able to successfully do so through assistance from Disabilities Support Services. This spring, CSM had its largest cohort of graduating students with disabilities, said Gottfried. Their majors included engineering, history, information technology services and general studies with students receiving honors to highest honors.
CSM awarded 584 associate degrees and 268 certificates: 40 percent of the students receiving awards were from Charles County, 34 percent from St. Mary's County and 21 percent from Calvert County with 5 percent from outside of the region.
Associate degrees were awarded predominantly in the fields of general studies, business administration and nursing arts and sciences, while general studies: transfer, and general studies accounting: basic and advanced were the most predominant certificates. CSM's spring graduation produced the first graduates of the college's Hospitality Management and Medical Laboratory Technology programs. Of the graduates, 62 percent were female. The ages of this spring's associate's degree candidates ranged from 15 to 63.
Youngest Graduate Stephan Wolski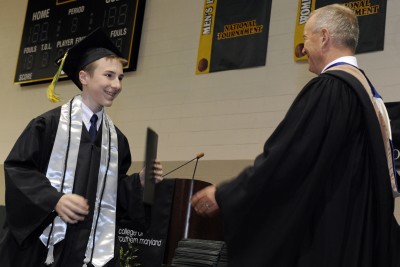 The spring 2013 commencement's youngest candidate for graduation is Stephan Wolski, 15, of Dunkirk, who earned an associate's degree in applied science and technology.
The youngest candidate for graduation is Stephan Wolski, 15, of Dunkirk, who earned an associate's degree in applied science and technology.
Wolski, as with his older siblings Joseph, CSM Class of 2012, and Olivia, CSM Class of 2011, is the youngest graduate in his class. "I am the youngest in my family so that means that this is the end of a dynasty," said Stephan Wolski. Just as his siblings had been, Stephan Wolski was nervous when he began taking classes at CSM at age 13 through a gifted and talented program. But the nervousness faded after a few weeks, he said. "I had so many great classes but one of my favorites was philosophy with [Professor] Timothy Desmond," he said, adding that he enjoyed sharing his opinions with his classmates. Stephan Wolski could count on being the youngest in class, but he marveled at the range of ages and life experiences including a student who was in his 60s and taking classes that matched his interests.
In the fall, Stephan Wolski will pursue a bachelor's degree in computer science at the University of Maryland College Park, a degree he hopes to complete when he is 17. Right now he is happy to celebrate graduating from college and to take driver's ed when he's old enough.
Oldest Graduate Connie Shepherd
The most senior candidate for an associate's degree is Connie Shepherd, 63, of Lexington Park, who earned associate's degrees general studies: communication and general studies: English.
Shepherd started her academic pursuits at the University of Washington in 1967. "From the age of 6, I wanted to be a teacher," she said. After one year of college she quit to marry and to start a family.
In 2009, Shepherd's husband, a disabled Vietnam-era veteran, passed away and his educational survivor's benefits transferred to her. "I look at this [educational opportunity] as a gift from my husband because he always encouraged me to return to college," Shepherd said.
Shepherd wasn't concerned about her academic abilities in returning to the classroom after so many years away-instead she was concerned about being accepted by the other students. "I was worried that if we had to do group projects, no one would pick me to be in their group. It was not that way at all. Everyone was so wonderful and the professors respected my opinions," she said. During the course of her studies at CSM, she attended classes on all three campuses but mainly online, she said, because of the convenience.
One of her favorite professors was Professor of Languages and Literature Wayne Karlin. "I was concerned about the material that would be covered in his course on Vietnam because of my husband's service, but I learned so much. I am so grateful that I took that course," she said.
Even though Shepherd could have tested out of some of the required courses in her degree due to years of managerial retail work experience, she chose not to. "I intentionally took every course I could because I came back to school to learn-not just get the credits and degree," she said. This fall Shepherd will continue her education for a bachelor's degree in communication at the University of Maryland University College.
Mother, Daughter Graduates Brenda, Sophia Minshall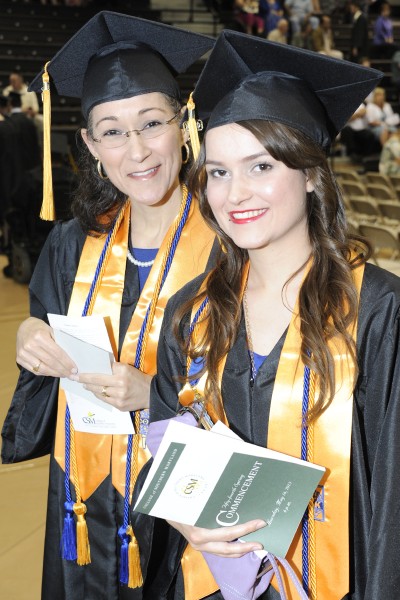 Brenda Minshall, left, and her daughter Sophia Minshall, of Mechanicsville, gather before the processional of CSM's 2013 Spring Commencement. Sophia Minshall urged her mother to attend CSM with her and on May 16 they graduated together.
A mother and daughter from Mechanicsville graduated with honors. Brenda Minshall earned an associate's degree in general studies and her daughter Sophia Minshall earned an associate's degree in environmental technology.
Brenda Minshall did not graduate with her high school class but pursued and earned a General Education Development (GED) diploma and took classes at Seminole State College before taking a break to raise her family. "Not having an education can hurt you and I was constantly reminded that I didn't have a high school diploma when I went on job interviews. It made me feel defeated. It was discouraging and [having no high school diploma] made it hard to get a job. That is why we pushed education so strongly for Sophia," Brenda Minshall said.
When Sophia Minshall began attending CSM, she encouraged her mother to attend as well. "Sophia became my advisor, suggesting classes that she had taken and that I might enjoy. We shared books and saved some money," Brenda Minshall said, adding that her husband was very supportive and is excited about her accomplishments. Brenda Minshall is most proud of passing college algebra. She always struggled with math, she said, but added that with the help of math professor Pat Nickerson and adjunct professors Kimberly Lukus and Orisha Brown she persevered. "Having a transferable math course is a sign from God for me to keep going to school for a bachelor's degree," she said.
Student Speaker Christina Rasmussen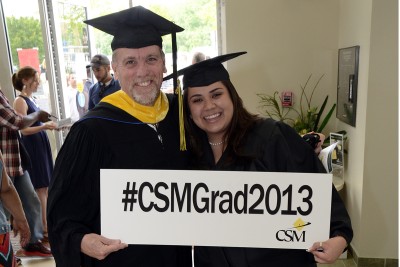 Christina Rasmussen, of Hughesville, the first graduate in the Hospitality Management Program, was the student speaker for CSM's 54th Commencement.
"Christina's infectious smile and passion to succeed has become the 'face' of our program to enrolled majors and the hospitality trade in Southern Maryland. She made significant contributions as a student in the classroom, as the first student to receive a national internship with Drury Hotels of Missouri and as our 'go-to leader' for the student chapter of the National Society of Minorities in Hospitality here at CSM," said CSM Hospitality Management Program Coordinator William Williams.
Rasmussen told her fellow graduates of her challenges in finding a career that she felt passionate about. "I decided to attend CSM in the fall of 2009 and I changed my major eight times in the next three years until I discovered Hospitality Management. As cliché as it sounds, I found my calling. I fell in love with the hotel industry and everything hospitality-related. I remember running home after my first class to tell my mom and dad how much I loved this. Which, of course, they had heard eight times before," Rasmussen said.
"As we learned here at CSM, it's not about luck, it's about what you are willing to expose yourself to and how far out of your comfort zone you are willing go. If your goals and dreams don't scare you - they are not big enough. 'There is always something better around the next corner' they say. But you will never know what's around that corner if you don't get up and go look," Rasmussen said.
Keynote Speaker Calvert County Circuit Court Associate Judge E. Gregory Wells
The keynote speaker was Calvert County Circuit Court Associate Judge E. Gregory Wells, who told students that as they go on to the next stage of their lives, "Cherish your relationships with others and expand them in a more meaningful ways." He urged students to be more civil to one another. "As a judge, I see a lot of bad behavior; I see a lot of people who come into the court and act in ways that are not well, not good and sometimes it is that behavior that brought them in to court and now they are facing justice with me. In this day and age, when technology has made communication and information readily accessible, please remember that there is really no substitute for actual physical interaction with other people."
Honorary Degree to Michael Besche
An Honorary Degree was presented to Michael Besche by CSM Board of Trustees Chair Joseph Austin Slater Jr. for his loyalty and friendship to the college. "We recognize an individual who played a vital role in shaping and growing this college for more than 25 years," Slater said, adding that Slater's vision for the college included transforming Charles County Community College into a regional College of Southern Maryland. Besche served as a trustee for 15 years including terms as vice chair and chair, and served as a foundation director for 10 years including a term as chair.
"[Besche's] leadership and dedication ultimately helped raise more than $7 million during CSM's first capital campaign, the 'Campaign for the Next 50 Years,' allowing the college to fund programs and initiatives such as trades and transportation training, ISTEM (Institute for Science, Technology, Engineering and Mathematics), nursing and healthcare, the Fund for Educational Excellence, and an Endowed Scholarship for Student Access and Success. Mike Besche, you have done so much to advance this institution, and for this reason, it is my great privilege to bestow this honorary degree to you this evening," said Slater.
Annual Faculty Excellence Award Honoring Permanent Faculty to Professor Wayne Karlin
The Annual Faculty Excellence Award Honoring Permanent Faculty was presented to Languages and Literature Professor Wayne Karlin by CSM Faculty Senate President and Economics Professor Michael Green.
"Professor Karlin brings his experiences as a published writer, a novelist, an editor and a veteran to his classrooms. In his 'Vietnam War in Film and Literature' course, Professor Karlin's goal is to emphasize the ways in which examining the intense experience of war through literature crystallizes and allows us to examine basic behavioral and moral dilemmas, and-by utilizing the Vietnamese work-to reinforce the ability literature has to nurture the capacity for empathy by allowing a personalized entry into the mindsets of those who were once our enemies-a powerful way of achieving an understanding of the similarities and a respect for the differences in the prisms through which human beings see the world. Professor Karlin encourages students to see writing and the study of literature not as abstract, but rather connected to other disciplines and to their lives and growth," said Green.
Nursing Recognition Ceremony
During the nursing recognition ceremony held earlier in the day, Michelle M. Parrott, of Prince Frederick, was recognized with the Academic Achievement in Nursing Award, given to the graduate with the highest grade point average in the nursing class. Tiffani C. Pendleton, of Mechanicsville, was recognized with the Achievement in Nursing Award, presented to the graduate who demonstrates academic achievement, clinical competence, community service and leadership potential. This spring's nursing program graduated 39 students.
Honors Convocation
At the college's May 15 Honors Convocation, 20 students were recognized for achieving highest honors (3.9-4.0 GPA), 27 for high honors (3.75-3.89 GPA) and 65 for honors (3.5 to 3.74 GPA).
Divisional awards were presented to the following students: Business Programs Student of the Year, Thomas E. West, of Loveville; George Flynn Memorial Accounting Award, Loretta L. McGrath, of Port Republic; Outstanding Engineering Technology Student, David W. Barnes, of Mechanicsville; Outstanding Computer Science Student, Matthew Allen Cox, of Waldorf; Outstanding Information Services Technology Student, Mark A. Ledbetter, of Waldorf; Freshman Chemistry Award, Nicholas A. Makrakis, of Leonardtown; Excellence in Chemistry Award, Angela L. Wilt, of Mechanicsville; Excellence in Biology Award, Brigette M. Morton, of Waldorf; Distinguished Honors in History, Mary C. Gmaz, of Bryans Road; Distinguished Honors in Music, Alyssa L. Carman, of St. Leonard; Outstanding Art Student of the Year, Barbara Hance, of Huntingtown; Outstanding Physical therapist Assistant Graduate, Elizabeth A. Durik-Ha, of Waldorf; Outstanding Massage Therapy Graduate, Rebecca M. Tatro, of Prince Frederick; John Lamiman Writing Award, Ashton Meilinger, of Waldorf; Outstanding Music Student, Yonis I. Nur, of Waldorf; Outstanding Engineering Student, William R. Hamel, of Mechanicsville; Outstanding Physics Student, Alan M. Long, of Lusby; Mathematics Progress Award, Arthur W. Ellis, of Bel Alton; Outstanding Achievement in the Social Sciences Award, Lucille A. Rattliff, of Upper Marlboro; Criminal Justice Award, Christina L. Graf, of Chesapeake Beach; and Academic Achievement in teacher Education Award, Reva Joyce Smith, of Lexington Park.
During Honors Convocation, Professor Emeritus status was awarded to former faculty members Daniel L. Williams, Dr. William Klink, Dr. Barbara Stephanic, and posthumously to Larry Chappelear.
National Society of Leadership and Success Induction Ceremony
CSM held an induction ceremony for 27 students to the CSM Chapter of the National Society of Leadership and Success (NSLS) on May 15. Special awards included Excellence in Teaching to Bruce Fried, Daphne Morris and Theresa Tipsword; Excellence in Service to Students to Nellie Pharr-Maletta and Heather Zeolla; Student Assistant of the Year Award to Jasmine Wade; Vice President's Cup Award to Deveraux Smith and President's Cup Award to Tia Dickerson. There were 32 students receiving national recognition as 2012-13 Who's Who Among Community College Students.
The following students at the College of Southern Maryland are candidates for degrees or
certificates from the 54th spring commencement held May 16 at the La Plata Campus.

Calvert County

Barstow
Jason Patrick Carrico

Broomes Island
Shannon Aubrey Lahn
Jennifer B. Zinn

Chesapeake Beach
Donna Shenise Cole
Robin Ameris Fellows
Tiffany M. Freeman
Amanda Renee Lawrence
Jason Montalvo
Taylor David Pearce
Austin R. Rader
Christopher Michael Shaner
Angela Marie Smith

Dunkirk
Heather Marie Allor
Robin M. Campbell
Erin Kathleen O'Shea
Karyn Marie Owens
Brittany Marie Smith
Kerri Ann Stallings
Casey Lynn Walburn
Stephan T. Wolski

Huntingtown
Deborah Diane Alvey
Michelle Lee Belcher
Joshua R. Burch
Nicholas Evan Cartron
Angela Christine Clarkston
Evan Dahlstrom
Nicholas Skylar Dunphy
Kevin James Frostbutter
Ashley Leeann Harriss
Tyler S. Helie
Matthew Henry Humm
Lawrence F. Loughery
Natalie Nicole Miller
Hyemin C. Park
Malena Lopez Parravicini
Heather Molly Skyrm
Jessica Viola Skyrm
Shannon Kalyn Spohnholtz
Amanda Leigh Walton
Andrew Joseph Wood

Lusby
Shanta Monic Adams
Christopher Lyle Arriola
Clint M. Auman
James William Bodner
Shelby Leigh Buckler
Kimberly Rae Bysheim
Alexander David Caldwell
Rachel K. Campbell
Katherine Margaret Cox
Benjamin Harold Darrow
Linda A. Dexter
Tracy Katharine Dixon
Christina Dawn Donner
Amber Marie Drake
Michelle Lynn Drayer
Cynthia Rodriguez Gonzalez
Nicholas Hahn
Emily Jordan Hess
Aubre Liane Louise Hinson
Jamie L. Hoffman
Tiffanie Renee Holly
Anna Marie Hoover
Darren O'Brien Johnson Jr.
Fay Elizabeth Lumpkins
Victoria Lynn McCaffery
John Tyler McCaffery
Nicholas Joseph McCormick
Jasmine McGuire Novotny
Ashley Marie Paul
Michael Bernard Quinn
Erin M. Saraka
Jennifer Sue Selvage
Jessi Marie Swearingen
Christopher Tilley
John Matthew Yost Jr.

North Beach
Holly Irene Erskin
Michelle Ann McCloskey
Shelby N. Richardson-Lau
Staci Nicole Stamp

Owings
Clifton Murland Brown IV
Ryan Matthew Lambert
Michelle Nicole Lemieux
Cary William O'Kane
Scott Glenn Thompson
William Samuel Turner
W. Paul Wagner
Sean Michael Warner
Tinesha Dorthea Wilkerson

Port Republic
Nicole M. Beverly
Loretta Lynn McGrath

Prince Frederick
Sarah Elena Arias
Dawn Tamera Barrett
Jack Daniel Beckwith
Nikkie Lynn Bowen
Kathryn Nicole Dobson
Amanda Moore Galyon
Kara Ann Jordan
Patrick Toby Love
Trevor Ray Muenzer
Michelle Marie Parrott
Tiara Nicole Roberts
Josanne F. Sealy
Mamie Leigh Sorensen
Rebecca Marie Tatro
Katherine E. Yeatman

Saint Leonard
Nicholas Walter Christensen
Michael Peter Connelly
Patricia J. Gott
Donna Hooks
Leah Kjersti Hudson
Justin Anthony Kivett
Kristen Le Ann Mills
Tina Adele Overly
Christopher Rick Parks
Andrew David Potts
Kathryn Alexis Stout
Olivia Katherine Williams

Sunderland
Joshua Thomas Blake

Charles County

Bel Alton
Melinda Sue Campbell
Danica Lynn Hamilton
Stefan Thor Hillman
Sarah Jean Thompson

Brandywine
Sara Armiger
Austin Patrick Penn
Caitlynn Michelle Watson

Bryans Road
Mark Afroilan
Brandon Scott Baker
Jason Parker Brown
Chanel Cousar
Kimberly M. Cuya
Alexander Divora Ellis
Thomas Cody Fielding
Mary Christina Gmaz
Adele Goldberg
Andrew W. Grenier
Danielle C. Head
Russell Higgs
Brandon Lee-Tobin
Lindsay Christine Phillips
Jammie Ann Reedy
Alexandra Rios
Patrick Santiago Russ
Tailer Demi Speight

Bryantown
Ryan Patrick Myers

Charlotte Hall
Julie Kristina McKinney

Cobb Island
Desiree A. Osvatics

Faulkner
Melinda Sue Campbell

Hughesville
Mary Catherine Boylen
Sarah Lynn Dofflemyer
Kimberly Mae Foster
Justin E. Harley
Kaitlyn Marie Middleton
Tanner V. Mills
Molly Cecelia Pinkas
Ryon C. Rabon
Christina Isabella Rasmussen
Nicholas Austin Romero
Kaitlyn E. Stergar
Rayyan Mohammad Yousaf

Indian Head
Stephanie L. Callahan
Terrez Vondre Cooks
Alex Cullen
Bobbie Nicole Diedrich
Jamal Jordan Halsey
Christy Helmondollar
Kathleen G. McClure
Jennifer A. Mariani-Chambers
Tierra Camry Proctor

Issue
Lindsey Marie Acquaviva
Joann Marie Exline

La Plata
Ajibade Oluseyi Adedoja
Brent Appleyard
Caitlin Lindsey Armstrong
Aladean Zaher Bakeer
Daniel Najib Bakir
Brian Anthony Ball Jr.
Jamie Elizabeth Boone
Kristi L. Bowling
Brandi Brown
Lauren Nicole Carroll
Kelley M. Cooper
Stacey Rae Crowe
Joel Craig Davis Jr.
Olivia Ann Davis
Alyssa Leigh DePuy
Julya Michyll Dorsey
Rachel Fenlon
Matthew Gregory Gomez
Holly Rae Gonzalez
Janet B. Gore
Laura Gore
Andrew Tyler Hamke
James A. Hancock
Wesley Michael Harris
Christopher William Henigin, Jr.
Julianna Marie Hieb
Meghan N. Hiponia
Brandon Scott Hodges
Jessica Alexandra Jowett
Kashmala Khan
Samantha Morgan Kruemmel
Katherine E. Leal
Candace Renee Polz
Tammy Laine Powell
Martin C. Rodriguez
Amanda F. Shelley
Tamaran Tylor-Lamar Smith
Erica Rae Spurlin
Calvin Starcher, Jr.
August Arthur Vasaio
Tori-Simone Wilds
Steven A. Younger

Marbury
Nicole Breanne Allen
Daniel A. Chaloux
Danyelle T. Washington

Mechanicsville
Sharon Gay Andes
Charles W. Ramsey

Nanjemoy
Rita Amy Daugherty
Andrew E. Furr
Teague W. Gibson
Bonnette Minor-Addison
Olivia V. Santora
Tyler Martin Scott

Newburg
Kimbalee R. Adams
Cristina S. Vandroff

Pomfret
Bryant Matthew Dennison
Deanna Lynn Huntt
Andrew William Jackson

Port Tobacco
Justin Bungcayao

Waldorf
Melissa Sydney Abell
Christopher Rameon Allahiari
Sean J. Anderson
Tammy Electra Arrington-Lee
Breana K. Baird
Whitney E. Blakeley
Lindsay R. Bonaparte
Ashley S. Booker
Shelby Lynn Bunker
Jaymie French Burd
Kevin Caney
Philip M. Carpenter-Powell
Kristine L. Carter
David James Chagnon
Erin Michele Chapman
Nicholas Alexander Chappell
Jacquelin Samson Cobo
Meredith E. Conover
Olympia Anne Cooper
Matthew Allen Cox
Elizabeth Wright Crow
Michael Allen Curry
Matthew Bradley Davis
Erika Madelleine Mendoza De Leon
Devon Denison
Tamika Lynn Dilly
Aretha Ann Dodson
Elizabeth A. Durik-Ha
Ashley Nicole Elsbury
Eric W. Eng
Sherri Ennis
Ricky Isaac Garcia
Nancy M. Garrison
Vien Gopez
Erica Adelma Gozzo
Tia Danise Green
Edward A. Greenhorn
Michael John Grim
Cortez Detroy Hampton
Simone Marie Hanna
Clifton Harris
Emilian Thomas Hilario
Shantae Renee Holland
Samuel Hoy
Alexis Nicole Johnson
Brooke Ashley Jenkins
Jasmine M. John
Casey Lee Jones
John D. Jones Jr.
Cristina Alvarez
Najib Sami Khoury
Ashley Nicole Latham
Mark Ledbetter
Aaron Anthony Ligons
Karla Mariela Lopez
Kristin Marie Martin
Launa A. McCowan
Ashley McGregor
Earl Franklin McJett III
Peter J. McShea III
Kristy E. Miller
Reyna M. Molina
Joshua Namyst
Lisa Olson O'Hara
Jania Antoinette Osborne
Samantha Nicole Paulk
Jack Thomas Percival
Stefanie Danielle Pidgeon
Daniel E. Polhemus
Shanel Shari Pratt
Ryan Nolan Presnell
Eric A. Proffitt
Heather R. Ravancho
Brian Reef
Brent L. Roberts
Ina-Marie Sanabria
Kelsey Morgan Sermons
Shahnaz Shahidullah
Katrina Samaniego Shepard
Wendy Lynne Simmons
Terrence Lamar Smith
Christian Thomas Smith
Stewart Mitchell Smith
Tekisha Smith-Brandon
Patrick Joseph Steeger
Heather Mary Stripling
Jai Anise Sullivan
Jasmine Shanice Swann
Caroline Hend Taylor
Michael Paul Therrien, II
Erica Ann Tibbs
B. Jacquelyn Tobin
Jamie Truckle
Shanida A. Tucker
Jamal D. Upshaw
Diana Michelle Vitielliss
Kevin Michael Scott Wade
Lisa A. Walker
Rhema J. Wigglesworth
Amanda Catherine Green

White Plains
Shayna Aylene Casiano
Amanda Adrienne Cook
Michelle Alexandra Douglass
Linda Anne Edwards
Tammy Irene Gordon
Danette Michelle Gross
Kevin W. Gross, Sr.
Pamela Rene Harris
Rachel Kenlon
Amy Jean Leman
Nicholas Eli Mori
Pearson Rudolph Newsome
Samantha Palencia
Brendan James Pond
Kristin Nicole Quinn
Jessica Leigh Seger
Paula D. Spruill
Tracee Cheryl Taylor
Charles Q. Worden

Prince George's County

Accokeek
Vincent Juarez
James Huntington Whyte

Aquasco
Anne Buddenbohn

Brandywine
Austin Jay Pierce
Byron Duane Bogle Jr.
Brenna Lyn Fazenbaker
Gary Mitchell Gryszkiewicz
Marquette Simuel

Cheltenham
Anthony Jerome Pinder

Clinton
Dolores L. Parran
Janiqua Patria Robinson

Fort Washington
Quarntina A. Avery
Lewis Clay Cole
Jazmine Elizabeth King

Largo
Aaron Ait-Touati

Oxon Hill
Marion Jerry Basilio
Rashmia Cabrera

Upper Marlboro
Lucille Arceneaux Rattliff
Tiffany Lerei Spence
Diana May Williams
Michael Donte' Wright

St. Mary's County

Avenue
Jennifer Ann Russell

Bushwood
Christopher Guy
Amanda Catharine Raley

California
Michael P. Brow
Margherita Anfuso Brown
Alisha Marie Desimone
Catherine Blair Doering
Kayla Ashley Dorsey
Crystal Rose Gergatsoulis
Erin Patricia Gibbons
Kathryn Elizabeth Goss
Thelma Kamga Fotue
Sabrina Lee Lemire
Sandra K. Ligon
Timothy Alan McDonald Jr.
Jon Michael Morrison
Robert Andrew Nielsen
John E. Plummer
Maria C. Sarlo
Ellen Bonita Scott
William Henry Stone
Heidi Elizabeth Talalemotu
Elizabeth Shannon Walters

Callaway
Susan Gibson Johnson
Richard Daniel Page

Chaptico
Miranda Lynne Reyna
Lauren R. Scott Young

Charlotte Hall
Nathan Alvey
Brittany Marie Amaker
David Gerrie Jr.
Brian Jeffrey Taylor
Lauren Elizabeth Wright

Clements
William Kyle Clothier
Daniel F. Nelson
Ciara Noelle Nichols
Justin Michael Russell
Jason Schofield

Dameron
Allan Howard Goddard
Deborah Lynn Hitchcock
John F. Kenney III

Drayden
Jessica Danielle Morris
Selina Marie Ridpath
Christine Mary Ridpath

Great Mills
Laker Enjoli Barber
Yaneshia Chemere Briscoe- Hoyt
Yulissa Macciel Brown
TiShawna Shaquale Bush
Edward Stephen Conner Jr.
Erica Michelle Escobar
Amanda Michelle Hoffman
Joshua Keith Humphreys
Elizabeth Ashley Kolbe
Elizabeth Anne Long
Tina R. Rice
Charles John Richardson
Andria A. Jones Roberts
Amanda Allysa Schramm
Sandra Lee Van Ostrand Spence

Hollywood
Richard Soseipiriala Bakaye
Brittany Marie Bean
Caitlin Ammon Brown
Lynn Marie Byers
Kyle Luke Corrigan
Anthony Joseph Cucinotta
Erin Colleen Hickey
Kevin Anthony Mattingly
Stephanie Paiva Miller
John O. Mountjoy
Darren Ryan Payne
Lindsay Erin Pitt
Seow, Siew May
Katlind Elizabeth Smith
Amanda Lacey Thompson
David Tyler Williams

Leonardtown
Nicholas Brewer Colvin
Katie Jo Currie
Jessica Marie Dorn
Tracey Elizabeth Ellen
Sarah Elizabeth Georgiou
Paula M. Goldsborough
Tikisha Hall
Juliet Lauren Hoey
Kellee Johnson
Kathleen Elizabeth Kleiber
Hanna Marie Lloyd
Robert Allen Mathews Jr.
Asma Mubashar
Taylor Olivia Rumsey
Katherine Lea Samouris
Courtney-Sue Danielle Santora
Tracy Lynn Shaw
Adeoluwa Adeshola Shonekan
Megan Lynn Stanton
Timothy William Travis
Craig Alison Tyer II
Andrew Steven Whipple
Bryan Wood

Lexington Park
Brandon Jeffrey Aksteter
Jason E. Bartz
Agnes C. Bentley
Matthew Daniel Briscoe
Deidra Ann Carroll
Wayne L. Courtright
Nataly Cruz-Castillo
Ashley Renee Davison
Christina M. Foster
Christopher Michael Gaines
Catherine S. Gallagher
Teresa L. Gray
Justin Paul Groff
Briana Groves
Suzanne J. Heather
Diana Louise Hill
Andrew L. Hollopeter
Rossarin Kaighn
Dawn Kelly
Peter Alan Madrigal Jr.
Nicholas Maclean Mesmer
Brandon Scott Newman
Karl Ivan Amagna Palaroan
Nilay B. Patel
Devin C. Platt
Amanda Marie Purcell
Luis Alberto Ramos
Ann Marie Reynolds
Michael Patrick Rice
Kelsey L. Saunders
Samantha Danielle Schroeter
Alicia M. Shaner
Connie Lynn Shepherd
Reva Joyce Smith
Allison Miller Smith
Reva Joyce Smith
Allison Miller Smith
Glenn Elliott Thompson II
Danielle Marie Vogelsang
Jamar A. Winde, Sr.
Christina Maria Wolfrum
Eric Paul Zeiler

Loveville
Thomas E. West Jr.

Mechanicsville
Rhonda L. Adams
Jeffrey Scott Barber
David W. Barnes
Ryan J. Blizek
Christina Marie Boswell
Christopher E. Brown
Kristy Leigh Burch
Lora Michele Clarke
Daniel Nicholas Clausius
Caitlin Alexandra Cusick
Ryan Christopher Drake
Melissa Christine Fortney
Lynn Michelle Fox
Corrinne Elizabeth Frey
Sadie Marie Gallion
Christen R. Getscher
Kyla Danielle Gill
Timothy A. Hamilton
Lura Michelle Herriman
Michael Allen Hinman
Brittany Leigh Hooker
Douglas Alan Jarman
Velvet Norreen Johnson II
Anthony Jay Lawrence
Nicole Marie Leonard
Victoria Anne Markley
Paul Christopher May
Robert S. McGann
Paige Marie Miller
Brenda Rae Minshall
Sophia Amara Minshall
Tiffani Cheree Pendleton
Virginia Elizabeth Phalen
Latosha Ann Plater
Sean Robert Purdy
William Justin Rayle
Courtney Rae Rayle
Denise L. Reichard
Taylor Brooke Roberts
Lindsay Michele Russell
Hayley Rose Russo
Charles Marvin Seifert III
Randal Lyle Slaughter
Lorian R. Sloper
Julie Andrea Thomas
Ashley Danielle Thompson
Stephanie Marie Townsend
Robert S. Urlocker
Joshua Walter Wilson
Angela Lynn Wilt
Chelsea Wood

Patuxent River
Shadeequah I. Curry

Port Republic
Stormy J. C. Dale

Ridge
Frenshesca Mercedes Donahue

Saint Inigoes
Hollie Marie Ridgell

Tall Timbers
Raymond Badia
Christine Huong Le

Valley Lee
Lydia Louise Baker
I. Philip Holzbauer

Out of region
Washington, D.C.
Sean Christopher Yates

Fort Lauderdale, Fla.
Devin C. Platt

Orlando, Fla.
Melissa Ann Cascino

Branchburg, NJ
Michael Fialkowsky Jr.

Clarksburg, Md.
Regina A. Johnson

Glen Burnie, Md.
Kimberly Anne Poole

Hagerstown, Md.
Danielle Nicole Grant

Randallstown, Md.
Clive D. Mitchell

Rockville, Md.
Jonathan K. Kallevang

Robesonia, Penn.
Adam B. Carman

State College, Penn.
Kathleen M. Leon

King George, Va.
Devon Wayland Luis Jeffery

Manassas, Va.
Willette C. Woods

South Korea
Yong Sik Choi