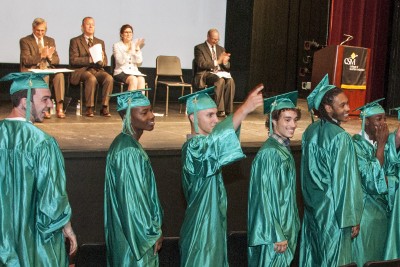 Graduates of CSM's Juvenile Offenders Building Skills (JOBS) program turn and give a shout-out to their families during the opening minutes of the May 9 graduation ceremony in La Plata as onstage guests, from left, CSM President Dr. Brad Gottfried, Board of Trustees Chair Joseph Austin Slater Jr., Charles County Commissioner President Candice Quinn Kelly and JOBS Project Director Robert Manley, look on.
LA PLATA, Md.—"The best is yet to come" are words that are spoken at high school and college graduations around the country this time of year. For a small group of students assembled at the College of Southern Maryland, those words are special and believable because of the rapid turnarounds that brought them to their graduation day. With their involvement in the juvenile justice system behind them, 12 students completed the first leg of a journey toward employment, financial stability, personal growth and community service when they walked across the stage at the CSM's Fine Arts Center to accept certificates of completion for plumbing and HVAC (heating, ventilation and air conditioning) through the college's Center for Trades and Energy Training (CTET).
"This has been a very fun experience for all of us. We've been through ups and downs while in the JOBS program, but we persevered through the struggles," said Nick Brown, the graduation student speaker. "I remembered my first day here; we started out with lots of students but ended up with those who stayed the course."
Last fall, CSM's Juvenile Offenders Building Skills (JOBS) program accepted candidates like Brown to learn the plumbing and HVAC trades through classes at CTET in Waldorf. The JOBS program serves young adults 18 to 21 years old who have been involved in the juvenile justice system from the age of 14 to 18, have no serious offenses and have never been convicted as an adult. Program applicants must be recommended by Department of Juvenile Services, must have an interest in plumbing or HVAC and must commit to remaining in the six-month program until completion.
The May graduation ceremony, replete with students in caps and gowns, keynote speaker, dignitaries and an audience of proud families and friends, was modeled after commencement exercises to provide an evening of celebration following months of hard work.
"Many of these young men did not attend their high school graduation ceremonies. This ceremony will mark completion of a tough program and the commencement of a new chapter in their lives. A requirement for admission into the program is a desire to advance academically and many of these students are well on their way to completing their GEDs (general education development)," said CSM JOBS Project Director Rob Manley.
The program has a high staff to student ratio of 5:1, which includes Manley, two trades instructors, a case manager and a jobs developer. There were 35 applicants for the 24 seats available last fall. Manley and JOBS Grant Case Manager Yvonne Williams, with 15 years of experience in the justice system, interviewed each candidate to find their level of education and their level of commitment to the program. "We care who gets into the program. The resources are hard to come by and we really want the program to be successful because it is the first time we've done anything like this in Southern Maryland," said Manley.
JOBS program participants complete 500 hours of classroom and lab training in either plumbing or HVAC and receive three months of follow-up services for a total commitment of nine months in the program. Career readiness and soft skills training is woven into classroom instruction. Employability training in writing resumes, interviewing, professionalism and workplace communication caps off the instruction.
Another aspect to the program is community service. JOBS students spend two Fridays a month installing or repairing HVAC and plumbing needs, or other needs, for local nonprofits. Projects include assisting with building homes for the needy, completion of projects for handicapped adults, installing and/or upgrading indoor plumbing systems for poor families, maintenance and repair of HVAC and plumbing systems in assisted living facilities, completion of deferred maintenance projects for county agencies and the public schools, community tree planting projects, park trail maintenance, graffiti removal, staffing and support of charity events or community days, improving sports fields, and other appropriate service-oriented activities.
"The idea behind community service projects is to help build self-esteem and reinforce positive workplace behaviors as well as to build community awareness of the participants' service projects to rebuild the community's trust in them. We want the students to see themselves as assets to the community rather than as liabilities," said Manley.
"The credentials that students receive are HVAC-Level 1 and Plumbing-Level 1 which are the equivalent of one-year apprenticeship that they will have under their belts when they complete the program," Manley said, adding that the credential through the National Center for Construction Education and Research is accredited and transportable throughout the country.
By the end of the program, the students will have also completed the OSHA (Occupational Safety and Health Administration) 10-hour safety course and an American Red Cross CPR and first aid course, and they will be entered into their trades' apprenticeship program with the State of Maryland.
Following completion of training, participants are placed as entry-level plumbing or HVAC technicians in the Washington, D.C. metropolitan area.
CSM became involved in the program when conversations at CSM's Charles County Advisory Council included concerns from community partners about the area's uneducated and unemployed young adults and how the college could provide young people with marketable skills at CTET. "This led to the college preparing a Department of Labor grant to train young ex-offenders," said CSM President Dr. Brad Gottfried.
"This project was supported by a very large coalition of county agencies, community organizations, education partners and others - 40 organizations in total - who supported the program in varying ways," Dr. Dan Mosser, vice president of CSM's Continuing Education and Workforce Development, told those attending the ceremony. "Of these many partners, one stands out. Not only did he support the program with staff resources and his own presence on multiple occasions, but it was Sheriff Rex Coffey who, in fact, envisioned the program and suggested it to President Gottfried during a Community Advisory Council meeting over two years ago. He has been an outstanding partner from the initial project concept through graduation of our first cohort here today."
"It takes local government, nonprofits, employers and educators-it's the whole village concept," said Manley on the reliance on partnerships for the program to succeed. "We have honed in on the qualities needed for success in this program. Our goal, and the goal of the grant, is to have 96 students graduate from the program by the time the grant expires in 2015. And the bigger goal is not to see these young men return to their old ways."
It also takes the determination of men like those who graduated to want to turn their lives around. To the students who showed the determination to complete the course, Brown said, "Hold your heads high and aim to reach your full potential. The best is yet to come."