U.S. Navy system to monitor vast ocean areas and coastal regions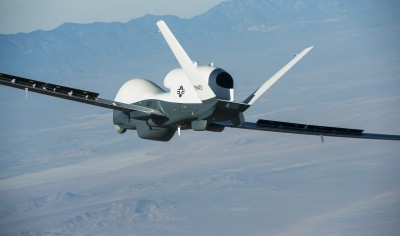 The Northrop Grumman-built Triton unmanned aircraft system completed its first flight May 22 from the company's manufacturing facility in Palmdale, Calif. The flight, which was about 1.5 hours, successfully demonstrated control systems that allow Triton to operate autonomously. Triton is specially designed to fly surveillance missions up to 24 hours at altitudes of more than 10 miles, allowing coverage out to 2,000 nautical miles. The system's advanced suite of sensors can detect and automatically classify different types of ships. (Northrop Grumman photo by Bob Brown)
PALMDALE, Calif. (May 22, 2013)—The Northrop Grumman Corporation (NYSE: NOC)-built MQ-4C Triton high-altitude unmanned aircraft successfully completed its first flight today from the company's manufacturing facility in Palmdale.
Triton is specially designed to fly surveillance missions up to 24 hours at altitudes of more than 10 miles - allowing coverage out to 2,000 nautical miles. The advanced suite of sensors can detect and automatically classify different types of ships.
"First flight represents a critical step in maturing Triton's systems before operationally supporting the Navy's maritime surveillance mission around the world," said Capt. James Hoke, Triton program manager with Naval Air Systems Command. "Replacing our aging surveillance aircraft with a system like Triton will allow us to monitor ocean areas significantly larger with greater persistence."
A Navy and Northrop Grumman flight test team conducted about a 1.5-hour flight that started at 7:10 a.m. from Palmdale.
Northrop Grumman is the prime contractor to the Navy's MQ-4C Triton Broad Area Maritime Surveillance program.
"Triton is the most advanced intelligence, surveillance and reconnaissance [ISR] unmanned aircraft system ever designed for use across vast ocean areas and coastal regions," said Mike Mackey, Northrop Grumman Triton UAS deputy program director. "Through a cooperative effort with the Navy and our industry partners, we successfully demonstrated the flight control systems that allow Triton to operate autonomously. We couldn't be prouder of the entire team for this achievement."
Additional flight tests will take place from Palmdale to mature the system before being flown to the main flight test facility at Naval Air Station Patuxent River, Md., later this year.
In 2008, Northrop Grumman was awarded a systems development and demonstration contract to build two aircraft and test them in preparation for operational missions.
The Navy's program of record calls for 68 Tritons to be built.
Triton carries a variety of ISR sensor payloads that allow military commanders to gather high-resolution imagery, use radar to detect targets, and provide airborne communications and information sharing capabilities to military units across long distances.
At 130.9 feet, Triton has a wingspan larger than the world's most common commercial airliner, the Boeing 737. Combined with an efficient engine and other aerodynamic design features, Triton can fly 11,500 miles without refueling.
Northrop Grumman's Triton industry team includes Aurora Flight Sciences, BAE Systems, Curtis-Wright Corporation, L3 Communications, Raytheon, Rolls-Royce, Sierra Nevada Corporation and Vought Aircraft Industries.
Source: Northrop Grumman Corporation