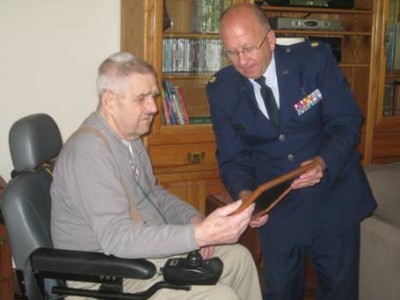 James O. Parker receives a plaque honoring his military service from Major Linzy Laughhunn, a Chaplain in the Air National Guard and also Calvert Hospice Bereavement Coordinator. (Submitted photo)
PRINCE FREDERICK, Md.—James O. Parker was recently honored as part of Calvert Hospice's "We Honor Veterans" emphasis on area veterans. A ceremony was held at his residence and was attended by several members of Mr. Parker's family along with his Calvert Hospice team.
Parker served as a ship fitter, 2nd class in the US Navy, 1949-1953 on the USS Yellowstone AD27, destroyer tender.
The ceremony included the presentation of a framed certificate of appreciation that acknowledges the dedicated years of military service. The certificate includes the affirmation, "We (Calvert Hospice) will not forget your service then; we are proud to serve you now." A patriotic reading was shared by Major Linzy Laughhunn, a chaplain in the Air National Guard.
Susan Wisniewski, Social Worker for Calvert Hospice and Kim Twitchell, RN for Calvert Hospice, presented Parker with a Navy-themed throw blanket on behalf of Parker's Calvert Hospice team that has been caring for him and his family. They also presented a patriotic pin and citation as part of the Veteran Administration – National Hospice and Palliative Care Organization's Partnership to promote quality care for our Veterans as they approach the latter days of their life journey. Finally, a prayerful blessing was offered by Gerry Headley, Chaplain for Calvert Hospice.
"I don't really deserve this, others did so much more," said Parker.
"We believe that every act of service is a brick in the foundation of our nation's freedom," responded Brenda Laughhunn, Executive Director of Calvert Hospice. "We are proud to be moving toward a Level II hospice service organization with the national 'We Honor Veterans' program. Our Veterans deserve it, and we only have one chance to get this right when one of our Veterans is facing the last chapter of their life."
Nearly 11 percent of the Calvert County population is comprised of veterans, according to Laughhunn.
Laughhunn thanked Wal-Mart of Dunkirk for a grant that has helped the hospice advance the initiative.
To find out how you can be a part of delivering hospice care to our veterans, as well as others who are facing a life-limiting illness, visit
calverthospice.org
.