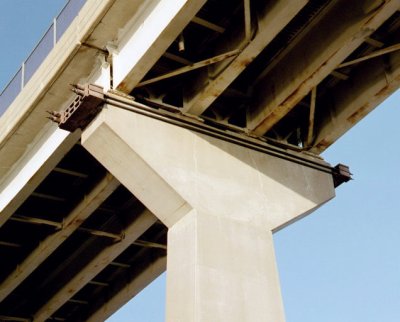 The Thomas Johnson bridge, which connects lower Calvert County to St. Mary's County. Several years after construction, design flaws were discovered which prompted the installation of the steel clamps pictured above to prevent the bridge from failing. (SoMd.com file photo)
ANNAPOLIS (May 16, 2013) – Governor Martin O'Malley, Senate President Thomas V. Mike Miller, Jr., and House Speaker Michael E. Busch today signed the Transportation Infrastructure Investment Act of 2013 (Transportation Act). The legislation will fund an average of $800 million a year at full implementation and a total of $4.4 billion over the next six years (FY 2014 - FY 2019).
The first round of highway and transit projects to be funded with money generated by the Transportation Act includes $20 Million for design of a new Thomas Johnson Bridge in Calvert and St. Mary's counties. The bridge has become a commuter bottleneck in recent years; primarily as a result of NAVAIR's migration to NAS Patuxent River. The bridge has also become a safety concern. Design flaws discovered many years ago resulted in the large concrete piers being retrofitted with steel clamps. The State Highway Administration performs periodic inspections of the structure and reports that the span is safe. The steel clamps accompanyed by large visible cracks in many of the piers cause many citizens to be skeptical of SHA's conclusion.
Other initial projects to be funded by the act include:
-- $82 M for construction - US 15/Monocacy Boulevard Interchange in Frederick County/Western Maryland;
-- $125 M for construction - I-270/Watkins Mill Road Interchange in Montgomery County;
-- $100 M for construction - MD 210 at Kerby Hill Road/Livingston Road Interchange in Prince George's County;
-- $100 M for MARC Enhancements (Penn-weekend service, Camden-weekday 2 new roundtrips, New locomotives) – Baltimore and Washington, D.C. regions;
-- $60 M for construction - I-695 Leeds Avenue Interchange reconstruction and bridge replacement in Baltimore County;
-- $49 M for construction - US 29 northbound widening to three lanes from Seneca Drive to MD 175 in Howard County;
-- $44 M for construction - Aberdeen Proving Ground BRAC Intersection Improvement in Harford County;
-- $54 M for construction - US 301/MD 304 Interchange in Queen Anne's County/Eastern Shore; and
-- Transit Funding for Final Design (Red Line $170M, Purple Line $280M, Corridor Cities Transitway $100M) – Baltimore and Washington, D.C. regions.
Over the summer months, the State will continue to review project needs and make investment decisions. The Maryland Department of Transportation's draft six-year transportation budget will be published on September 3rd. This budget, known as the Consolidated Transportation Program, will provide a full list of the new projects funded by the Transportation Act. This budget will be posted on MDOT's website at
http://www.mdot.maryland.gov.