By JEREMY BARR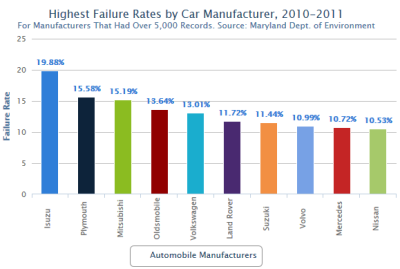 WASHINGTON—Marylanders looking to purchase an environmentally friendly car should look east, Far East, new data shows.
Japanese automakers Lexus, Subaru and Honda had the lowest failure rates on emissions tests in Maryland in 2010 and 2011, according to a Capital News Service analysis of more than 3 million test records obtained through a Public Information Act request.
Lexus, at 4.8 percent, was the only automaker with a failure rate under 5 percent. Subaru and Honda followed closely, with 5 percent and 5.1 percent failure rates, respectively.
Even more impressive, Japan produced the nine car models with the lowest failure rates on the On Board Diagnostic (O) Test, which accounts for nearly 90 percent of all emissions tests in Maryland.
But a Japanese automaker also ended up on the bottom on the heap. If you drive an Isuzu – a Japanese vehicle manufacturer that produced automobiles with General Motors—and had your vehicle emissions-tested in Maryland in 2010 or 2011, you had a nearly one-in-five chance of failing.
Vehicles branded by Plymouth, 15.6 percent, and Mitsubishi, 15.2 percent, had the second- and third-highest failure rates over this period.
State law requires vehicles to be tested before registration and every two years.
Motor vehicles account for one third of all carbon dioxide emissions in Maryland, according to the Maryland Department of the Environment. And excess carbon monoxide or hydrocarbon emissions can cause lasting environmental damage.
"The goal behind the Vehicle Inspection Program is to make sure that vehicles are running the way they're supposed to," said Tad Aburn, director of MDE's air and radiation management administration, which oversees the program. "I personally believe it's worked extremely well."
About 90 percent of days are considered "good" or "moderate" air quality days in Maryland, according to the agency's 2012 Clean Air Progress in Maryland report, representing a steady increase in the last 10 years.
"In Maryland, we have some fairly complicated air-pollution issues. We've made tremendous progress over the last 20 years in reducing emissions," Aburn said.
Vehicles can fail the test if they exceed standards for hydrocarbon or carbon monoxide, according to a guide produced by Maryland's Motor Vehicle Administration, which jointly administers the program.
Other reasons for failure include: leaks in the exhaust system, improper engine adjustments, a faulty malfunction indicator light on the dashboard, malfunctioning or missing emissions control equipment or an improperly-fitting gas cap.
Two Toyota vehicles—the energy-efficient Prius (.3 percent failure rate) and the Yaris (.4 percent failure rate) had the lowest failure rates of any model tested at least 5,000 times. Just 14 of 5,455 Prius vehicles failed the emissions test.
The next-best model performance was turned in by the Lexus ES 350, with a .8 percent failure rate.
Overall, 92 percent of vehicles passed the O Test. The other test, the Idle Tailpipe (B) Test, is administered to older passenger vehicles (model year 1977-1995) and the heaviest vehicles.
Maryland's General Assembly toughened emissions standards in 2007, though the change only applies to model year 2011 cars and later.
"Maryland is doing a really good job in reducing its emissions," said Hakob Avetisyan, a civil and environmental engineering doctoral student at the University of Maryland who studies vehicle emissions.
The Ford Windstar was the worst-performing model on the O Test, with a failure rate just under 25 percent. The Cadillac Deville (19.9 percent failure rate) and Nissan Maxima (18.9 percent failure rate) also performed poorly relative to other models tested at least 5,000 times over the two-year period.
Many Chevrolet models did not fare well on the B Test, as the American manufacturer produced the five vehicles with the highest failure rates among models tested at least 1,000 times. Chevy's Astro, G20 and G30 vans all failed at a clip of over 30 percent.
It was a different story for Chevrolet's Silverado pickup truck, though, which had the lowest failure rate of any model—3 percent.
When all models are included, Volkswagen (21.8 percent), GMC (18.2 percent) and Isuzu (17.4 percent) all had higher failure rates than Chevrolet on the B Test. Hummer was the surprising winner, with just a 5.1 percent failure rate, owing largely to the success of its H2 model.
"Government officials must ensure that emissions programs are both reasonable and cost effective, and produce the desired emission reductions," said Ragina C. Averella, a spokeswoman for AAA Mid-Atlantic, which advocates for motorists. "State programs should be subjected to comprehensive and periodic review to ensure accuracy of the data collection and the EPA's computer modeling system."
Vehicle age matters, the data shows. The failure rate decreased steadily with each model year, starting at around 20 percent for cars made in 1996 . Just .2 percent of cars made in 2010 failed the test.
"It's all about the technology," Avetisyan, of the University of Maryland, said. "New technology emits less. They use less energy or they use cleaner types of fuel, like hybrids or electric vehicles."
Aburn agreed. "The general rule of thumb is that older vehicles aren't as clean as newer vehicles," he said, adding that the testing system is set up to acknowledge this difference by creating separate standards.
Failing vehicles can be retested once for free; after that, owners must fork over another $14 for the test. Vehicles must be retested until they pass or receive a repair waiver, which requires proof that the car underwent at least $450 in emissions-related repair work.
But, Aburn said, the test has become far less of a hassle than it used to be, even as standards remain high.
"We have continued to evolve the program to simplify it and to make it more streamlined," he said. "We're the best."