2012 Annual Report Available
Sheriff Rex Coffey announced the publication of our 2012 Annual Report, the official record of our activities and achievements. The document freely available to download at
http://www.ccso.us/downloads/AR12.pdf
. We hope you will take a moment to review this publication and use it for future reference as necessary.
American Legion Helps Fund CCSO DARE Program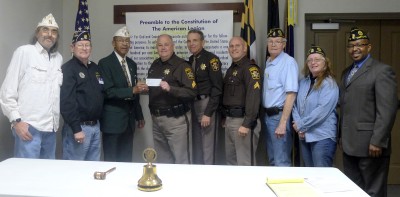 Mr. Robert M. Johnson and members of the American Legion present Sgt. Carl Rye, Sheriff Rex Coffey and Sgt. Mike Vaughn with a donation to support the D.A.R.E. program.
The American Legion Department of Maryland presented $1,500 to the Charles County Sheriff's Office (CCSO) in March at the American Legion Post 82 in La Plata as part of the organization's annual support of the CCSO's D.A.R.E. program.
Mr. Robert M. Johnson of the Department of Maryland Children and Youth Commission presented a check to Sgt. Carl Rye, a supervisor in the CCSO School Resource Unit, which administers the D.A.R.E. program. Sheriff Rex Coffey, American Legion members Buddy Hindle, John Countryman, Doug Clark, Sherri Cannon and Mike Cannon and Sgt. Mike Vaughn, the second supervisor in the School Resource Unit, attended the presentation ceremony.
"This donation gives life to the D.A.R.E. program," said Sgt. Rye, who earned a lifetime achievement award from the D.A.R.E program last year. "Every year it funds the training that is necessary to keep our school resource officers certified as D.A.R.E. instructors. The American Legion has a significant impact on our community by offering us this donation every year."
"As someone who has taken part in the fight against drugs as a patrol officer, a narcotics detective and now as Sheriff, I can't emphasize enough how strongly I support the D.A.R.E. program or how much I appreciate the American Legion's support of it," said Sheriff Coffey. "The D.A.R.E. message reaches a lot of young people and motivates them to make good choices and the American Legion is a driving force behind the program's success here in Charles County."
For more information about the School Resource Unit or the CCSO's other youth outreach initiatives, visit www.ccso.us.
Teen Court Announces Open House, Presentations
The Charles County Sheriff's Office's Teen Court is hosting an open house and scheduling community presentations to help citizens learn more about becoming involved in the successful youth justice diversion program.
The open house will be held May 9 from 6-8:45 p.m. at the Charles County Circuit Court located at 200 Charles Street in La Plata. Visitors will meet teen and adult volunteers, community judges and the Teen Court coordinator to discuss volunteer opportunities. Visitors are asked to leave all cell phones, cameras and recording devices in their vehicles as these devices are no permitted inside the courthouse.
Additionally, Teen Court is offering to speak at meetings of homeowners associations, churches and other community organizations interested in becoming involved in the program.
To schedule a presentation, inquire about the open house or discuss other Teen Court-related matters, call 301-609-3915.
Law Enforcement 5K Raises Thousands for Wounded Warriors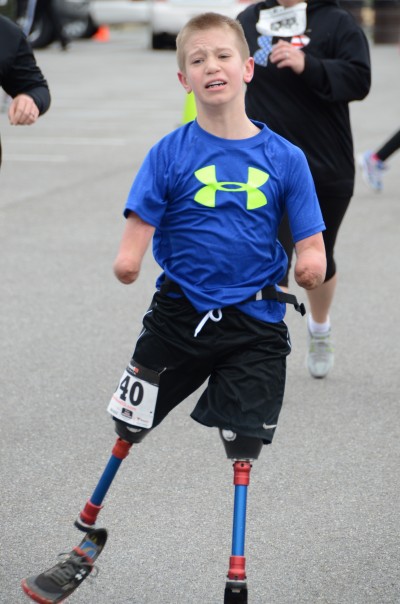 A young runner, Dayton Webber, crosses the finish line. Photo courtesy Det. J. Elliott/Fraternal Order of Police Lodge 24.
Mission Accomplished: Hundreds of runners and walkers navigated the trail around Laurel Springs Park in La Plata on March 24 to take part in the first annual Wounded Veterans 5K sponsored by the Charles County Sheriff's Office (CCSO), Fraternal Order of Police Lodge 24 (FOP) and Charles County Correctional Officers Association (CCCOA). The event raised $8,700 for the Wounded Warrior Project (WWP). The crowd of runners and walkers was estimated to be between 500 and 600.
"We had an incredible turnout, especially for this being the first time we hosted this event," said Sgt. Gus Proctor who coordinated the 5K with Cpl. Rick Boggs – a U.S. Army veteran – and CFC Crystal Parum. "There's a lot of work that goes into putting a 5K together but to see so many people come out to support our wounded veterans – this is why we do what we do."
The CCSO, FOP and CCCOA plan to host another Wounded Veterans 5K next year, Sgt. Proctor said.
La Plata's Texas Roadhouse, the Waldorf Chick-fil-A and WTG Tactical in White Plains sponsored the event. Additionally, Texas Roadhouse and three other restaurants donated a portion of their proceeds earned during special "dine to donate" nights held in the weeks prior to the 5K. Texas Roadhouse donated $550, Pizza Hotline in La Plata donated $100, and Tequila Grill and Fiesta Caf?, located in Charlotte Hall and Mechanicsville, respectively, donated $68 collectively.
The WWP provides injured members of the U.S. Military with comfort and financial support. The organization was founded in 2003 when a group of veterans and friends, moved by the stories of the first wounded services members returning home from Afghanistan and Iraq, began providing the injured warriors with comfort items, according to the WWP website. The organization grew into a rehabilitative effort to help injured service members as they recover and transition back into civilian life. Thousands of wounded warriors and caregivers receive support each year through WWP programs "designed to nurture the mind and body and encourage economic empowerment," the WWP website said. The WWP is a non-profit, nonpartisan organization. Learn more at woundedwarriorproject.org.