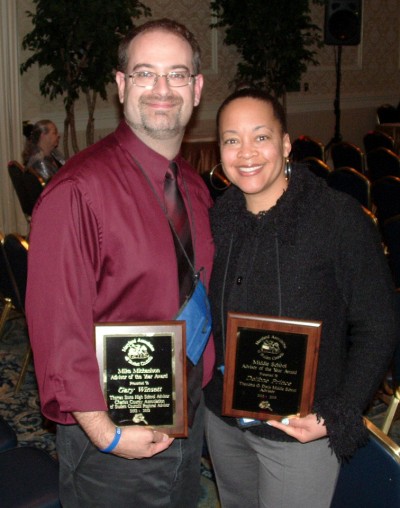 Gary Winsett, pictured left, and Delfone Prince, pictured right, were honored by the Maryland Association of Student Councils (MASC) last month for their efforts in student council leadership and participation. Winsett was named the 2012-13 Mike Michaelson Advisor of the Year award, which honors high school student government advisors, and Prince received the 2012-13 Middle School Advisor of the Year award.
LA PLATA, Md.—Gary Winsett, a social studies teacher at Thomas Stone High School and advisor to the Charles County Association of Student Councils (CCASC), was recently named the 2012-13 Mike Michaelson Advisor of the Year award recipient by the Maryland Association of Student Councils (MASC). Recipients are honored for their involvement in student-centered activities, for displaying outstanding leadership and for their contributions to student councils and student success.
Delfone Prince, a student council advisor at Theodore G. Davis Middle School, was also named as the 2012-13 Middle School Advisor of the Year award recipient by the MASC. Selected honorees are recognized for their commitment to promoting middle school involvement at the school, regional and state levels, and for inspiring young leaders to become involved in the MASC.
Winsett was nominated for the award by Ciara Albrittain, the CCASC first vice-president and La Plata High School sophomore, for his leadership of the CCASC, his ability to communicate with students and encourage them to become involved in student-focused activities, and for his energetic and kind demeanor. "Mr. Winsett leads by example. He is always at our meetings to show the students that involvement is important. He is welcoming to everyone and makes students feel like they belong. This is important because the students look up to him and he is there for us, encouraging us to give it our all," Albrittain wrote in her nomination letter.
Winsett said he was honored to receive the award, and especially to be nominated by students. "We have tremendous students in Charles County and I am very fortunate to work with these exceptional young men and women who want to make a difference in the world. To be able to earn such an award while working in the county I grew up in is a tremendous honor," Winsett added.
To support Winsett's nomination, General Smallwood Middle School Principal Kathy Perriello wrote a letter on his behalf. Perriello said Winsett is a wealth of knowledge and source of support in building student leadership. "Mr. Winsett is a staunch supporter of student involvement and the democratic process. He promotes student accessibility, freedom of speech, ideas and views. He is always willing to go the extra mile," Perriello wrote in a nomination letter. She also credits Winsett with the high ratio of student involvement in student council activities.
Winsett has been the CCASC advisor for the past three school years and also works with student government advisors at the middle and high school levels. La Plata art teacher Jodi Kitson is the advisor at La Plata and has worked with Winsett since he was chosen to lead the CCASC. She said his dedication to the organization cannot be duplicated. "Gary is truly, genuinely, 110 percent dedicated to this organization, and completely and totally deserving of this award. There is no one who could replace him," Kitson wrote in a nomination letter.
Prince was nominated for the middle school advisor award by Azeezat Adeleke, student member to the Charles County Board of Education, for instilling an enthusiasm in Davis students to participate in student council activities and for helping her students develop leadership skills. At Davis, there is a high level of student involvement within the school community and Prince helps to coordinate several opportunities for students to work together, such as a newspaper fashion show, question and answer sessions with guest speakers and fundraisers to benefit their peers.
Adeleke credits the successes of the student council at Davis to Prince's efforts. "Davis Student Government students lead not just within their school, but on a county level. It is no wonder many of them have moved on to become members of CCASC and MASC's Executive Boards. Ms. Prince is a key player in crafting that success and thus greatly deserves the award," Adeleke wrote in her nomination letter.
Dion Anderson is the President of the CCASC and said that not only is Prince dedicated to the Davis community, but that she herself has the energy of a middle school student. "She works tirelessly with the students in meetings, activities and events. Her love for the students with whom she works with and her diligence to the job make her the perfect Middle School Advisor of the Year," Anderson wrote in a nomination statement.
Prince said she was honored to be selected as this year's award recipient at the middle school level. "It was an honor being nominated and receiving this award. It is a privilege working with such great students and student leaders from Charles County," Prince said.
Winsett and Prince were presented with their awards at the annual MASC Convention held last month in Ocean City. Each year, the MASC honors a student government advisor at the middle and high school levels, a school principal and a student council group from one middle and one high school. Complete award information, including application materials, is available on the MASC website at
http://www.mdstudentcouncils.com/awards
.
Source: Charles County Public Schools