Men's Lacrosse, Women's Cross Country Coaches Recruiting for 2013-14 Seasons
LA PLATA, Md.—The College of Southern Maryland is adding opportunities for Southern Maryland student-athletes to compete on a collegiate level in men's lacrosse and women's cross country beginning in the 2013-14 academic year. The college has named Justin W. Ryan as head men's lacrosse coach and Christopher Tuttle as women's cross country coach. The teams will compete at the Division I NJCAA (National Junior College Athletic Association) collegiate level. In addition to lacrosse and cross country, CSM offers men's soccer, basketball, baseball and golf, and women's soccer, volleyball, basketball and softball.
"Strong [lacrosse] programs exist in Calvert and St. Mary's county high schools, and now that lacrosse has expanded with Charles County teams moving into SMAC (Southern Maryland Athletic Conference) competition, the natural progression is to provide the opportunity for students to play at the collegiate level while attending community college in Southern Maryland," said CSM's Athletic Director Michelle Ruble.
"We are grateful for the support we have received from the community and excited for the students who will be able to attend CSM and play Division I lacrosse. Student-athletes are some of our most successful students, and the new lacrosse program will attract more full-time student athletes," said CSM Vice President of Advancement Michelle Goodwin.
Lacrosse program donors include Old Line Bank, Quality Built Homes, Inc., Chesapeake Beach Resort and Spa, Benedict Metal Works, Inc., The St. Charles Companies and individual donors, Erika Abell, Michelle Auginbaugh, Rick Bailey, Kris Bayer, Greg Cockerham, Bill Comey, Jennifer Everhart, Judith Ferrara, Jon S. Frank, Ruth Ann Ferrell, Goodwin, Brenda Harbold, Bonnie Harrison, Karen Smith Hupp, Laura Hupp, Kathryn Hupp, Colleen Joffe, Margaret Jones, Jay Lilly, Janice Love, Andrew Lundeen, Paula Martino, William McGee, Randall Sawyer, Tonya Stanley, Rick Tepel, Christina Thompson, Jennifer Wamsley, Harry Weitzel and Helena Yates.
Head Men's Lacrosse Coach Justin W. Ryan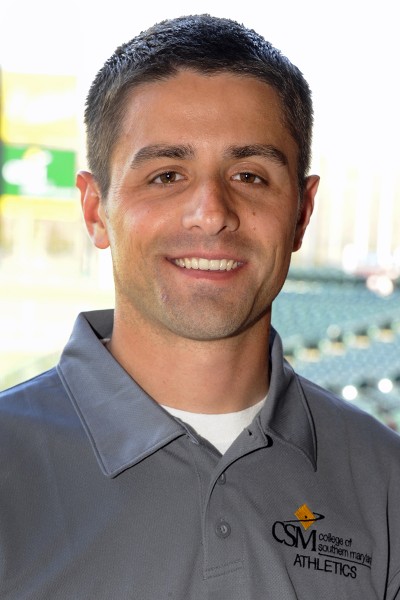 Coach Justin W. Ryan
CSM's new men's head lacrosse coach, Justin W. Ryan, began coaching the sport he loves while still a high school student in Albany, N.Y. "I assisted with a lacrosse clinic that our varsity team offered to youth in the community. I enjoyed the experience of teaching the game of lacrosse and watching someone else improve and gain confidence in their abilities," Ryan said. A defenseman, Ryan received the New York State Public High School Athletic Association Scholar-Athlete Award all four years of high school.
As the assistant boys' varsity lacrosse coach at North Point High School since 2008, Ryan helped establish a varsity lacrosse program from the first year of its inception and continues to coach in the fifth year of the program as head junior varsity coach. "The success of the high school lacrosse programs in Charles County was first seen through the number of interested athletes coming out to participate in a sport new to the county. Five years later, the popularity of the sport has taken off, programs have expanded to include junior varsity teams and the skill level of athletes and the competitiveness of the teams has greatly improved," said Ryan.
"My coaching philosophy derives from the teachings of the U.S. Lacrosse and Positive Coaching Alliance. The coaching staff and players of the men's lacrosse program at CSM will strive to uphold the integrity of the game through respecting the rules, opponents, officials, teammates and one's self. The team is expected to demonstrate a high level of commitment and dedication to reaching their full potential on the playing field and in their academic programs," Ryan said.
He is the co-founder and administrator of 301 Lacrosse in La Plata, an organization that manages summer tournament teams and fall ball teams for high school boys to compete during the off-season. Ryan attended U.S. Lacrosse Level 1 and Level 2 coaching clinics at U.S. Lacrosse National Conventions in 2012 and 2013.
Ryan earned a master's degree in education, school counseling emphasis and a bachelor's degree in criminal justice and sociology from the College at Brockport, State University of New York. He is a certified Maryland school counselor and a national certified counselor.
Head Women's Cross Country Coach Christopher Tuttle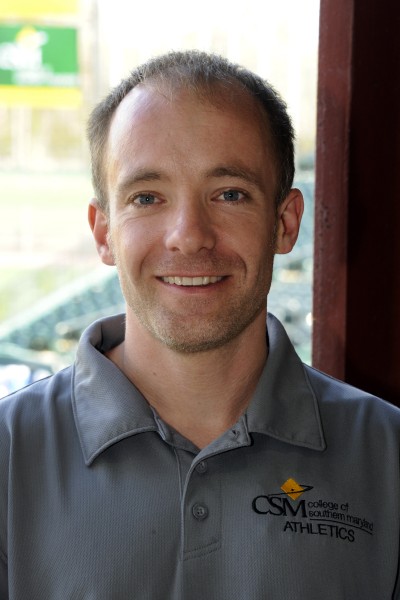 Coach Christopher Tuttle
CSM Aquatics and Community Services Coordinator Christopher Tuttle began his passion for health, fitness and sports at a young age. He played multiple sports but gravitated toward running in high school where he found quick success. "Ever since graduating college, the best way for me to stay active in the sport I love is by helping others," said Tuttle, adding that he enjoys working with runners of all abilities from beginner to elite. "Seeing someone transform into a "runner" and being able to help guide them to reach their goals is why I truly enjoy coaching."
Tuttle earned an associate's degree in recreation management from State University of New York (SUNY) Delhi where he received Academic All-American and National Champion cross country honors. He received a bachelor's degree in liberal arts/geography from SUNY New Paltz where he served as captain of the men's cross-country and track and field team, earned All-Region honors, and set-and still holds-several school records. He is certified through the Y.M.C.A. as a personal trainer and lifeguard, and American Red Cross for CPR and first aid. He has a coaching certification from the Road Runners Club of America.
Following graduation, Tuttle has maintained his competitive edge as a top-200 finisher in the 2008 Marine Corps Marathon and competitor in 5K, 10K, half-marathon and warrior-type events. He served as representative on the Pikes Peak (Colo.) Road Runners Club and has held a sponsorship with Saucony, a running shoe company, for the past three years.
Tuttle's coaching philosophy focuses on consistency as well as "train smarter, not harder," he said. Tuttle's 13 years of coaching experience includes Fleet Feet Sports in Annapolis, Parks and Recreation director for town of Beckman, N.Y. and Beckman Y.M.C.A. program/fitness director.
CSM's next efforts are to launch a women's lacrosse team for the spring 2015 season.
For information on athletics at CSM, visit
http://www.csmd.edu/Athletics.