By ANGELA HARVEY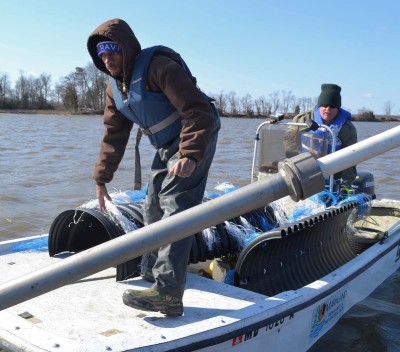 Fisheries biologists with the Tidal Bass Program, Branson Williams, left, and Tim Groves, prepare to submerge an artificial habitat in Gumtree Cove. The structure provides a nesting area for largemouth bass in the Nanjemoy River in Charles County. (Photo: Angela Harvey)
NANJEMOY, Md.—Gumtree Cove used to be a great spawning area for largemouth bass—so much so that more than 56 years ago, it was legally designated as a refuge to protect fish during the spawning season.
In a survey done last year, biologists didn't find any evidence of bass building nests in the cove, said Dr. Joseph Love, Tidal Bass Program manager at the Maryland Department of Natural Resources.
Love and other biologists in the program want to reclaim Gumtree as a prosperous spawning cove, so they made artificial habitat structures for largemouth bass to use as nesting areas.
"Bass prefer to build their nests on submerged structures like grasses, roots, or downed trees," Love said. "At Gumtree Cove, there isn't any aquatic grass and there hasn't been since 2007. So we're hoping this will provide a submerged structure to help replace the absence of grass."
The Tidal Bass Program has collected data on the distribution of largemouth bass in the Potomac River since the 1980s. Its survey methods became standardized among other rivers in the Chesapeake Bay watershed in 1999, according to MDNR.
The amount of aquatic grass in the region is one of the best indicators of water quality. Yet, reasons for the decline in the Nanjemoy River, a part of the Potomac River system, are not entirely clear, said Lee Karrh, chairman of the Submerged Aquatic Vegetation Workgroup for the Chesapeake Bay Program.
Even without a water-quality monitoring station in the Nanjemoy River, biologists know it's not the best environment for bass because it is a transition zone where saltwater and freshwater mix. It is hard for grass to adapt to the salinity variability, according to MDNR.
"How much rainfall you get has the most dramatic impact on grasses," Karrh said. "If it's a very wet year, the freshwater line is pushed farther downstream, whereas in dry years, saltwater comes farther up into the Potomac."
Over time, highly variable salinity levels cause stress to vegetation. For example, in 2006, high-resolution, aerial photographs showed there were 740 acres of aquatic grass in the Nanjemoy River. That number declined to 100 acres in 2007, Karrh said.
However, a rebound can happen just as quickly. In 1996, there were 500 acres of grass in the Nanjemoy River. In just one year, that number increased to 1,000 acres, Karrh said.
High sediment levels are also a factor in aquatic vegetation abundance. Sediment affects water clarity, preventing sunlight to pass through in sufficient amounts for grass to photosynthesize, said Ross Williams, biologist with the Tidal Bass Program.
In an effort to provide habitats that do not change depending on water composition, biologists placed eight artificial structures in Gumtree Cove, and four in Concord Cove in the Chicamuxen Creek, another designated refuge. The habitats will be removed at the end of the spawning season on June 15, according to MDNR.
This is the first time this type of artificial habitat is being used, and MDNR plans to continue its use for at least the next three years. Biologists will conduct annual population surveys for five years to determine if largemouth bass are once again spawning in the coves, according to MDNR.
"If these structures are successful, we will likely implement them in other coves as well," said Love. "It could be a great restoration tool for the less-productive coves within the Chesapeake Bay watershed."
It is likely other fish will use the structures, but the target fish are bass. In the past, biologists used recycled Christmas trees and nest boxes as habitats. But the bass did not respond to them in the way biologists had hoped, Love said.
Nine members of the Jr. Pro-Formance Fishing Team helped construct the habitat structures. The nationally competitive team is a part of the Maryland Bass Federation Nation. It has 15 members who range from 11 to 18 years old. The team has participated in various MDNR projects for the last three years, said youth adviser Steve Danielczyk.
"I thought it would be good for the youth to perform community service in a job related to fisheries," said Danielczyk. "It was a fantastic opportunity."
The structures are made from a corrugated plastic pipe cut in half, with frayed rope attached to it to simulate grass. Cinder blocks and two metal poles anchor it. They cost about $120 each in materials, said Williams.
Recreational and commercial tidal fishing are important industries in Maryland. In 2011, $4.5 million dollars in revenue was generated from the sale of 187,000 recreational fishing licenses and coastal sport fishing license decals—which allow multiple recreational anglers to fish on one boat without individual licenses, according to the License and Registration Service at MDNR. These figures exclude licenses for non-tidal waters.
The Tidal Bass Program's operating budget is $130,200, excluding transportation, enforcement, and some management costs, Love said. It is largely federally funded, with about a quarter of its money coming from fishing licenses.
Maryland bills itself as a great sportfishing destination, and largemouth bass are a popular sport fish. Tournaments of various levels are held in Maryland's waters during the fishing season. For example, in 2012, there were 281 Tidal River Black Bass Tournaments where more than 7,000 registered participants caught more than 22,000 bass, most of which were released.
A thriving fishing season begins years before with a thriving spawning season. And fish refuge regulations—including those for the Nanjemoy River and the Chicamuxen Creek areas—play a role in that. The MDNR Fisheries Service Hatcheries Division updated the refuge regulations in 2001: They prohibit fishing or boating, except by permit, in these locations during the March 1 to June 15 spawning season. In that period, a large female bass typically lies between 15,000 and 30,000 eggs. The survival rate into adulthood is around 1 percent, Love said.
Biologists will return to Gumtree Cove in April, May and June to do surveys of the largemouth bass population. Surveyors will shoot an electrical current into the water to temporarily stun the fish so they can be put in a recovery tank. Biologists can then determine if the fish are in a reproductive state by squeezing the abdomen to see if sperm or eggs are exuded, said Love.
In the fall, the program will return, using the same method to see if there are juvenile bass in the cove.
"If these artificial habitats don't help within the next two to three years, we might have to consider changing the law and identify a better sanctuary in this area," Love said.