St. Mary's College was the First U.S. Institution of Higher Education to Establish Memorandum of Understanding with UTG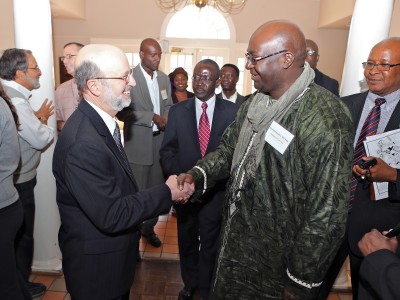 St. Mary's College of Maryland President Joseph Urgo (left); the Gambian Ambassador to the U.S. Alieu M. Ngum (center); and Vice Chancellor of the University of The Gambia Muhammadou M.O. Kah (right). (Photo: Bill Wood)
ST. MARY'S CITY, Md.—On Wednesday, April 3, St. Mary's College of Maryland signed a revised memorandum of understanding with the University of The Gambia (UTG) during an official signing ceremony held on the college campus and attended by the Gambian Ambassador to the U.S. Alieu M. Ngum. The first MOU between St. Mary's College and UTG was signed in 2008. The revised agreement affirms the expansion of educational, professional and intercultural activities and projects among students and staff at both institutions.
A six-member delegation from UTG, led by its Vice Chancellor Muhammadou M.O. Kah, arrived at St. Mary's College on April 1 and met with students, faculty, and staff in the days leading up to the signing of the MOU on April 3.
In his remarks during the ceremony, St. Mary's College President Joseph Urgo thanked the UTG delegation for "being responsive to the initiatives St. Mary's College has brought to the University of The Gambia, which," he said, "have benefited students tremendously."
In his remarks, Kah called the signing of the revised MOU an "historic and important moment. … This is a very important dimension that our institutions are nurturing, and I believe this is the way higher education is going to evolve. We value this great collaboration and partnership with St. Mary's College; it is one of our deepest, strongest and most appreciated."
St. Mary's College is the first U.S. institution of higher education to establish an MOU with UTG.
The establishment of the first MOU between St. Mary's College and UTG in 2008, derived from the St. Mary's College Promoting Educational and Cultural Exchange (PEACE) program in The Gambia. The PEACE program, which is an exchange program for students and faculty of both institutions, has grown steadily since its inception in 1996 under the direction of St. Mary's College Professor Bill Roberts.
Source: SMCM