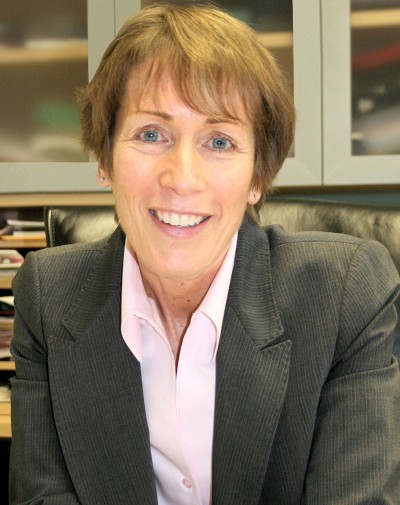 Kimberly Hill, Principal of North Point High School in Waldorf.
LA PLATA, Md.—At North Point High School, the motto of "Be the Difference" is rooted into the culture and climate. From the hanging posters that display the message in the hallways, to the wristbands worn by teachers and staff, the expectations are clear: all who enter North Point are given the opportunity to believe they can truly be the difference. North Point Principal Kimberly Hill developed the motto and gently reminds staff members daily to never forget why they chose a career in education. Her commitment to the academic and personal success of children is evident.
To honor her passion for educating all children, and for her ability to inspire and lead others to "move mountains," Hill was selected as this year's Washington Post Distinguished Educational Leadership Award recipient and named the 2013 Charles County Public Schools Principal of the Year. She was nominated for the award by a committee of her coworkers, who say her strong sense of leadership and creation of a positive learning and working environment are just a few traits that make her an exemplar role model.
"Mrs. Hill is simply the definition of a 'distinguished leader.' Every day, she makes the job of leading and forwarding a high school of over 2,200 students and 250 staff members look effortless," Carrie Akins, a vice principal at North Point, wrote in her nomination letter. Hill has created a learning environment at North Point that provides students and staff with opportunities to constantly improve. Her expectations for student achievement and success are high, as are her expectations for teachers and staff. She leads with the expectation that teachers will "Be the Difference" because she recognizes the importance of positive student-teacher relationships.
Hill, who is a Charles County native and graduate of Charles County Public Schools, said it was her learning experiences as a high school student at Maurice J. McDonough High School that inspired her to go pursue a career in education. "I was the first in my family to go to college, and was helped along in the admissions process by one of my teachers at McDonough, Lesley Cooke, a Washington Post Agnes Meyer Award recipient. My first teaching job was at McDonough, where I became a colleague to many of my own teachers. Teachers are vital to the success of our students, and the excellence of many of the teachers at McDonough inspired me to become a teacher," Hill said.
Hill is known for her strong work ethic, which she says was instilled in her by her parents at a young age. Not only is she visible in school hallways and classrooms, but Hill consistently attends evening and weekend events to cheer on students and be part of the school community. She values the role of all stakeholders in her community, from students and staff, to parents and community members. Brian and Revel Battle, who have two children enrolled at North Point, said Hill knows how to relate to her staff, students and parents.
"We are active parents in the North Point community serving on various committees and volunteering. It is not uncommon to see Mrs. Hill present and actively engaged with parents, staff and students. While attending PTSO meetings, one can expect to gain very insightful information from Hill about the community. While attending our sons' sporting events, it is normal to see Mrs. Hill cheering on the teams. It is evident that she has a strong sense of school spirit. Parents and school administration take pride in knowing that their leader is in full support of the kids academically and athletically," the Battles wrote in an award nomination letter.
Teachers also feel Hill's support and encouragement daily. She works hard to motivate her staff to instill in them a strong passion for education, and encourages knowledge sharing among colleagues. Personal and professional growth is expected among staff as part of Hill's commitment to inspiring teachers to be the difference. "Mrs. Hill has the unique ability to inspire each member of her staff to reach their highest potential. She elevates us by making each of us leaders. She believed in me as a teacher from my first day at North Point," said Christine Dutrow, an English teacher at North Point.
Hill is also known for putting students first and harnessing student involvement. She respects student opinions and often meets with student leaders to involve them in school-based decisions. A recent example of Hill's commitment to student involvement is the creation of the outdoor courtyard area and the landscape committee. Hill formed this committee with a group of students who provided opinions on the need for an open, communal space and allowed the group to create the final layout and overall design of the courtyard.
Hill is an innovative leader who uses creative thinking to help students succeed. In 2010, Hill and the North Point administration launched the NEST program, in which all 2,200 students are given an hour for lunch, but also free time to study, receive additional academic assistance, participate in clubs and activities or meet with their peers. North Point senior Azeezat Adeleke said the program has improved the school community. "I will put this in the simplest of terms: NEST is genius. As a result of the program, I have formed much stronger bonds with my classmates and teachers due to the increased time we have to interact and share. I have learned how to more effectively manage my time and how to prioritize," she wrote in a nomination statement.
Hill said for her, the award is a true reflection of North Point's students and staff. "To be selected as a Washington Post Outstanding Educational Leader is an amazing honor and a reflection of the dedicated staff and students that I work with at North Point. Our teachers believe in their ability to be the difference in a child's life, and their efforts have paid off for our students. Our parents and community have been incredibly supportive of our work at North Point, and I am thankful that they have trusted us to provide an outstanding experience for their children. I'm grateful to have the opportunity to lead in an environment where all of our stakeholders play a part in the success of our students," she said.
Hill began her career in education with Charles County Public Schools in 1986 as a social studies teacher at McDonough. She taught for more than six years before taking a vice principal position at McDonough in 1993. In 1998, Hill was named as the Coordinator of the Charles County Career and Technology Education Center. In 2005, Hill moved to a vice principal position at North Point when the school first opened. She was appointed as principal at North Point in 2007.
She has a bachelor's degree in political science and history from High Point University and holds a master's degree in education administration and supervision from the University of Maryland, College Park. In May, Hill will complete her Doctor of Education program in education leadership and policy from The George Washington University.
The Washington Post each year honors outstanding principals throughout the metropolitan area through its educational foundation. A committee reviews nominations throughout the school system and one principal is chosen to represent Charles County in its program at its Principal of the Year. Hill will be honored by the Board of Education at their May meeting.
Source: Charles County Public Schools