Sheriff's Office Braves the Shave!
Some shaved their heads; others added orange hair extensions. No matter what they did individually, they came together to support a local family. Sheriff's officers, corrections personnel and civilian staff from the Charles County Sheriff's Office recently participated in "Shave for the Brave" a fundraiser hosted by Studio Mirage in Waldorf to help raise money for Adam Lumpkins—a five-year-old Hughesville resident who is battling cancer. Sheriff Rex Coffey said the fundraiser was another example of how members of the CCSO are quick to help people in the community.
Some members braved the event alone while others took a back-up or two. Sean Elmore, a police communications officer, brought his 6-year-old daughter, Emma, and 1-year-old son, Connor. "I thought this was a good cause and I wanted my children to understand the importance of helping out."
Sgt. Steve Potter and his 16-year-old son, Wyatt, did the event together. "When I told my son about Adam, he wanted to take part right away. Not only did he shave his head, he collected donations from his friends at La Plata High School and his teammates on the football team. We don't know Adam but we knew we wanted to help," said Potter.
Many other CCSO families joined in as well: Sgt. Rick Bagley, his wife and their 7-year-old son; Kathy Almassy, wife of Det. Darryl Almassy, and their son William; Cpl. Jon Burroughs and his son Jonathan; Sarah Carlson, her daughter, Emma, 6, and son, Jack, age 1.
Police communications officer Liz Murphy walked into the salon with long hair and left a few hours later bald. "My hair was almost down to my hips. They sectioned my hair and were able to get four - 11 inch pony tails which I donated to Locks of Love. I've known Adam's parents for about 6 years and figured it's only hair, it will grow back. It's only a small act compared to what he has to go through," Murphy said.
Sgt. Carl Rye, a CCSO school resource supervisor collected $700 from school resource officers and members of the Charles County Public Schools Central Office. Captain Dan Gimler of the CCSO Special Operations Division collected donations from the Charles County Sheriff's Office.
Other CCSO members who participated include: Captain Mike Rackey, Sgt. Kevin Keelan, Sgt. David Willis, Lindsay Larsen, PO Michael Armstrong, Sgt. Harry Bowling, PFC Mike Sokoloff and CFC Warren Philyaw.
The shaving of heads is a visual act of solidarity with someone who has lost their hair to chemotherapy. "The message it sends is clear: We respect your courage and we've come to help," said Sheriff Coffey.
A collection of photos can be viewed on the CCSO facebook page at www.facebook.com/ccsomd.
Criminal Justice Students Compete in Regional SkillsUSA Competition
Two North Point Students Take Home First and Second Place Wins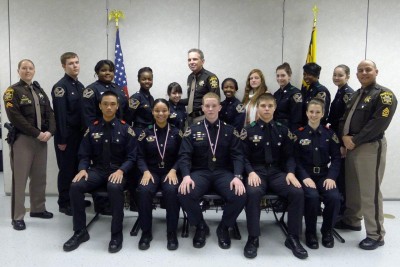 Front row, left to right: Gill-Jan Eleazar, Tiffany Butler (2nd place Criminal Justice), Ashton Brown (1st place Criminal Justice), Justin Craft and Carly Ford. Back row, left to right: Cpl. Chrissy Gilroy, Peter Hartmann, Elizabeth Burgess, Stephanie McCarter, Monica Garza, Sheriff Rex Coffey, Bethany Bowman, Kelsey Sweeney, Alexis Gibson, Alexis Washington, Jessica Sweeney and Cpl. Rhett Calloway. Not pictured: Raquel Swann.
They had been training for this day for months. Fifteen students from the Criminal Justice program at North Point High School competed against students from criminal justice programs in St. Mary's County and Calvert County at the SkillsUSA Regional competition held Feb. 2 at the Forrest Career and Technology Center in Leonardtown. The competition was divided into two categories: criminal justice and crime scene investigations.
During the criminal justice portion, students were challenged on an individual basis and were scored on how well they handled calls for a suspicious vehicle, a robbery and dealing with an emotionally troubled person. Ashton Brown, a junior at North Point took home first place and Tiffany Butler, a senior, came in second. The other 3 competitors in this portion of the competition were Carly Ford, Justin Craft, and Gill-Jan Eleazar.
Cpl. Rhett Calloway of the Charles County Sheriff's Office who heads the Criminal Justice program at North Point trained the students who took part in the criminal justice competition. "I'm very proud of all of our students who participated. They worked so hard to prepare for this competition and when it came time to showcase their talents, their hard work paid off."
The Crime Scene Investigation portion of the competition consisted of three, three-man teams who were scored on their ability to process a crime scene. Jessica Sweeney, Elizabeth Burgess, Bethany Bowman, Alexis Washington, Alexis Gibson, Raquel Swann, Monica Garza, Stephanie McCarter, and Peter Hartmann sketched and photographed the crime scene, collected evidence, dusted for fingerprints, fingerprinted suspects and analyzed the prints for a match.
Cpl. Chrissy Gilroy of the CCSO prepared students for this part of the competition. "Handling a crime scene in the real world is much different than you see on television. I was really impressed with how well our students did because it's quite a challenge."
"The students in our Criminal Justice program never cease to amaze me," said Sheriff Rex Coffey. "They work hard, they study hard and when it comes time to demonstrate what they've learned, they perform well under pressure. They're a talented group of teens taught by a very talented group of instructors."
According to its website, SkillsUSA is a partnership of students, teachers and industry representatives working together to ensure America has a skilled workforce. It is a national non-profit organization serving teachers and high school and college students who are preparing for various careers including law enforcement.
For more information about the criminal justice program, visit the Charles County Sheriff's Office's website,
http://www.ccso.us
, or the website for Charles County Public Schools,
http://www.ccboe.com.