Length of Service Awards
The St. Mary's County Government recognizes employees with continuous service of 10 years or more. On March 26, at the Board of County Commissioners meeting, the following Sheriff's Office and Detention Center employees were honored for their length of service to the citizenry.
Ten Year Awards
Sgt. Eva Jones
Dfc. Michael Worrey
Cpl. Brian Connelly
Cpl. Brian Gillingham
Cpl. William Rishel
Ms. Erin Shoemaker
Ms. Catherine Shoemaker
Fifteen Year Awards
Cpl. Chad Hartzell
Cpl. William Raddatz
Cpl. Michael Labanowski
Cpl. Emory Johnson
Cpl. Michael Peacher
Sgt. Donna Rustin
Sgt. William Gun
Sgt. Richard Russell
Sgt. Russell Trow
Lt. Julie Yingling
Twenty Year Awards
Cfc. Earl Young
Cpl. Stephen Goddard
Sgt. Steven Myers
Sgt. John Ucekay
Sgt. Harold Young
Twenty-Five Year Awards:
Sgt. Mark Porter
Lt. Michael Gardiner
St. Mary's Detention Center Inmates Complete GED Program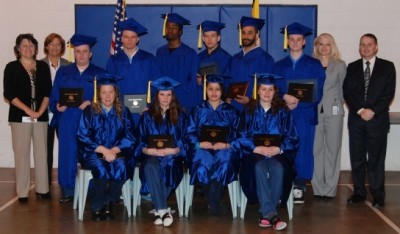 Graduates Posing With Their Instructors and Dr. Paul Fancella, Coordinator of Adult Education. Back Row Left to Right: O'Bryan Lincoln, Steven Jerome, Kenneth Mitchell, James Seifert, Garrett Dyson, Justin Lewis & Dr. Paul Francella. Front Row Left to Right: Kelly Wood, Rebecca Fowler, Keana Biscoe, Anita Emery.
A small graduation ceremony was held on March 20 at the St. Mary's County Detention Center honoring 10 individuals who recently completed the State of Maryland's General Education Development (GED) Program, earning their GEDs. The ceremony contained many graduation traditions, such as graduates marching into the ceremony; a keynote speaker, Judge David W. Densford; and family on hand to witness an important milestone in a graduate's life. The obvious difference; the graduates were not high school seniors; they were current and former detention center inmates.
The GED Program is cooperative effort between the St. Mary's County Detention Center, the St. Mary's Board of Education, and the St. Mary's Literacy Council. The Detention Center Literacy Program provides remedial education and prepares inmates for the general educational development (GED) test.
"A census conducted several years ago revealed the St. Mary's County inmate population had an average 10th grade education level and many inmates never completed high school," said Captain Michael Merican, Commander, St. Mary's County Detention Center. "Recognizing this deficiency, we implemented the GED Program and our Detention Center Staff has been encouraging inmates to participate. The program is well received; since 2008, 57 participants have received their diploma."
The Board of Education provides GED services to the inmates and detainees three days a week, including a night class for work release participants. The program is just one of many programs sustained by the Office of the Sheriff as part of an effort to prepare an inmate for re-entry into the community.
"There is little you can do about your past. The time to prepare for the future is now," said Sheriff Timothy K. Cameron. "Your confinement here should, and can, be a period of growth and development in productive and constructive living versus a dreary and aimless passage of time. The choice is yours. We hope you will continue your education and we wish you the best of luck. Congratulations."
Greenview Knolls Elementary School Students Awarded Sheriff's Salute
Captain Steve Hall awarded eight Greenview Knolls students with Sheriff's Salutes and appointed them as St. Mary's County Sheriff's Office Junior Deputies.
St. Mary's County "Adopt-A-School Program" is a joint initiative between the County Board of Education and the Sheriff's Office. St. Mary's County deputies volunteer to participate and adopt an elementary school which currently does not have the support of a full-time school resource officer. The program, which began in August of 2010, is designed to foster positive relationship with students.
Additional benefits of the program include enhanced law enforcement service to the schools, the availability of a deputy to assist as a staff advisor, and teachers/deputies working together to keep students in school to improve their opportunity for success.
In 2010, Captain Steven Hall adopted Greenview Knolls Elementary School and established a student Junior Deputy Program to acknowledge children who have displayed a willingness to help others, good citizenship, a positive attitude, class participation and scholastic achievement or a marked improvement in these areas.
"We value our partnership and the support of the Sheriff's Office," said Principal Elizabeth Servello. "Captain Hall has been an invaluable resource for our staff and a wonderful mentor to our students."
On February 28, eight Greenview Knolls students were honored with Sheriff's Salutes and appointed St. Mary's County Sheriff's Office Junior Deputies.
"I relish the opportunity to recognize these great kids in front of their peers, parents and teachers," said Captain Steve Hall. "The Junior Deputy Program was developed to acknowledge them in areas typically not considered for an award. Many deserving children at our school work hard to make the 'honor roll.' Through this program, Sheriff Tim Cameron and I take time out to reward those who exhibit an 'honorable role' as students at Greenview Knolls Elementary School."