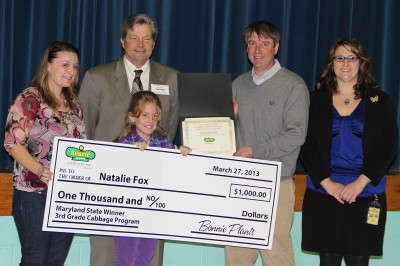 From left, Dr. James Craik Elementary School fourth-grade teacher Michelle Daggett, Agriculture Secretary Buddy Hance, Bonnie Plants Manager Lee Turner and Craik science teacher Jennifer Norris stand with fourth-grader Natalie Fox. (Photo by Kara Gross, Charles County Board of Education.)
POMFRET, Md. (March 27, 2013) – Maryland Agriculture Secretary Buddy Hance today joined with Bonnie Plants to present a winner's certificate and $1,000 scholarship check to Charles County fourth grader Natalie Fox, the Maryland winner of the Bonnie Plants Cabbage Program. Natalie won the honor after growing a 22 pound cabbage as a third grader last year. The presentation was made at her school, Dr. James Craik Elementary School in Pomfret, in front of her classmates and this year's third graders.
"Providing students with an opportunity to grow their own cabbage and learn firsthand how food is grown is the first step to creating a lasting appreciation for agriculture," said Agriculture Secretary Buddy Hance. "I congratulate Natalie and all her classmates and teachers at Dr. James Craik Elementary, as well as Bonnie Plants, for participating in this important project."
Secretary Hance joined Bonnie Plant's Maryland Station Manager Lee Turner as well as School Principal Penny Berg-Nye and Natalie's third grade science teacher Jennifer Norris and her fourth grade teacher Michelle Daggett in the presentation.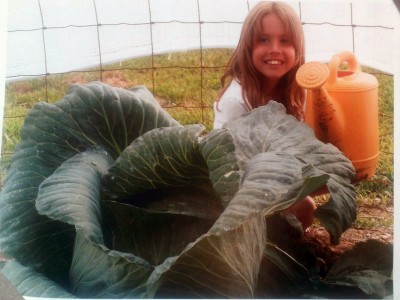 Natalie Fox and her award winning cabbage. (Submitted photo)
Bonnie Plants distributes free cabbage plants to third-grade classrooms whose teachers or schools sign up to participate in the program. The students learn to care for and grow the plants. The goal of the program is to spark children's interest in agriculture, help them understand where their food comes from, and allow them to learn the basics and joys of gardening. Each year, the company distributes more than 1 million free cabbage plants across the country. The cabbages are the O.S. Cross variety, which is known for producing giant, oversized heads, making the process even more exciting for students.
The program has been in Maryland schools for 10 years. Last year, 6,403 third graders in Maryland received plants to take home and care for. Launched nationally in 2002, the program awards a $1,000 scholarship to one student in each participating state. For more information about the program, see:
http://www.bonnieplants.com/
Source: Maryland Department of Agriculture