LEONARDTOWN, Md. (February 28, 2013)—The St. Mary's County Bureau of Criminal Investigations (BCI) Narcotics Division released the following incident and arrest reports. The Division is an investigative team comprised of detectives from the St. Mary's County Sheriff's Office, Maryland State Police Drug Enforcement Division, and Federal Drug Agents (HIDTA Group 34). The Division was established on September 1st, 2007 and is based in St. Mary's County.
CONTRABAND IN COUNTY JAIL: Vice/Narcotics detectives received information that a quantity of controlled prescription medication had been smuggled into the St. Mary's County Detention Center. Detectives immediately began working with Correctional Officers to locate the contraband.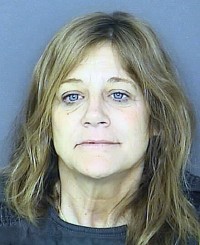 As the investigation continued, Suspect Bobbie Ann Cavey, 48 of Mechanicsville, pictured at left, was identified as a possible recipient of the controlled prescription medication. While making contact with inmate Cavey, she removed a lip balm stick from a secreted location of her body and began to ingest the contents. The prescription medication was recovered and she was charged accordingly.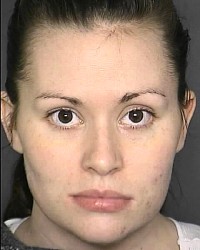 Inmate Anita Katherine Emery, 24 of California, pictured at left, was identified as also having controlled prescription medication and she too attempted to ingest the pills that were also contained within a lip balm canister. Inmate Emery was able to ingest one of the two pills as Correctional Officers entered her cell; detectives recovered the second one.
Detectives identified two additional inmates that received and had already consumed the contraband and they will be charged when the drug test results are confirmed.
OXYCODONE: James Louis Clarke, 28 of California, was charged through Grand Jury Indictment for Possession of Oxycodone with the Intent to Distribute.
MARIJUANA: Tyreise Divron Nelson, 20 of Lexington Park, was indicted and charged with Possession of Marijuana with the Intent to Distribute.
OVERDOSE LEADS TO DEALER ARREST: Patrol deputies responded to a 911 call for a subject not breathing in the parking lot of a Lexington Park business. Deputies responded with Rescue Squad personnel and discovered a 28-year-old female who was not breathing, in the rear of a vehicle. As emergency personnel attempted to revive the female, deputies began their investigation into what caused this medical episode. The female was treated initially on the scene before being transported to St. Mary's MedStar.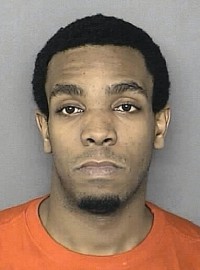 Patrol deputies quickly determined that the patient overdosed on heroin and Vice/Narcotics detectives joined the investigation. A shoelace, metal spoon and a syringe were recovered from a nearby trash can. It was discovered that Suspect Michael Issiah Harrison, 26 of California, pictured at left, had removed the discarded evidence from the patient's lap in an attempt to conceal the illegal activity. He was found to be in possession of additional heroin. He was charged with Obstruction of Justice and Possession of Heroin.
Further investigation revealed the heroin that led to the overdose was provided by Suspect Jason Michael Reintzell, 35 of Lexington Park, pictured at left. Suspect Reintzell was charged with Reckless Endangerment and Distribution of Heroin. A search warrant was executed on Reintzell's home and additional charges are pending.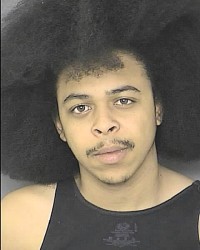 MARIJUANA: Vice/Narcotics detectives, supported by members of the Emergency Services Team and K-9 deputies, executed a search and seizure warrant on the Hollywood home of Suspect Devin Tray Proctor, 22 of Hollywood, pictured on left, related to his distribution of marijuana. A quantity of marijuana, related paraphernalia and some possible stolen items were recovered. Additional charges and arrests are pending.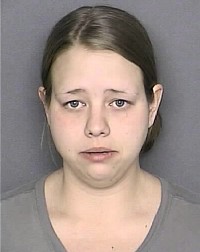 PHARMACY TECH STEALS CUSTOMERS' DRUGS: The St. Mary's County Sheriff's Office Leonardtown Officer was contacted in regards to a possible theft scheme. A customer at a local pharmacy realized that they were not receiving the proper number of tablets while having their prescriptions filled. The case was continued by detectives in the Drug Diversion Unit and additional victims were discovered. A pharmacy tech, Suspect Ashley Caroline Reid, 25 of Leonardtown, pictured above, was stealing Oxycodone and Percocet tablets as prescriptions were being filled. She was indicted and charged with offenses that included theft, illegal possession of the listed prescription medication and fraud.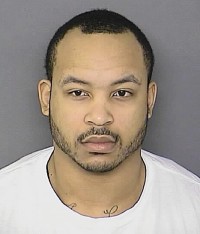 FELON WITH FIREARMS: Detectives received information that William Antonio Briscoe, 25 of Lexington Park, pictured on left, was in possession of firearms. Suspect Briscoe is a convicted felon and prohibited from possessing firearms. As the investigation progressed, detectives discovered that Suspect Briscoe, who is currently incarcerated, was attempting to make arrangements to have the firearms transferred to the possession of an associate. As the result of the investigation, a firearm was recovered from Suspect Briscoe's residence. Suspect Briscoe was subsequently indicted by a St. Mary's County Grand Jury.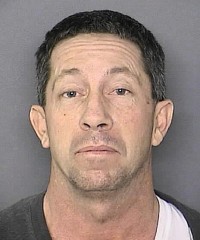 ILLEGAL PRESCRIPTION MEDICATION: Vice/Narcotics detectives have been conducting an investigation into the alleged drug activity of William Ford Cryer, 48 of Hollywood, pictured on left. As a result of the investigation, a search and seizure warrant was obtained and executed. Prescription medication, nearly $800 in cash, a cell phone and additional evidence that supports the ongoing investigation was recovered. Suspect Cryer is on parole for crimes related to a separate prescription drug case. Additional charges are pending.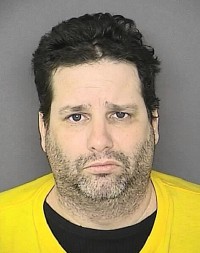 ILLEGAL PRESCRIPTION MEDICATION: Vice/Narcotics detectives conducted a month long investigation into prescription medication being distributed by Suspect Joseph Lee Yates, 41 of Lexington Park, pictured on left. Detectives obtained a search and seizure warrant. Suspect Yates was observed by detectives distributing Oxycodone to two other individuals in the parking lot of a business in the northern portion of St. Mary's County. Suspect Yates attempted to swallow several Oxycodone tablets, however detectives were able to prevent that and recover the pills.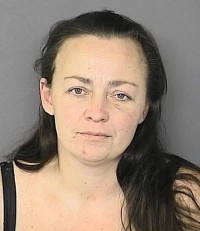 A second suspect, Diane Rachel Forrest, 43 of Lexington Park, pictured on left, was apprehended and found to be in possession of 24 Oxycodone pills. Detectives witnessed her purchasing from Suspect Yates. Two additional arrests are pending. In total 101 Tramadol, 13 Clonazepam, 15 Methadone and 115 Oxycodone tablets were recovered. The street value of the pills seized exceeds $4,000. In addition to multiple cellular phones, nearly $1,000 was recovered as well. This investigation continues and additional arrests and charges are expected.
Disclaimer: In the U.S.A., all persons accused of a crime by the State are presumed to be innocent until proven guilty in a court of law. See: http://somd.me/presumed-innocence. Additionally, all of the information provided above is solely from the perspective of the respective law enforcement agency and does not provide any direct input from the accused or persons otherwise mentioned. You can find additional information about the case by searching the Maryland Judiciary Case Search Database using the accused's name and date of birth. The database is online at http://somd.me/mdcasesearch . Persons named who have been found innocent or not guilty of all charges in the respective case, and/or have had the case ordered expunged by the court can have their name, age, and city redacted by following the process defined at http://somd.me/expungeme .