By John J. Joyce, NSWC Dahlgren Division Corporate Communications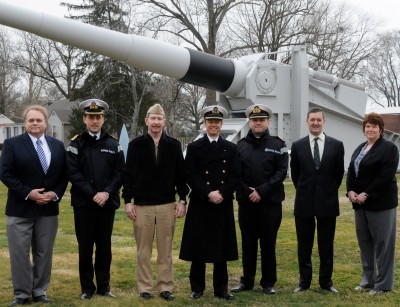 Naval Surface Warfare Center Dahlgren Division and U.K. military officials pause in front of the static 16-inch gun – a landmark on the Dahlgren parade field – during the U.K. delegation's tour of NSWCDD laboratories and its research, development, test and evaluation facilities in February. U.K Royal Navy Commodore Alex Burton led the delegation who engaged Dahlgren scientists and engineers in discussions and learned more about U.S. technological programs and capabilities, including directed energy weapons, the Littoral Combat Ship Gun Mission Module, the Electromagnetic Railgun and the Potomac River Test Range.
DAHLGREN, Va.—Navy officials briefed a group of British Naval officers on key U.S. Navy technological programs and the potential for new science and technology collaboration during a tour here Feb. 13.
U.K. Royal Navy Commodore Alex Burton led the delegation of British officers who toured Naval Surface Warfare Center Dahlgren Division (NSWCDD) laboratories and test sites for overviews on programs ranging from directed energy weapons and the Littoral Combat Ship Gun Mission Module to the Electromagnetic Railgun and the Potomac River Test Range.
"Tightening budgets and technology advancements drive us to seek more collaborative opportunities with our international partners," said NSWCDD Chief Technology Officer June Drake. "Through the years, our close working relationship with the U.K., fostered by our U.K. Personnel Exchange Program officers, has been key to continued discussions as we seek to define future technical collaborative efforts."
NSWCDD Commander Capt. Smith presented an overview, focusing on NSWCDD facilities and capabilities, to the delegation.
Burton – based at the U.K. Ministry of Defense – directs the U.K. Above Water Capability and is responsible for the development, definition and delivery of all Royal Navy capability beyond the strategic deterrent.
Coincidentally, a U.K. Royal Navy officer played a leading role in planning the delegation's Dahlgren tours and information exchange.
Lt. Cmdr. Steven Conneely – the Personnel Exchange Program's (PEP) U.K. Naval officer assigned to NSWCDD – was not a part of the U.K. Royal Navy delegation, NSWCDD International Partnering Office Lead Jed Ryan pointed out. "As a PEP, Steve was critical in organizing the visit from his U.S. position."
The Personnel Exchange Program – formalized in the 1970s to develop closer ties between the U.S. Navy and foreign services – enhances inter-service relationships, encouraging mutual confidence and understanding, and prepares officer and enlisted personnel for future assignments involving multinational operations.
"I have enjoyed the last two years here at Dahlgren working alongside so many dedicated, well led, and well motivated U.S. engineers and scientists," said Conneely. "The value of our US/UK special relationship is illustrated by the fact that Dahlgren has been hosting a U.K. Personnel Exchange Program officer for more than 30 years."
Currently, Conneely supports the U.S. Teams for Maritime Theater Missile Defense, Coalition Distributed Engineering Plant, the Electromagnetic Railgun, directed energy weapons and unmanned systems.
At the directed energy test facility, the five British military officials toured a facility dedicated to directed energy systems and applications that use electromagnetic energy to project military force and augment conventional capabilities.
The energy systems include the High Power Microwave which offers a unique warfighting capability for non-lethal, non-kinetic missions. These microwave systems are capable of engaging multiple targets, re-attack, and dramatically reduce collateral damage and reconstruction costs. This capability opens targets for which no engagement option currently exists. Potential mission sets for high power microwave include disruption of communications networks, infrastructure, sensors and vehicle stopping.
Directed energy programs, such as the Laser Weapon System, offer unique "game changing" alternatives to traditional kinetic weapons such as guns and bombs because a myriad of targets can be engaged with more precision and variable effects.
NSWCDD technologists have been making a difference in directed energy research and development throughout the decades. Their understanding - and discoveries - led to the methodologies behind the electromagnetic launch of projectiles using stored electrical energy. These methodologies are critical to the evolution of the railgun program.
At the Electromagnetic Railgun facility, the U.K. visitors saw prototype launchers that engineers are testing.
The Electromagnetic Railgun is a long-range naval weapon that fires projectiles using electricity instead of traditional gun propellants such as explosive chemicals. Magnetic fields created by high electrical currents accelerate a sliding metal conductor, or armature, between two rails to launch projectiles at 4,500-5,600 mph.
The Navy is pursuing development of the launcher system through industry teams to reduce risk in the program and to foster innovation in next-generation shipboard weapons.
The U.K. delegation's tour also featured the Dahlgren Potomac River Test Range – 715 acres of land and a 169-square-nautical-mile water area that stretches along the lower 51 miles of the Potomac River. The five visiting British officials looked out over the Potomac and saw firsthand how Dahlgren's gun test facility evolved and expanded to include numerous scientific and response-force missions serving all branches of the United States armed forces.
After taking in the guns and scenery of Dahlgren's test range on the river, NSWC Dahlgren engineers briefed the delegation on the Littoral Combat Ship Gun Mission Module – an integral part of the LCS Surface Warfare Mission Package used for counter-piracy, maritime interdiction and security missions. This mission module consists of two MK 46 turret mounted, axis-stabilized, 30mm chain gun systems that can fire up to 200 rounds per minute.