LA PLATA, Md. (February 20, 2013)—The Charles County Sheriff's Office released the following incident and arrest reports.
DIESEL FUEL STOLEN: On Feb. 16, officers took a report for the theft of fuel in the 5400 block of Washington Avenue in La Plata. Unknown suspect(s) stole diesel fuel from a storage tank. It is not clear when the actual theft occurred. Officer K. Syvertsen is investigating.
STRONG - ARM ROBBERY: On Feb. 18 at 8:15 p.m., two suspects robbed a pizza delivery person in the 4000 block of Bluebird Drive in Waldorf. The suspects confronted the victim after she made a delivery and demanded money. The victim complied and the suspects fled. Officers and a police K-9 conducted a track and the scene was processed for evidence. The victim said one suspect had bushy hair and was wearing a blue jacket with white stripes. The other suspect was wearing a black coat and a black ski mask. Cpl. C. Smith is investigating.
BURGLARY SUSPECT ARRESTED: On Feb. 15, officers responded to the 8700 block of Fairground Road in Bel Alton for the report of a burglary. Officers processed the scene and canvassed the neighborhood. A witness was located who reported seeing a suspicious person at the foot of the victim's driveway earlier that day. The witness gave a description and officers continued to canvass the area. They spotted a man matching the description and obtained his information. A subsequent investigation confirmed the man, Harold Wayne Centers, 56, of Virginia, was involved in the burglary. He was arrested and charged with burglary and theft. Over $16,000.00 worth of stolen property was recovered. Officer R. Snyder is investigating.
FRAUD/SCAM: Recently, the CCSO has responded to reports of attempted scams. Unknown suspects are calling random people pretending to be a relative, friend or neighbor in need of money. They make up drastic stories and try to convince people to wire money to them. A common theme is the caller's request for the person to wire money through Western Union or MoneyGram or to provide bank account routing numbers. The CCSO is reminding residents to verify the identity and location of the person claiming to be in trouble. Then, hang up and call another family member or friend to try to confirm the information.
In addition, never give out any personal identifying information such as bank account or credit card numbers to anyone who calls on the phone. Con artists will lie, cheat, steal, and make up plausible stories to convince people to wire money or divulge sensitive information. The callers are often professional criminals who are skillfully able to get people to wire money or give personal information before they have time to properly assess the situation. Wiring money is like sending cash; there are no protections for the sender. Typically there is no way you can reverse the transaction, trace the money, or recover payment from the telephone con artists.
DRUG ARREST: On Feb. 17 at 2:23 a.m., officers initiated a traffic stop in the 2100 block of Crain Highway in Waldorf after observing a traffic violation. Upon approaching the car, the officer detected a strong odor of marijuana and alcoholic beverage. The driver failed the field sobriety tests and was arrested. Marijuana, baggies and a digital scale were found inside the car. The driver, Ubong Bassey Obotette, 34, of Accokeek, was charged with possession of a controlled dangerous substance. Officer A. Upshaw made the arrest.
MAN CHARGED IN HIT AND RUN CRASHES: On Feb. 16 at 9:09 p.m., officers responded to the 12700 block of Country Lane in Waldorf for the report of a hit and run involving a red pick-up truck. While in route to the call, the officer observed a red pickup truck in a ditch on Country Lane near Nike Drive; it was unoccupied. The officer continued to the victim's house where he learned two cars had actually been struck. While taking the report, the 9-1-1 call center received a call from Harold Eugene Young, 50, of Waldorf who said he was driving his red pick-up truck on Country Lane and someone ran him off the road causing his truck to go into a ditch. The officer responded to Young's house and after speaking with him, detected a strong odor of an alcoholic beverage on Young's breath. Young admitted to driving the truck and evidence linked him to the crashes. He was arrested and charged with multiple violations. While processing Young at the detention center, two more people called to report damage to their cars. In all, four vehicles were struck by Young.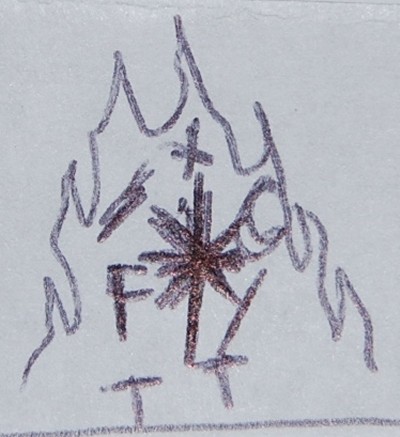 Victim's sketch of suspect's tattoo (may not be exact).
UNIQUE TATTOO MIGHT HELP IDENTIFY ROBBERY SUSPECT/CRIME SOLVERS OFFERING CASH REWARD: Charles County Sheriff's detectives assigned to the Criminal Investigations Division are seeking the identity of two suspects who robbed an 18-year-old male at gunpoint of his winter coat. One of the suspects has a unique tattoo underneath his right eye and detectives are hoping someone might recognize the tattoo and call police. Charles County Crime Solvers is offering a cash reward of up to $1,000 for information leading to the arrest of the suspects.
The robbery occurred on January 29 at 2:50 p.m. on Westdale Drive in Waldorf. The suspects approached the victim, pulled a gun and stole his coat. They fled, but not before the victim got a good look at one suspect's tattoo. That suspect was described as a black male, late teens to early twenties, 6'0", medium build and shoulder length dreadlocks. The other suspect was described as a black male, dark complexion, mid-twenties, 6'0", 250-275 lbs., and dreadlocks.
Anyone with information is asked to call Detective Celia at 301-609-6518. Callers wishing to remain anonymous may contact Crime Solvers at 1-866-411-TIPS or Text CHARLES + your tip to CRIMES or visit www.ccso.us to submit a web tip.
MAN CHARGED WITH FILING FALSE REPORT IN ROBBERY CASE: On Jan 31, officers were flagged down near St. Thomas Drive and St. Charles Parkway by Shawn Anthony Ransome, 28, of Waldorf, who claimed he had just been robbed at gunpoint. Ransome told officers three males approached him and stole his wallet and coat. Officers searched the area for the suspects and took a report. Through investigation, detectives developed information that Ransome had not been robbed and that he lied in order to try to cover up a crime in which he had just committed. He was subsequently linked to a burglary on Sextant Place which occurred a short time before he claimed to have been robbed. Ransome was charged with filing a false police report and burglary.
DETECTIVES ARREST BURGLARY SUSPECTS: Detectives assigned to the Charles County Sheriff's Office Criminal Investigations Division have arrested three people in connection with a burglary that occurred on January 31 in the 10400 block of Sextant Place in Waldorf. Delontae Devon Cole, 19; Derrick Coleman, 32; and Shawn Ransome, 28, are charged with breaking into a home and stealing electronics, cell phones, jewelry, a camera, clothing, games systems and games. Through further investigation, detectives identified the suspects and recovered some of the stolen property. The suspects were charged with burglary and theft.
GIRL CHARGED WITH MAKING BOMB THREAT AT SCHOOL: On February 12, PFC M. DePaulo - a Charles County Sheriff's Office school resource officer assigned to Mattawoman Middle School - was made aware of graffiti in a girl's bathroom indicating a bomb would explode at the school on February 13. Students had already been dismissed for the day and evidence showed the threat had been written after school hours. The school was searched and determined safe. Officer DePaulo immediately began an investigation. With the assistance of school staff and security cameras, he identified the suspect as a 12- year-old girl who was a student at the school. The girl was charged as a juvenile with making threats of arson and destruction of property.
BURGLARY: Between Feb. 10 - Feb. 13, unknown suspect(s) kicked in a door of a vacant house in the 2200 block of Sandalwood Drive and stole a dishwasher. Officer C. Walden is investigating.
BURGLARY: Between Feb. 6- Feb. 12, unknown suspect(s) broke into a house in the 12400 block of Derek Place in Waldorf, ransacked the house and stole miscellaneous items. Officer B. Clark is investigating.
Disclaimer: In the U.S.A., all persons accused of a crime by the State are presumed to be innocent until proven guilty in a court of law. See: http://en.wikipedia.org/wiki/Presumption_of_innocence. Additionally, all of the information provided above is solely from the perspective of the respective law enforcement agency and does not provide any direct input from the accused or persons otherwise mentioned. You can find additional information about the case by searching the Maryland Judiciary Case Search Database using the accused's name and date of birth. The database is online at http://somd.me/mdcasesearch .