By MARY TABLANTE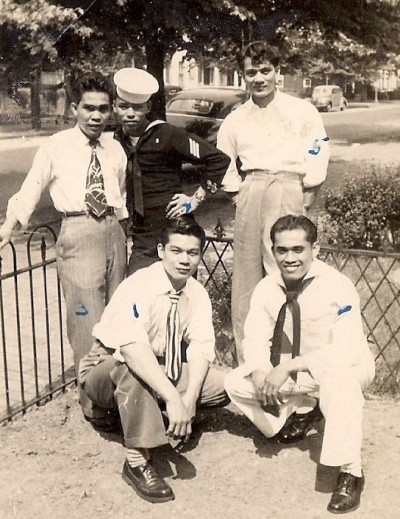 A group of U.S. Navy workers in the 1940s pose for a photo. Filipino men came to Annapolis to serve as laborers. University of Maryland graduate student Kathrina Aben is researching the untold stories of Filipinos in Annapolis. Photo courtesty of Kathrina Aben.
ANNAPOLIS—Leo Toribio, 87, remembers the discrimination he faced when he first arrived in Annapolis as a U.S. Navy steward in the 1940s.
As a Filipino immigrant, sitting in the back of the bus, walking across the street to make room for white passersby, and not being allowed in the same places whites frequented, was commonplace.
Toribio was 19 when he joined the U.S. Navy because he wanted to earn money. As a steward, he was transferred around the country, spending a little more than a year in Annapolis. His experience is one of the many untold stories of Filipino immigrants on the East Coast.
University of Maryland graduate student Kathrina Aben decided to examine these histories in Annapolis and put together an oral history project, which she will present at conferences throughout the coming months.
The university's archaeology students have spent years excavating historically African-American sites in Annapolis, but only recently explored evidence of another ethnic group, Filipinos, whose presence in the city had mostly been forgotten.
Filipino men came to Annapolis as a result of the Spanish-American War in 1898, when the Philippines became a U.S. territory, to serve with the U.S. Naval Academy. The Philippines gained full independence in 1946.
The men worked as laborers—messmen, stewards, construction workers, firefighters and desk interns.
Like African-Americans, Filipinos were not allowed in white establishments and had to create places to have social gatherings of their own. Filipinos opened places for themselves in the city, such as restaurants, and formed groups like the Filipino-American Friendly Association and invited everyone to attend.
"You can definitely see Filipinos were isolated socially and legally, but it didn't mean they wanted to stay isolated," Aben said. "They wanted to become part of Annapolis and become part of the community through these venues and spaces, trying to find socialization between them and others."
Aben's research also looks at the relationships between Filipinos and African-Americans. They interacted closely and intermarried, but they also had tense relations at some points.
The Navy's preference to hire Filipinos resulted in some African-Americans losing their jobs, causing rifts.The competition for work between the two minorities occasionally led to violence.
After leaving the Navy, Toribio, now of Cobb Island in Charles County, struggled to find jobs due to discrimination. Toribio made several changes to adapt to American life and made the decision to not teach his children Tagalog, the national language of the Philippines, to assimilate to American culture.
"Because of the discrimination in our culture, dad never taught us how to speak Tagalog because he wanted to fit in," said Toribio's daughter, Nila Toribio-Straka. "Back then, he didn't want that to be holding us back or used against us. I think sometimes that happens in cultures where those parts of history get lost."
Linking history to the present, the pattern of Filipino immigration in the early 20th century is similar to today's immigration patterns because in both time periods, Filipinos have addressed a particular labor need, Aben said.
In the 1900s, Filipinos came to the U.S. as laborers, but the new wave of Filipino immigrants, from 1965 to the present, are addressing a labor need as professionals, typically in the medical field as doctors and nurses.
Mark Leone, an anthropology professor at the University of Maryland, has been head of the Archaeology in Annapolis field school since 1981. One of the program's goals is to examine histories that are underrepresented, such as women's history.
"We do our archaeology by asking descendant communities what they want to know about themselves," he said. "The historical community doesn't ask what people want to know, (but) we do."
Previous archaeological excavations have taken place involving Filipino and African-American biracial families on Pinkney Street and East Street in Annapolis. Aben spent the past summer interviewing Filipinos both from the original generation and their descendants about their experiences in Annapolis in the early- to mid-20th century.
Aben hopes her research will help the larger population understand the significance of Filipino-American history.
"Filipinos are actually the second largest Asian-American population in the U.S., and for that large of population that has had basically a century of presence and relationship with the U.S., they deserve the representation and recognition in history," she said.