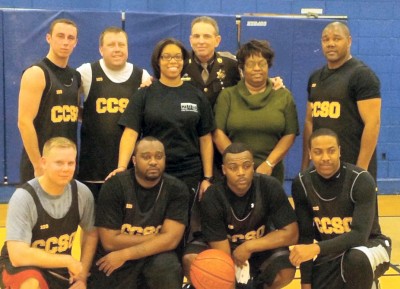 The CCSO basketball team. Front row: CPL R. Taylor, PFC P. Mann, PFC D. Harrison, and COI A. Edwards. Back row: POII P. Morgan III, PFC M. Sokoloff, CFC J. Minor, Sheriff Rex Coffey, Gloria Minor, and PFC J. Thompson. (Submitted photo)
LA PLATA, Md.—It's another championship win for the Charles County Sheriff's Office! Playing against the Maryland State Police in the 18th Annual Sgt. Tim Minor Memorial Basketball Game on Feb. 9 at John Hanson Middle School, the CCSO outscored MSP 55 - 43, marking the third straight year the CCSO has claimed the title.
"On the court the teams were opponents, but off the court the camaraderie was evident," said Sheriff Rex Coffey. "Everyone had a good time and after the game, the players took time to meet with Tim's family."
Sgt. Tim Minor was a CCSO motorcycle officer who died in the line of duty on February 12, 1996 after he was struck by a car while responding to an emergency call. His daughter, Jessica, who was 12 -years-old when he died, is now a Correctional Officer at the Charles County Detention Center. She and her mother, Gloria, have attended the games for years. "It's so gratifying to know that people still care about our family," said Jessica.
The memorial game is held every year during the Three - on - Three basketball tournament for youths sponsored by the CCSO School Resource Unit and the Charles County Public Schools.