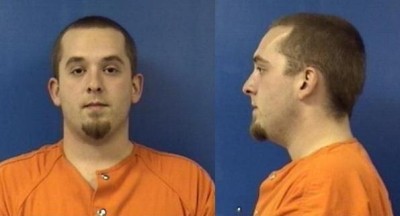 John Warren Gibson, Jr. has been charged with the murder of his girlfriend by stabbing. He later dumped the body in a trash can in the woods south of Leonardtown. He confessed to police during an investigation into the woman's disappearance. (Arrest photos)
CALIFORNIA, Md.—A Lusby man has been arrested on charges of murdering his girlfriend on Jan. 12. Police say John Warren Gibson, Jr., age 25, confessed to them after intensive questioning spurred on by inconsistent information provided by Gibson during an investigation into the whereabouts of the then assumed missing Amanda Lynn Foster, 27 of Lusby.
Foster was reported missing by family members on January 31 at 8:11 p.m. when they called the Maryland State Police Barrack in Prince Frederick. Foster's family had not heard from her in several weeks and attempts to contact her by phone were unsuccessful.
Troopers went to Foster's residence on San Jose Lane in Lusby to contact her and check her welfare. Police say no one was at the residence, however the Troopers learned that Foster's truck was observed parked at a residence on H.G. Trueman Road in Lusby. Troopers responded to that residence and found Foster's boyfriend, John Warren Gibson, Jr. Gibson told police that he had dropped Foster off at a convenience store in California, St. Mary's County, on January 30 and had not heard from her since.
Based on conflicting information discovered in Gibson's account of recent events, police took him to the Calvert Investigative Team's (CIT) offices for questioning. Additional CIT personnel, Sgt. Jones, Sgt. Naughton, Trooper First Class Hunt and Detective Mudd were called to assist Detective Rich in conducting the follow up investigation. CIT is a team of investigators from the Calvert Sheriff's Office and the MSP Prince Frederick barrack.
During Gibson's interview, police say he provided information about killing Foster on January 12 during an argument at the home they were sharing on San Jose Lane. During the argument, Gibson said he stabbed Foster in the chest. He then placed her body in a trash can, loaded it in the victim's truck and drove to St. Mary's County where he hid the trash can in a wooded area south of Leonardtown.
Troopers and Deputies from CIT took Gibson to St. Mary's County this morning where he directed them to the victim's body. CIT investigators met with troopers and deputies from the St. Mary's County Bureau of Criminal Investigations (BCI) at the scene. Foster's body was recovered and taken to the Medical Examiner's Office for an autopsy.
Detective Rich of CCSO and Sgt. Jones of MSP are continuing the investigation at this time. Anyone with additional information can contact them at (410)535-1600 ext. 2765 or 2455.