By JESSICA WILDE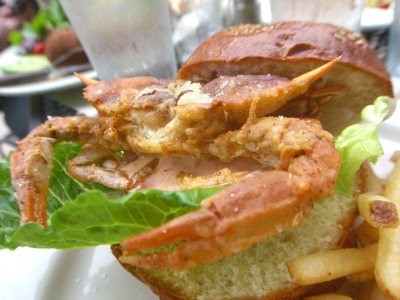 A softshell crab sandwich. (Photo:
waterlilysage
@
Flickr.com
)
ANNAPOLIS—Maryland has a state bird, a state flag, and even a state crustacean, the blue crab. In 2008, Smith Island Cake became the state dessert. Now, legislators in both the House and Senate are hearing a bill that would make the soft-shell crab sandwich Maryland's state sandwich.
The purpose is not state pride, but economic benefit.
Delegate Rudolph Cane, D-Wicomico, who introduced the bill in the House, said Smith Island Cake turned out to be one of the legislature's finest economic programs.
"I think we can do the same thing to help the watermen," Cane said.
The bill says soft-shell crab sandwiches are generally quite simple.
"A traditional sandwich consists of breaded and fried soft-shell crab between two slices of white bread or toast," the bill reads. "Lettuce and tomato are common additions; there may also be a squirt of lemon, Old Bay seasoning, or some tartar sauce. The focus of the sandwich is the sweet and savory meat of the crab and the crunch of the soft shell."
Sen. Richard Colburn, R-Dorchester, who introduced the bill in the Senate, said watermen are an endangered species and this designation would help them.
"The Maryland waterman is on the state seal," he said. "And that's a dying breed."
But it was Senate President Thomas V. Mike Miller, Jr., who convinced him to introduce the bill, after reading a 2012 article in Maryland Life on the soft-shell crab sandwich, Colburn said.
"This is very unique to Maryland," Miller told the Senate Education, Health and Environmental Affairs Committee Thursday. "It is a Maryland delicacy."
Miller described the sandwich as crunchy, with paws sticking out of it.
"It's just divine," he said.
And Colburn said it is the only sandwich you can eat with legs sticking out the side, a quote that also appears in Maryland Life's video, "How to Make a Soft Shell Crab Sandwich," narrated by publisher and editor Daniel Patrell.
Patrell also testified before the committee on what he said was not frivolous legislation.
"Rather, it shows some remarkable foresight," Patrell said, referencing the Smith Island Cake and its economic impact.
Miller brought a Smith Island Cake with him to the hearing, and gave it to the committee.
Why not the crab cake sandwich?
"If you eat a crab cake, the crab could come from Thailand," Colburn said. This way the crab will be coming from the Chesapeake Bay.
Colburn said he thinks the bill will pass, and that it will not take a lot of time away from other important issues.
It received no opposition in the Senate, although Sen. Ronald Young, D-Frederick, said he would not vote for it or against it.
"I think it's ridiculous," Young said. "There's a limited number of soft-shell crabs. Prices are going to go up. And it's going to be harder to get them."