LEONARDTOWN, Md. (January 23, 2013)—The St. Mary's County Bureau of Criminal Investigations (BCI) Narcotics Division released the following incident and arrest reports. The Division is an investigative team comprised of detectives from the St. Mary's County Sheriff's Office, Maryland State Police Drug Enforcement Division, and Federal Drug Agents (HIDTA Group 34). The Division was established on September 1st, 2007 and is based in St. Mary's County.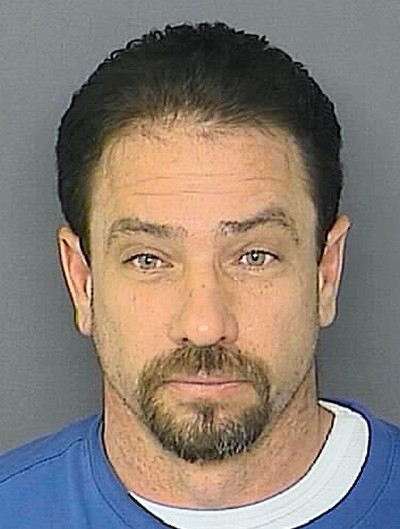 Dale Eugene Dean, 42, of Callaway, was arrested for falsely accusing innocent people of dealing drugs. According to police, Dean performed construction work for the persons he accused and never received payment, leading to the false charge. Dean went as far as fabricating false photographs. (Arrest photo)
FALSE ACCUSATION OF DRUG DEALING BECAUSE HE WASN'T PAID FOR WORK: Vice/Narcotics detectives were contacted by Suspect Dale Eugene Dean, 42, of Callaway, who wanted to report drug activity. Suspect Dean gave names, dates, details and photographs related to the drug dealing he was reporting. Detectives continued the investigation and determined the evidence provided by Dean was fabricated. Further, through the investigation it was found that the photos provided were taken inside Dean's home. Suspect Dean had completed construction work for the person he identified as the drug dealer and wasn't paid, which led to the false report. He was arrested and charged accordingly.
MARIJUANA: Antonio Wendell Chase, 26, of Great Mills, was indicted and charged for Possession of Marijuana with Intent to Distribute. $1,000 in cash was also seized related to this investigation.
HYDROCODONE, OXYCODONE, METHADONE: Chelsea Shyan Brandon, 28, of Lexington Park, was indicted for Distribution of Hydrocodone, Possession with Intent to Distribute Oxycodone and Possession of Methadone.
OXYCODONE: Crystal Lynn Magtutu, 25, of Port Republic, was indicted by vice narcotics detectives and subsequently arrested for two counts of committing Prescription Fraud-Illegally Obtaining Oxycodone.
MARIJUANA: Derek Andrew Mullins, 21, of St. Inigoes, was indicted and arrested for Possession of Marijuana with the Intent to Distribute.