By ANAMIKA ROY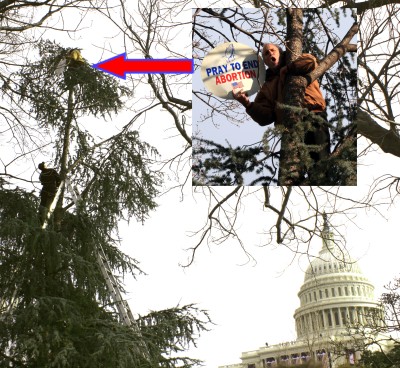 SWAT team members attempt to remove the protester, identified by Capitol Police as Rives Grogan, from the tree during Monday's inaugural ceremony. (Photos: Sean Henderson)
WASHINGTON—A vocal anti-abortion protester who climbed a tree at the Presidential Inaugural on Monday was arrested by Capitol Police after his screaming disturbed ticketholders.
A man identified by Capitol Police as Rives Grogan was a ticketed guest, who was detained after causing the disturbance, said Capitol Police spokesman Shennell S. Antrobus. Antrobus did not provide an age or hometown for Grogan.
The protester accused President Obama, whom he called "the anti-Christ," of killing babies and causing bloodshed. He asked attendees to "Stop Obama." The protester held a placard that read "Defund Planned Parenthood" on one side and "Pray to End Abortion" on the other. Throughout the ceremony, he repeatedly yelled "What about the babies?"
Annoyed ticketholders who couldn't hear the program yelled back: "I didn't come here to listen to you!" among other things.
"It (was) my understanding that the individual was yelling and screaming while in the tree. He was a nuisance to attendees," Antrobus wrote in an email response to questions. "He was arrested when it was appropriate to do so to ensure his safety , as well as the others attending the event."
Capitol Police surrounded the tree to keep the public away, blocking views for attendees and forcing them into a small area. Many left the grounds in frustration.
Police put ladders around the tree to get the protester down, but he only climbed higher to a point where the ladder could not reach him.
After the ceremony ended, the SWAT team convinced the man to climb down, and he was arrested.
Attendees were eager to see the man who ruined their inauguration experience get justice and crowded around the tree after the ceremony. Capitol Police had to barricade the area to ensure that the protester was safely removed from the scene.