By YAGANA SHAH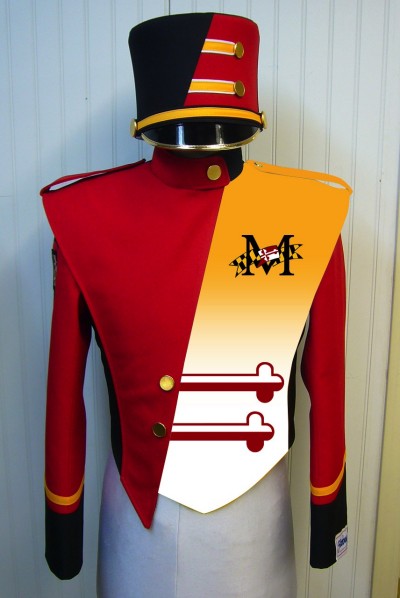 An artist's mock-up shows the cadet style design of the new University of Maryland marching band uniform. The Mighty Sound of Maryland will debut the new uniform in its performance in the 57th Inaugural Parade Monday. (Photo courtesy of the University of Maryland marching band)
COLLEGE PARK, Md.—The trumpets are polished, the tubas are shined and the drumsticks are dusted as part of the last-minute preparation for the Mighty Sound of Maryland's performance in Monday's 57th Inaugural Parade.
The century-old University of Maryland band will march in an inaugural parade for the fourth time. It last performed in President John F. Kennedy's 1961 inaugural.
This time around, the band beat out nearly 2,800 applicants in a competition that required submission of a list of its accomplishments, along with pictures, audio and video of their performances. They also received letters of support from Maryland Democratic Sens. Ben Cardin and Barbara Mikulski, as well as Rep. Steny Hoyer, D-Mechanicsville.
The band learned of its selection in mid-December, giving its 255 members just one month to prepare.
"You could hear the cheers all across campus from the kids hearing the news," said band director L. Richmond Sparks.
"I had been out all day when I came back and checked Facebook. There were a lot of statuses with a lot of likes," said Kevin "KG" Willson, 19, a sophomore trumpeter.
The band will also debut new uniforms at the parade, made possible, in part, through the winnings of a 2010 band competition in conjunction with the TV show, "Hawaii Five-0." The current uniforms are 15 years old.
"We were hoping to have the uniforms for the beginning of the fall season, but it didn't happen. So we thought it would be nice to debut the uniforms on national television at the inauguration," Sparks said.
The new uniform was inspired by military bands, Sparks said, and will incorporate the four state colors in a cadet-style coat. Unlike the colorful and innovative Under Armour uniforms designed for the football team, Stanbury Uniforms was given the task of designing the new band uniforms through the standard university bidding procedure.
"I was just really excited about the new uniforms...and the possibility for relatives who don't live in Maryland to maybe be able to see me if we get on national television," Willson said.
Sparks said he is not concerned about the band's ability to pull together and perform. The group is among the best in his 29 years with the university, he said. It also won't be the band's first time performing for President Barack Obama; they played for him on a 2008 visit to the university.
"I'm not nervous because I know that when we're finished, it'll be exactly what I expect...I know that it'll get together because the band is amazing."
The band hopes that come Monday luck--and the weather, will be on their side. The 2009 inauguration was particularly cold, with gusting winds and temperatures below freezing. This year is looking slightly warmer with highs expected in the upper 30s.
"If we can't feel our fingers and our toes, we can't play very well," said Zara Simpson, 22, a senior cymbalist. "Because it's going to be cold, and some of our cadences are hard to play quickly when our hands are cold, we're learning new cadences that will be incorporated so our hands don't freeze up."
Band members spoke of their various pre-performance rituals and traditions, ranging from hands-in cheers, chants and dances they perform to warm up and get pumped.
"The fun thing is that there's always something new that we introduce each year...it's a lot of fun," Willson said.
As they march the two-mile parade route through Washington Monday to the fitting tune of composer John Philip Sousa's "The Washington Post," band members will have their minds on more than just hitting the right notes.
"It's a once-in-a-lifetime opportunity," Willson said. "It's just really exciting that we get to be part of this history. I can tell friends and family 20 years from now. It's just something exciting to be able to say I marched at Obama's second inaugural."