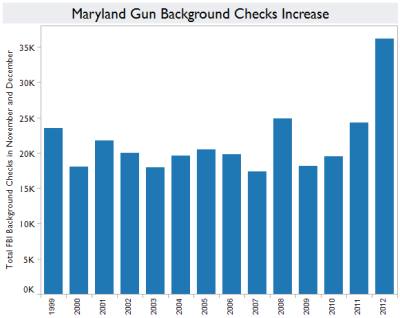 Background checks to authorize gun sales in Maryland typically spike in November and December in advance of the holiday season. In 2012, there were far more background checks conducted in those months than in previous years, a response to discussion of new gun control regulations. The number of background checks does not directly correlate with gun sales. (Source: FBI National Instant Criminal Background Check System. Graphic by Rashee Raj Kumar.)
By RASHEE RAJ KUMAR
COLLEGE PARK, Md.—Fears of new gun control regulations proposed by President Barack Obama and Gov. Martin O'Malley have intensified sales at Maryland gun shops.
While the boost in sales has bolstered gun dealer's profits, it has also led to a shortage in the supply of guns in the state, especially assault rifles, gun shop owners said.
"Everybody is panicking. Every day has been absolutely crazy for the last three weeks," Henry Calvert, president of Calvert Firearms, Inc. in North East, a town in Cecil County, said of his customers. "It's a bear market. Everyone is purchasing everything that comes in."
Obama proposed a set of gun control regulations on Wednesday, which included a universal background check for all gun sales and a ban on military-style assault weapons. On Friday, O'Malley proposed a similar ban on assault weapons in Maryland and limits on the size of magazines.
The increase in gun sales in Maryland predates the proposals in Annapolis and Washington, according to gun shop owners and FBI background check statistics. Gun shop owners said the increase started in October, in response to discussions of new gun control regulations during the presidential debates and intensified following the Sandy Hook Elementary School shooting in Connecticut in December.
In November and December 2012, the FBI National Instant Criminal Background Check System processed 36,220 background checks for gun purchases in Maryland. During the same two months in 2011, the agency processed 24,376 background checks for gun purchases in Maryland. That represents a 49 percent increase from 2011 to 2012.
The National Instant Criminal Background Check System allows Federal Firearms Licensed gun dealers to quickly learn if prospective customers are eligible to buy a firearm.
Background check data for January is not yet available. But gun shop owners said the strong sales have continued into January, and they expect them to increase as state and national lawmakers debate new gun control measures more intensely.
Andrew Raymond, co-owner of Engage Armament in Rockville, saw exponential sales growth in December. In the four days following the Sandy Hook shooting on Dec. 14, his store did 10 times more business that he had anticipated. He expected to sell $25,000 worth of merchandise and ended up selling $260,000.
The increase in profits came in part because he raised his prices in response to strong market demand. He noticed that competitors were selling weapons he stocked for significantly more money than he was. For one particular assault rifle, he raised the price from $1,200 to $2,000.
"Basically, we ended up raising our prices to meet the demand," Raymond said. "I don't like that personally. It doesn't feel good."
While business is strong now, Raymond said he is concerned about the future.
"What we specialize in as a business is assault rifles," he said.
Assault rifles account for 60 to 70 percent of Engage Armament's business, while handguns account for the rest. A federal or state ban on assault rifles could force him out of business, he said.
Michael Faith, the marketing director at Hendershot's Sporting Goods in Hagerstown, said that sales have been brisk for the past few months. The uptick started the day after the second presidential debate on Oct. 16, when Obama mentioned renewing the assault weapons ban.
"The sales are fear driven right now," Faith said. Although Faith was not in the gun business when the 1994 Federal Assault Weapons Ban passed, he deals with suppliers who have been in the industry for more than 20 years. His suppliers told him that they are seeing demand today that they have never seen before.
"From a business standpoint, sales have been good," Faith said. "I can sell every handgun and AR-15 I can get, but the problem is supply. I think that's the difference this time."
Faith also has concerns about any new proposed gun control legislation.
"New York passed legislation that bans anything over seven rounds. If Maryland passes legislation like New York, that affects more than 95 percent of our pistol inventory," he said. Hendershot's Sporting Goods hired eight new employees to handle increased demand after the second debate. Legislative changes could cost these employees their jobs, Faith said.