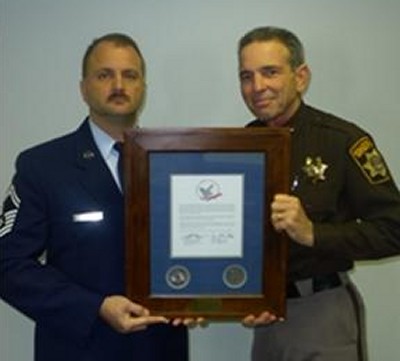 Cpl. Charles Gass presents award to Sheriff Rex Coffey. (Submitted photo)
LA PLATA, Md.—Charles County Sheriff Rex W. Coffey and the Charles County Sheriff's Office received a Hometown Hero award last week from the United States Air Force in recognition of the Agency's support of current CCSO employees who are assigned to the Air National Guard.
According to the National Guard Bureau, there are an estimated 70,000 current or former Citizen-Airmen nationwide who have deployed for 30 consecutive days or more since Sept. 11, 2001. The Air National Guard Hometown Heroes program recognizes the contributions of employers that support Citizen-Airmen and recognize their contributions to national security.
The award was presented to Sheriff Coffey by Cpl. Charles Gass, an eight-year veteran of the Charles County Sheriff's Office, currently assigned as a detective in the Criminal Investigations Division, Special Victims Unit. Cpl. Gass also serves in the USAF.
After receiving the award, Sheriff Coffey commended Cpl. Gass for his dedication to Charles County and to his country. "I'm proud that our agency was recognized with this award and I'm even more proud of your service to our country. We will always support our employees who serve in the military as we recognize how important your service is," said Sheriff Coffey.
Gass is a Security Forces Superintendent assigned to the 113th Security Forces Squadron at Andrews AFB, MD. He enlisted into the United States Air Force with the District of Columbia Air National Guard in January 1993. Upon graduation from the Security Forces Academy, he began his duty with the 113th Security Forces Squadron where he held duty positions of Non-Commissioned Officer in Charge and was in charge of supply and armory and served as a squad leader and flight sergeant. More recently, Sergeant Gass was deployed to the Middle East as the Operations Non-Commissioned Officer in Charge, which handled the day - to - day operations of securing Air Force assets to include over 1200 personnel.
His military awards include Air Force Commendation Medal, Air Force Achievement Medal, Meritorious Unit Award, Air Force Outstanding Unit Award, Army Superior Unit Award, Air Reserve Forces Meritorious Service Medal, National Defense Service Medal, Iraq Campaign Medal, Global War on Terrorism Expeditionary Medal, Global War on Terrorism Service Medal, Air Force Expeditionary Ribbon, Armed Forces Reserve Medal, Air Force Professional Military Education Graduate Ribbon.
The Hometown Hero award is a framed award containing a Hometown Hero Salute Coin with a Letter of Appreciation signed by the ANG Director and Command Chief Master Sergeant.