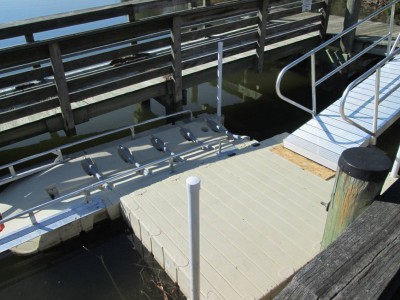 The newly completed canoe/kayak launch at Nan's Cove in Calvert County. (Photo: Md. DNR)
CALVERT COUNTY, Md.—Paddlers in Broomes Island, Calvert County can now easily access the Patuxent River with the help of a new canoe/kayak launch at Nan's Cove, installed by the Calvert County Natural Resources Division and the Maryland Department of Natural Resources (DNR) Boating Services.
"With direct access to the Patuxent River, the new floating dock at Nan's Cove enhances the opportunity for paddlers to experience the beauty of the water," said Karyn Molines, the Division's chief. "Improving our waterfront parks with public access amenities benefits the local community and increases the appreciation for the Patuxent."
The canoe/kayak launch features an EZ Port, a simple paddle-on, push-off method of dry-docking, and an aluminum gangway. The total cost of the project was $9,984 paid for through two Waterway Improvement Grants. The State Waterway Improvement Fund is derived from the five-percent vessel excise tax paid when the public purchases and titles a boat in Maryland.
"I am pleased that our partnership with the Maryland Department of Natural Resources has resulted in this beneficial project," said Molines.