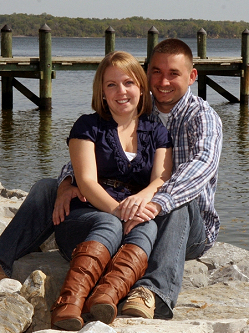 Megan Haynes of Mechanicsville and Carl (Buster) Williams of Avenue were married on Saturday, May 18, 2013 in Leonardtown, MD. The bride is the daughter of Becky Marek and Charlie Haynes. The groom is the son of Cathy and Buster Williams.
The couple met in high school and have been dating since 2009.
The future bride graduated from Towson University with a Bachelor of Science degree in Nursing. She is employed as a Registered Nurse at St. Mary's Hospital.
The future groom received a Bachelor of Arts degree in Economics from the University of Maryland. He is employed as a Program Analyst at Amelex, Patuxent River Naval Air Station.
The happy couple will reside in their new home located in St. Mary's County.