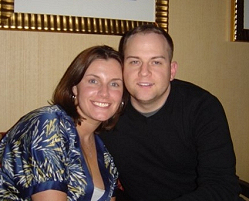 Lauren Cherry of Huntingtown and Justin Griffiths of Jackson, Ohio were married on Friday, October 17, 2008 in St. Anthony's Church, North Beach, MD. The bride is the daughter of Denise and Stephen Cherry. The groom is the son of Barbara J. Michael and the late David K Griffiths.
The newlyweds spent their honeymoon in the Bahamas.
Lauren is a 2001 graduate of Calvert High School, has an associate\'s degree in general studies from the College of Southern Maryland and a bachelor\'s degree from the University of Maryland. She is employed as an International Programs Specialist with DRS Technical Services, Inc. in Herndon, VA.
Justin is a 2001 graduate of Jackson High School in Jackson, Ohio. He is currently a Petty Officer Second Class in the U.S. Navy stationed at VFC-111, on Naval Air Station Key West, FL.
The wedding will take place on October 17, 2008, at St. Anthony\'s Church, North Beach, MD. The couple will reside in Key West, Florida.