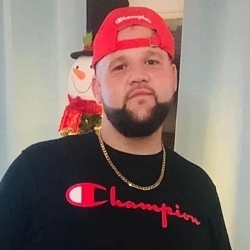 Austin Matthew "Baby Fat" Harris, 25, of Lusby, Md. and formerly of Hollywood, Md., passed away on May 11, 2023. Born November 6, 1997 in Leonardtown, Md. he was the son of Patricia Lynn (Cameron) Harris and Gary Louis Harris.

Austin attended Patuxent High School, where in his freshman year, he played football and was well known by his team as Meatball. He loved the Baltimore Ravens. Growing up he loved to help the neighbors with yard work and even did drywall. After high school, Austin worked at Weis in Lusby, Md. He loved and enjoyed the company of his friends and teasing and joking with his brothers.

Austin is survived by his mother, Patricia L. Harris of Leonardtown, Md.; his father, Gary L. Harris of Dickson, TN; and his brothers, Dylan Harris of Knoxville, TN and Gary (Louie) Harris of Lusby, Md.

Family will receive friends on Monday, May 22, 2023 from 5:00 p.m. until 7:00 p.m. with a Funeral Service conducted by Chaplain Bill Miller following at 7:00 p.m. at Rausch Funeral Home, 20 American Lane, Lusby, Md. Interment will be private.

Condolences to the family may be made at www.rauschfuneralhomes.com.