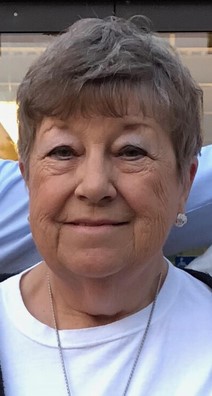 Patricia Ann Goldsborough, 78, of Hollywood, MD passed away peacefully on Sunday, January 15, 2023. Born on January 26, 1944 in Leonardtown, MD, was the daughter of the late John Combs Abell, Sr. and Agnes Elizabeth Morgan. She is survived by her siblings, Jane Jameson, J.C. Abell and preceded in death, Ray Abell.

Pat married her one true love Bobby on August 31, 1959 at St. John's Catholic Church in Hollywood, MD. After nearly 52 years of marriage, Bobby passed away unexpectantly in July 2011, leaving her heart broken and devastated, to think of life without him.

She is survived by her children Terri Quade, of Hollywood, MD and Ray Goldsborough (Tonya) of Jacksonville, FL; her 4 grandsons Chris Quade, Casey Quade, Joss Goldsborough (Kaley) and Carson Goldsborough; her 3 great grandchildren Becca, Anthony and Magnolia Quade.

She was a lifelong St. Mary's County resident. Retiring from the government after 25 plus years. Creating havoc with her co-workers, Cheryl, Carol, Linda, Gary and Dan while at CSD.

After having 4 grandsons, she was so excited when Becca was born, her first great granddaughter. Pat would often dress up on Halloween, go trick-or-treating with them and shower them with gifts throughout the year. Yes, they were spoiled.

She especially enjoyed Thanksgiving and playing pitch at Dorothy Ann's on Christmas Day, not to mention the desserts!

She also enjoyed going to the movies. Her and Bobby would go every Friday night, get their buttered popcorn and diet coke.

Pat loved the game of pool. With Bobby as her teacher, who else! She played for Duke's Bar, women's team, along with her sister-in-law, Dottie for many years, winning many trophies. Also playing in various tournaments creating many friendships along the way.

She also loved to play the slots in Atlantic City, was a NASCAR Tony Stewart fan and always a Cowboy's fan, even though Bobby was a die-hard Redskins fan!

Pat cherished time with her family and friends. She had a vibrant personality, always ready to laugh. You might even catch a spicy response back at times, but all in good fun! Her favorite color is yellow and loved her 1979 Chevy yellow/black striped Z28 Camaro.

She was a fabulous daughter, sister, wife, mother, grandmother, great grandmother and friend.

So loved by many and will be forever missed. I will always have a diet coke ready for you!

Your wish has been granted…. May your souls reunite once again, eternal love always!



All services are private.