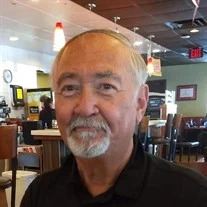 Robert Allan "Sundown" Croston, 72 of Waldorf, Maryland, passed away on Monday, January 17, 2022 at University of Maryland Charles Regional Medical Center in La Plata, Maryland.

Born on May 18, 1949 in Morgantown, West Virginia, he was the son of Olga Nagy Gamble and the late Robert Lee Croston. He was affectionately best known by his friends as "Sundown" or "Bear" in his youth. Robert worked for Aggregate Industries (the former Buffalo Sand & Gravel) in La Plata, Maryland for over 20 years. Robert spent his life fully immersed in the activities he loved and was a member of many local and national clubs oriented around these interests. Sundown lived for the road – he invested his time in vehicles of all varieties to include motorcycles, vans, hot rods, and his most recent project, his Nissan 300zx. Robert enjoyed slot cars almost as much as real cars and had an extensive collection dating all the way back to his youth. Robert loved gathering with family and friends and was always excited to travel, especially if there was sand involved because he was always looking for a reason bring out a kite. Sundown would talk your ear off if you let him (especially about his cars); he loved to be surrounded by the people he cared about and would introduce himself like he had known you for years.

Robert was married to the love of his life, Bonnie Thompson, for over 50 years. They have one daughter, Robin married to David Bussert in Corpus Christi, Texas. Robin blessed Robert and Bonnie with two grandchildren: Herbert Pusey, III of Waldorf, Maryland and Cheyenne Bussert of Corpus Christi, Texas. Robert will be dearly missed by his brothers, Tim "Buck" Croston of Morgantown, Maryland, Greg Croston of Chesapeake Beach, Maryland, and his sister, Beckie Rich including her husband, Kirk Rich of King George, Virginia.

A memorial service will be announced at a later date.