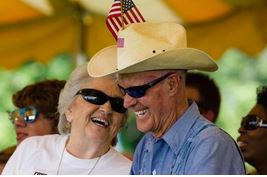 Clyde Bernard (Bernie) Fowler, 97, went to be with his heavenly Father on December 12th, 2021, and be reunited with his wife Betty who proceeded him in death on November 5, 2018.

Bernie was born in Baltimore, Maryland on March 30, 1924. He was the fourth of six children of Howard and Lillian Fowler. His family moved to Broomes Island, Maryland before he was a year old, and it is there that he grew up and developed his deep love for the Patuxent River. The river supported his family through the tough times of the depression, and as Bernie grew up he learned the value of hard work helping his family make ends meet by working as a waterman, carpenter, and machinist. World War II was a defining time in his life. He worked as a machinist at the Navy Yard during the first few years of the war before enlisting in the Navy and serving in the Pacific on the USS Engstrom until the war was over. After the war he returned to Broomes Island and started his first business "Bernie's Boats". It was there that he met the love of his life, Betty Lou. They were married on September 9, 1949 and were together for 69 years before she passed.

Bernie's love for the Patuxent River, Calvert County, and his family lead him gradually into politics where he served on the School Board from 1963 to 1969, then as county commissioner from 1970 to 1982, and finally as a Maryland State Senator from 1983 to 1994. His efforts contributed significantly to many aspects of life in Calvert County and Southern Maryland during his time in office, yet he is best known for his efforts to save and preserve the Patuxent River and Chesapeake Bay. He continued to fight to preserve them until his last days, living out the motto he repeated often – Never, never, never give up.

He was a long-time member of Trinity United Methodist Church, and in his later years was also a frequent visitor at Life Church of Calvert where his grandson is pastor. Above all he loved our Lord and Savior, Jesus Christ. His faith served as the cornerstone for how he lived his life and was integral to whatever he did. He did not hesitate to share that with those he met.

He is survived by his daughters Mona Lisa Monsma (Michael), Lora Lee Fowler, Betty "BB" Forrester (Steve), and son Bernie Fowler Jr. (Rose), grandchildren Steve Forrester Jr. (Monica), Kristi Wood,
Karla Osburn (Richard), Ryan Forrester, Stacy Davidson (Greg), Lauren Fowler, Cody Fowler, Hailey Fowler, Nicholas Torboli, Vince Torboli, great-grandchildren Alyssa Osburn, Alex Osburn, Rebecca Forrester, Steve Forrester III, Seth Forrester, Carter Dailey, Avalee Davidson, Grayson Torboli, great-great-grandchild Wesley Sherbert, as well as many nieces and nephews. He was predeceased by his wife Betty, his sister Louise, and brothers Howard, Marvin, Edward, and Merrill (Snaz) .

The Celebration of his life will be held on Wednesday, December 29th, 2021, at Calvert High School Auditorium in Prince Frederick at 11 AM. A private interment with the family will be held later.

Bernie's final request was that in lieu of flowers, donations be made to Farming 4 Hunger or Chesapeake Bay Foundation.