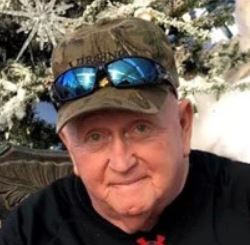 It is with great sadness, the family of John Hamilton Wallace announces his passing after battling COVID-19. Just like all experiences in his life, he approached this challenge with strength and courage but was called home on February 17th, 2021.

John's journey began on January 14th, 1942 in Hamilton, Bermuda to the late Walter Wallace and R. Marie Aleshire Wallace Decline. John and his beloved wife Patricia spent over 58 years together. He was a loving father to his daughter, Heather, and his son-in-law, Michael Garris. Joy filled his life when he became a proud grandfather to his cherished Savannah Marie Garris. He is also survived by his brother, Kenneth M. Wallace Sr. and partner, Joanne Grizzard; Sister-in-law, Joan, and husband, Emery Reistetter; Sister-in-law, Dorothy, and husband, Thomas Vincent. This, in addition to the many nieces, nephews, cousins, and friends that he loved.

John graduated from Suitland High School in 1960. Wanting to serve his country, he joined the Navy. Following an honorable discharge, his career began in July 1965 at C & P Telephone Company in Washington DC until his retirement in December 1992. During that time, John also began his own HVAC Company that continued until his passing. John and Pat lived in Clinton, MD for 23 years before settling in Owings, MD.

John was known for his love of the outdoors. You could often find him riding his orange tractor around the yard or helping neighbors. You could also find him sharing his love of hunting with his son-in-law and friends in Luray and Stanley, Virginia. His other outdoor passions included fishing, feeding his birds and deer, and gardening. If John wasn't at home working in his yard, he was traveling around the United States for roller skating competitions, taking trips to Virginia and Rehoboth Beach, or staying at the farmhouse. In his later years he enjoyed taking cruises and sitting on the back porch drinking coffee with his wife. He was known for his sarcasm, grumpiness, and wit. He truly treasured gatherings with his family and friends at picnics and eating crabs. Not only did John spread his love over his family, but he extended it as a shelter to all friends as well as being a mentor to others. He loved his "tribe" as if they were his own and made room in his heart for all who needed it. That care and protection will remain as a guiding light throughout their lives.

God saw you were getting tired and a cure was not to be so he put his arms around you and whispered, "Come to Me". With tearful eyes we watched you and saw you pass away and although we love you dearly we could not make you stay. A Golden heart stopped beating, hard working hands at rest. God broke our hearts to prove to us He only takes the best.

A special thank you to the ICU staff at Calvert Health Medical Center for their loving care and support. In lieu of flowers, please send donations to:
https://www.calverthealthfoundation.org/John-Wallace-Memorial-Fund

Instead of a funeral service John would have liked us to celebrate his life with a gathering surrounded by his family and friends to share memories, laughter, and love. We will plan for this gathering in the summer when the weather is warmer.